N.H. House to take up a bevy of business-related bills
Alcohol sales, premium cigars, keno, windmills on the agenda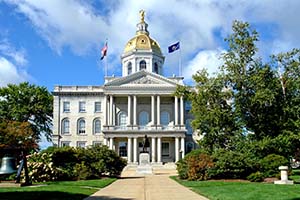 A long list of bills left over from the 2013 session are being taken up in the House on Wednesday. Here are the bills House lawmakers are most likely to take action on:
• Six-pack after midnight? Current law bans alcohol sales by off-premise licensees (grocery and convenience stores) after 11:45 p.m.. House Bill 120 would extend the time limit to 1 a.m. Supporters say the stores could use the business, and it would be more convenient for second-shift workers who need to bring home a tall one. Opponents say it would encourage late-night binge drinking, which doesn't exactly result in a productive workforce the next day.
• No cigar? HB 427 would, among other things, clarify the definition of premium cigars, changing the existing limitation of "wholesaling for $2 or more" to those "sold by a manufacturer for an established price of $1.50 or more." Supporters of the bill say it would just clarify what has always been done, but opponents say it would exempt some cigars from taxation while taxing others, which is unconstitutional.
• Keen on Keno: Allowing certain sites to offer the electronic lottery game Keno has yet to be approved by the Legislature, but this time the House Ways and Means committee has given HB 485 a 14-5 nod. Supporters say it could raise $9 million for schools and bring more business to restaurants that serve alcohol.
• Tilting at windmills: HB 580 would put a stop to them until the state comes up with a comprehensive energy plan. Supporters of the bill say they just aren't attractive, nor particularly efficient, and that builders might abandon them, ruining the landscape and hurting the tourism industry for nothing. Opponents say that state law mandates renewable energy, that windmills are certainly preferable to coal plants and the state shouldn't put up a not-welcome sign to an emerging industry.
• One fee for many: Under HB 654 the Legislature would be establishing licensure and renewal fees by statute, rather than by rulings by the regulatory body, as it is done now. Those covered would be acupuncturists, alcohol and drug counselors, boxing and wrestling promoters and participants, dietitians, electrologists, funeral directors and embalmers, hearing care providers, massage therapists, midwives, naturopaths, nursing home administrators, optometrists, podiatrists, reflexologists, and individuals registered as home health care providers.