N.H. foreclosures remain on their downward track
But there were more foreclosures in May than April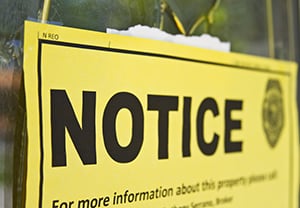 Granite State homeowners are still falling behind on their mortgages, but they are less and less likely to lose their homes, according to the latest data released by the New Hampshire Housing Finance Authority.
According to the agency, there were some 271 foreclosures reported in May, down 23 percent from the same month last year, though that number did rebound from April's five-year low of 192 foreclosures. Nevertheless, it was the lowest number of foreclosures reported in the month of May over the last five years.
Year to date, the 1,269 foreclosures reported in New Hampshire represents a 25 percent drop from 2012. If that pace continues, 2013 will have be the lowest number of homes lost from repossession since at least 2008.
Foreclosure auction notices are down as well. There were 395 foreclosures advertised in May, down 13 percent compared to April and 40 percent compared to May 2012. Year to date, foreclosure auction notices are down 31 percent.
However delinquency rates have been as stubborn as the unemployment statistics, hovering around 7 percent since 2011. That's not a coincidence, since the two often track each other, according to Finance Authority.