N.H. Entrepreneurship Week proclaimed
Governor sets Feb. 21-28 to spotlight innovative businesses, Live Free and Start effort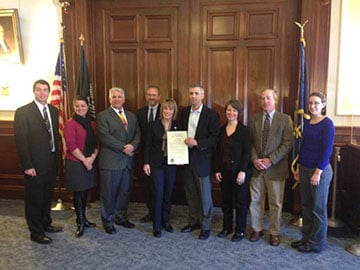 Gov. Maggie Hassan has proclaimed Feb. 21-28 to be Entrepreneurship Week in New Hampshire, part of the state's effort to spotlight innovative New Hampshire businesses as well as the Live Free and Start initiative.
Live Free and Start, which was launched last year, is an initiative of the governor's office, the New Hampshire Business Finance Authority and the Department of Resources and Economic Development aimed at creating jobs in New Hampshire by making it easier for innovation-based companies to start up.
The goal is to "help build on our advantages that make New Hampshire as attractive a state for business as any in the country," said Hassan.
The governor said the effort also includes a $250,000 appropriation in her budget proposal for education and acceleration programs at New Hampshire's business incubators.
According to Liz Gray, the state's director of entrepreneurship and the person who oversees the Live Free and Start initiative, the effort is currently focused on some legislative initiatives, including efforts to modernize New Hampshire securities regulations to make it easier to raise capital in New Hampshire.
And, she said, in the spring Live Free and Start will launch what she called "a fully interactive website and communications campaign designed to inspire and encourage entrepreneurs to start or grow their business in New Hampshire."