N.H. cancels April deadline for nursing home Medicaid managed care
Revised plan to be unveiled today in Gorham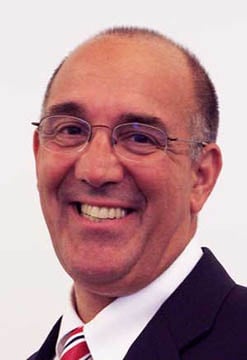 Nick Toumpas, the commissioner of the state Department of Health and Human Services, has canceled an April 1, 2015, deadline to launch a controversial Medicaid managed care payment system for nursing homes and community programs serving the frail elderly.
A room full of executives in those industries clapped at the announcement. Some thanked him for hearing their anxiety.
"I'm going to savor this moment," Toumpas joked at a packed meeting last month of the Governor's Commission on Medicaid Managed Care. "Here I am talking about step 2 of Medicaid managed care and getting applause."
Toumpas said he plans to unveil a revised plan for Medicaid long-term care planning and reimbursement at the Nov. 6 meeting of the commission in Gorham Town Hall. Meanwhile, the competing stakeholders are negotiating with him and lawmakers privately.
By several accounts, those discussions have been candid and cooperative.
The ultimate goal is to make federal entitlement programs sustainable as baby boomers age. It won't be easy. Medicaid rates have been frozen for years.
"As a result, whole industries are struggling," Toumpas acknowledged. "We want to make sure we do this right. We have listened. A month from now we'll come back with a plan."
State Rep. Laurie Harding, D-Lebanon, is vice chair of the House Health and Human Services Committee and supports managed care. She said county commissioners are heavily involved in the latest dealmaking because they pay for county nursing homes and they cover the Medicaid match for patients in competing private facilities.
"The counties are willing to try it, if we get all our ducks in a row first," Harding said. "Right now we have no idea how the reimbursement will work. They want a say in how it's structured."
George Maglaras, a Strafford County commissioner, is president of the Association of County Commissioners and has watched the health care system evolve for 32 years. He confirmed he supports managed care in general, but said the state was wise to step back and work the bugs out of its plans for Medicaid long-term care.
"We're all waiting to see what HHS wants to accomplish," he said. "Nick hasn't figured that out yet."
John Poirier heads the New Hampshire Healthcare Association of private nursing homes and assisted living centers. His members took the postponement as good news.
"We're encouraged by our recent talks with the state and the MCOs so far," he said. "Our goal is to ensure the continuity of services and quality of care. But we don't see any models for doing this elsewhere, it's so new."
'Favorable decision' sought
So have the for-profit nursing homes considered suing to protect themselves?
"We're trying to work with the governor, the Legislature and HHS proactively," Poirier said. "We're not at the point of litigation, at least not yet."
Other stakeholders are. Nine of the 10 area agencies that serve the developmentally disabled and head injured are suing the state to block Medicaid managed care in their industry. Their suit is Wallace v. N.H. Atty. Jon MacIntosh of Concord is co-counsel for the plaintiffs and said the crux is whether lawmakers intended to exclude area agencies from managed care.
According to MacIntosh, a House-Senate committee of conference hashing out the final text of the law rejected an amendment by Rep. Neal Kurk, R-Weare, that would have specifically included area agencies.
"We hope for a favorable decision by the end of the year," MacIntosh said.
Dotty Treisner is interim director of the New Hampshire Community Support Network, a trade association for the area agencies.
"Our people will be going to Gorham," she said. "We feel managed care will hurt people with developmental disabilities. The only way the MCOs can save money is by cutting services."
Jebb Curelop is vice president of Life Coping, a Nashua-based company that designs and coordinates community care plans for the elderly, the head-injured and the disabled. In that role, he competes with area agencies for clients and welcomes managed care if done right.
For example, he said, Medicaid might reap huge savings by copying its Choices for Independence program all across the long-term care sector. It helps frail seniors avoid nursing homes as long as possible or discharge from them if appropriate.
"CFI is enormously cost-efficient, the rules and rates are clear and standardized, and there's high quality and accountability," Curelop explained.
At first glance, the official numbers might seem to bear him out. Community care for the elderly costs Medicaid $18,000 per patient per year on average, according to an aide to Toumpas. Area agencies that serve the head-injured and developmentally impaired cost Medicaid a comparable $42,000 per person. Nursing homes cost $72,000.
"We need rate equity all across long-term care," Curelop said. "You can reform the system by modeling it on CFI."
Amy Girouard has a 7-year-old daughter with Angelman syndrome. The girl's complex medical and developmental needs qualify her for services under the Katie Beckett Medicaid waiver. But the federal rules only pay for the child's aide services when provided in the home.
"I would love for her to go to after-school programs or gymnastics with an aide," Girouard said. "It's a Catch-22."
Girouard is closely watching managed care as a social worker with the firm Long Term Care Consultants, some of whose clients include nursing homes. She hopes the Medicaid change can eliminate the eligibility silos that are hurting her family.
"It's time for all of us to collaborate so people who need good care can get it in a person centered manner," the mother said.
'It's the law'
Officials of the state's Medicaid program recently finished a four-month listening campaign, holding 27 public forums from Whitefield to Portsmouth. More than 700 people from every sector of healthcare voiced their fears, suggestions and beefs.
In the first step of the process, launched last December, more than 100,000 Medicaid subscribers chose one of three new managed care companies to pay for their hospitalizations, doctor's visits and other short-term issues. They did so with incomplete information.
Those consumers might have enrolled in the Well Sense care manager for acute care, Toumpas suggested, but the competing New Hampshire Healthy Families might suit them better now for their long-term medical needs and quality of life supports.
"We don't want to do that to people," Toumpas said.
Toumpas said he respects the people who don't want managed care at all, but it's the law.
"It's my duty to try to make it happen," he said. "I also sense the fear. It was right to create a little more breathing room."
The governor's commission has unveiled its own four-page working draft of a set of principles, guidelines and action steps to assure a smooth transition to managed care and guide officials in writing the final plan and the contracts to carry it out.