N.H.-based Direct Capital acquired by CIT
Portsmouth firm's software product lures N.Y. bank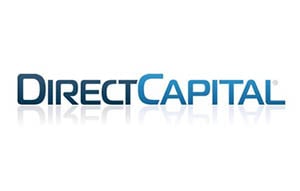 New York-based CIT Bank plans to acquire Direct Capital Corp. of Portsmouth, a commercial leasing firm for small and medium sized businesses, both companies announced Wednesday.
Terms of the deal were not released, but the acquisition – scheduled to be closed at the end of the third quarter – would append Direct Capital, a self-described "scrappy," two-decade-old privately held company with assets of about $500 million and 250 employees, with CIT, a subsidiary of CIT Group, a publicly traded company with more than $35 billion of assets that has been around since 1908.
Direct Capital's founders – brothers Christopher J. Broom, chairman, and CEO James P. Broom, will continue to lead the business, according to the release.
CIT wanted Direct Capital for its software, explained Nelson Chai, chairman and CEO of CIT Bank, in a presentation to investors on Wednesday.
"The interesting thing is that you have these two brothers [who] came out of the financial crisis and realized that as a small business they had to be scrappy," he said, so in they developed a product called LendEdge, which allows businesses to get loans online. "They can use that rather than feet on the street to grow their book," he said.
This makes sense for the smaller business market, he said.
"If we are going to do a large $10 million piece of equipment, you can't spend the time to originate that deal, but when you are talking about $20,000, $50,000, $200,000, that time is valuable, so we needed to find a way to be more efficient in servicing and accessing these clients."
Already, he said, the bank had identified some 10,000 to 20,000 of its existing clients that could use LendEdge, "a good-cutting edge technology that will help us deliver value to our equipment leasing business."
Direct Capital has lent some $2.25 billion to over 80,000 businesses since its founding in 1993.
But it is tiny compared to CIT, so named as an abbreviation for Commercial Investment Trust. CIT currently doesn't have much of a presence in New Hampshire, but it was briefly owned by Tyco Corp. when the latter company was based here, and it operated out of Exeter for a year.
CIT, originally hailing from St. Louis, moved to New York in 1915, where it financed everything from Studebaker to submarine chasers to radios, through an agreement with Thomas Edison.
Tyco acquired it in June 2001, two years after CIT Group, CIT Bank's parent, made an ill-advised overleveraged $4 billion acquisition of Toronto-based Newcourt. But in 2002, Tyco – in the middle of its own troubles brought on by the scandal and eventual conviction of former CEO Dennis Kozlowski – sold off CIT Group.
Less than a decade later, CIT Group was caught up in the financial meltdown. In 2008, it became a bank holding company, just in time to qualify for $2.3 billion in Troubled Asset Relief Program, or TARP, funds, but it still had to file Chapter 11 bankruptcy reorganization in November 2009. It emerged from bankruptcy 40 days later has bounced back under the leadership of CEO and Chairman John Thain, who once headed Merrill Lynch.
In Wednesday's presentation, Thain said that CIT is moving more toward being a bank as opposed to a more general financial services company. It recently jettisoned its student loan business and is in the "process of buying a big bank" that would bring it way over the $50 billion level, Thain said.