N.H.-based Altronics acquired by Quebec firm
Added jobs expected at Hudson plant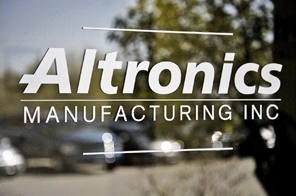 Hudson-based Altronics Manufacturing Inc., a company that specializes in electronic contract manufacturing services, has been acquired by Varitron Group Inc. of Saint-Hubert, Quebec.
Varitron, an electronic products assembly firm, said the acquisition will give the firm an "essential presence" for meeting U.S. content requirement for its customers, locally and abroad.
"Varitron and Altronics provide similar services, but also have complementary offerings intended for different markets," said Michel Farley, president of Varitron. "By pooling our expertise, we will be able to serve more customers and to provide added value in terms of volume with the aim of consolidating the U.S. market and developing new niches."
Farley said Altronics handles a variety of printed circuit board assemblies and value-added services for commercial, military, industrial and medical customers.
He said the current senior Altronics management will stay on, and new jobs will be created, due to the higher volumes of business that are anticipated. The Hudson firm currently has over 50 employees.
Farley will serve as Varitron–Altronics Manufacturing's president. Jeff Altschuler, founder of Altronics, becomes executive vice president of the New Hampshire division. Martial Vincent remains CEO of Varitron in Québec.
"Our two companies have much in common, particularly in terms of corporate culture, market vision and work philosophy," said Altschuler. "Altronics was at a crossroads, and this acquisition enables us to grow our business more rapidly and develop new markets. This is why I am pleased to be taking up this new challenge as part of the Varitron team, which is the ideal partner for us."