N.H. attorney has a national impact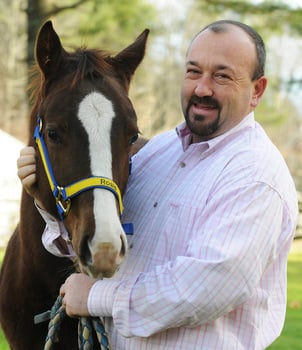 When Scott O'Connell began his legal career, the New Jersey native didn't plan on landing in New Hampshire or becoming a nationally recognized corporate litigator and partner in the Nixon Peabody law firm.
But for the past two decades he has established strong roots in New Hampshire as a successful litigator, based in Nixon Peabody's Manchester office, a strong advocate for expanding pro bono legal work in the state, and as a part-time horse farmer and co-owner of the Mack Hill Riding Academy in Amherst.
One of his most recent legal accomplishments came as a leader of the Nixon Peabody team that recently prevailed in the four-year-long and complex Joint Underwriting Association medical malpractice insurance case brought by health care providers against the state of New Hampshire.
"This was a novel case — one of those idealistic constitutional issues you read about in law school but don't see every day in practice," said O'Connell, who – while based in New Hampshire — is deputy chair and practice group leader of Nixon Peabody's worldwide commercial litigation team.
His varied caseload includes representing 10 New Hampshire hospitals' ongoing suit against the state over Medicaid reimbursement rates and being part of a pro bono team that helped convince the Defense Department to release a prisoner at Guantanamo Bay.
He is in the New Hampshire spotlight again as one of the lead attorneys representing Exeter Hospital in the civil lawsuits filed over the Hepatitis C outbreak discovered earlier this year.
"I work in an international firm and have a national practice," said O'Connell, a Cornell Law School graduate.
But the initial stage of his career was anything but secure or so wide-ranging.
He established himself in New Hampshire almost by accident. In 1991, he said, "I was part of a glut of lawyers hired by Hale and Dorr in Boston just as the recession was really kicking in." To keep himself employed while other lawyers were being let go, O'Connell found a valuable niche as a litigator in the banking industry upheaval that swept across New Hampshire in the early 1990s.
"I needed the job because I had a lot of law school debt. I became a banking and securities guy because there was a lot of cleanup litigation," he said. "I learned about securities litigation from one of the best (Jeff Rudman, a cousin of Warren Rudman) and was involved in a large portfolio of class action suits."
He became a partner at Hale and Dorr and moved to New Hampshire in 1993.
A Nixon Peabody partner since 1997, he and wife Sue Jacobs O'Connell, who runs an environmental and forensic accounting consulting firm, live with their daughter and son in Amherst.
'Personally rewarding'
The JUA case, resulting in the return of $110 million to the 6,000 policyholders of the New Hampshire Medical Malpractice Joint Underwriting Association, was a precedent-setting case that dealt with the potent legal and emotional issue of the state's access to private funds.
The JUA became a political flashpoint in 2009, when Gov. John Lynch and Democratic budget writers in the Legislature sought to transfer $110 million in surplus JUA money into the state's general fund to help balance the budget for 2010 and 2011.
The Lynch administration argued that the government had a right to benefit from the surplus JUA funds because the state had established the entity in the first place, even though it had never contributed any money to the fund.
Eventually, O'Connell's team successfully took the case to the state Supreme Court, which ruled that the state's move to take the JUA money was unconstitutional — a violation of the vested property rights of the policyholders.
"The fact that Nixon Peabody was able to produce this level of result in such a complicated setting, against significant opposition, and in such a short amount of time, is remarkable," said Dr. Georgia Tuttle, a JUA policyholder.
As more states struggle with budget revenues and seek ever more financial solutions, O'Connell believes the JUA case will set a national precedent because it sets a standard for what governments can and cannot do to secure certain revenues.
"This was significant, and it was personally rewarding to be part of the team," said O'Connell, who worked with Nixon Peabody colleagues Kevin Fitzgerald and Gordon MacDonald on the case. "It was a fundamental, even primordial, case that captures what motivates one to become a lawyer because it went to the heart of property rights and what is the right role for the state."
O'Connell said the heart of the 10-hospital Medicaid suit against the state — which emerged from a budget-cutting measure by the Republican-led Legislature in 2011 — also targets fundamental rights and obligations.
"While it's a wonderful place, New Hampshire is the worst of the 50 states when it comes to Medicaid reimbursements," he said. "When you remove $260 million in reimbursements to these hospitals, it is a shift of responsibility. This isn't a problem that can be ignored, and it tells a very interesting story about the dysfunction that exists in Concord."
'A country of laws'
While O'Connell maintains a busy schedule at Nixon Peabody, he has pushed hard for the state's legal community to expand pro bono output.
He founded the Nixon Peabody Domestic Protection Team, which helps victims of domestic violence secure protective orders against their abusers.
The 48-year-old O'Connell has made it a practice to take his pro bono service to Berlin and the North Country as often as possible, due to a growth in domestic violence caseloads there and the need for experienced lawyers.
"We are a country of laws, not of men. Access to justice cannot be limited to only those who can afford it. I believe pro bono service is a professional responsibility," said O'Connell. "Attorneys have the privilege of practicing law. Along with that privilege comes the responsibility of helping those who cannot afford representation. It's what we have to do to support our justice system," O'Connell said.
"More broadly, our justice system is under siege by those who cannot afford representation. Unrepresented parties have great difficulty getting justice through our system without help. The system degrades for all unless it can be used effectively by the least able among us."
The New Hampshire Bar Association honored O'Connell with a 2011 Award for Dedicated Pro Bono Service for his work with the Domestic Violence Emergency Project, a program that provides victims of domestic violence with emergency legal service.
For his work on Rimi v. George Bush, which secured the release of a Guantanamo Bay prisoner and Libyan national after four years of detention, O'Connell received the Frederick Douglass Human Rights Award from the Law Office of the Southern Center for Human Rights.
O'Connell doesn't spend all of his time in his law office or a courtroom. In fact, he savors his weekends, when he trades in his law books for the life of a horse farmer and father of a competitive rider.
"It was a hobby turned obsession and then became a part-time business," he said of Mack Hill which he and his wife Sue opened in 2007 to provide riding and equestrian lessons and boarding.
He jokes that his dual vocations offer a unique perspective.
"As a trial lawyer by day and a horse farmer by weekend, some might say that I shovel manure professionally, and for fun," he said.