N.H. already has slot machines –- and lots of them
As the Legislature debates whether to allow a "high-end" casino, New Hampshire residents have been playing slot machines all along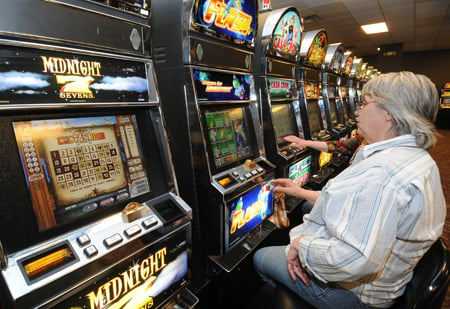 Sandra Martel is having a blast at the Flash slot machine.
The little green men with the big eyeballs are lining up on the video screen in nearly every direction. The retired owner of the Tyler Street Market in Laconia likes this machine because "it makes a lot of noise," but also because her win total was now up to $117.48 after two hours of play. Not bad for a $20 stake.
Martel isn't at Foxwoods. She and her friend Betty Plante, a retired state employee, are playing the slots at the "Family Entertainment Center" at the Lakes Region Casino in Belmont — a center where, in fact, no minors are allowed.
But the casino claims that the room is packed with enough used pinball and video machines and handheld games to qualify it as such a center, where its 96 "redemptive slot machines" are allowed.
And it is that claim that has gotten the casino into hot water with the New Hampshire Racing and Charitable Gaming Commission.
Until recently, Martel was able to cash in her winnings at the machine for a prepaid Visa debit card, but last month the commission forbade the casino from doing that. She now is able to exchange her winning total to buy any merchandise online.
One patron used those winnings to bring home a 40-inch flat-screen TV. Another used them to buy a high chair for her friend's baby shower.
The casino says what it's doing is within the state's gambling laws and plans to keep on operating this way, despite a subsequent order from the commission to stop the practice, for reasons that have not been made public, and are not exactly clear.
As the Legislature debates whether to allow a "high-end" casino to be built in New Hampshire – with up to 5,000 slot machines — New Hampshire residents have been playing slot machines all along, at places like the Belmont Family Entertainment Center as well as at Funspot, about 20 minutes away in Weirs Beach. They look even more like traditional slot machines with the pull-down lever that gives the "one-armed bandit" its nickname, but instead of receiving cash as their winnings, most people are able to get trinkets normally associated with arcades.
At Dover Bowl Family Fun Center, you can cash winnings from slot machines in for gift cards. You can also find slots at Hampton Beach.
Unlike regular slot machines in regular casinos like Foxwoods and Mohegan Sun in Connecticut – or the proposed New Hampshire casino — the redemptive slots have more restrictions.
Customers can only bet 2.5 cents per game (though in practice, they can really bet 8 cents at a time). The machines must be in a family entertainment center, which must include at least 50 games and with redemptive slot and poker machines making up less than 15 percent of those games.
Most importantly, the payouts can't be in cash or alcohol.
Nobody knows how many such slots exist in the state. Although there are state regulations, there are no regulators charged with enforcing them. However, the Racing and Charitable Gaming Commission has looked into the slots operations at two entities that it does currently regulate: the Lakes Region Casino and the company that owns Funspot, both of which operate charitable gaming venues, hosting table games like poker and roulette or bingo, with some of the winnings going to charities.
It was determined that Funspot is off the hook, since the arcade is not under the same roof as the bingo hall the company runs across the street, said Chuck Saia, legal counsel for the commission. So that leaves the casino in Belmont.
'Appearance of a casino'
Rick Newman, former general manager and lobbyist for the casino – he stepped down from both roles in the midst of the current slot machine controversy (though he says his resignation is unrelated to it) — got the idea to install the machines from arcades like Funspot.
Unlike charitable gaming, there are no requirements to give any proceeds to a charity or the state.
The bet limits, however, are small — along with the take — but Newman said the machines aren't there for the money to be made, but the atmosphere.
"It gives the appearance of a casino, the razzmatazz that you are trying to create," Newman said.
(Photo by Jodie Andruskevich)
Lakes Region Casino General Manager Ryan Gloddy points out one of the facility's slot machines housed at the casino's 'Room 647' entertainment center, named after the state law that regulates gambling.
Newman said he informed the commission at an informal meeting in February 2012 about installing redemptive slot machines as well as his plan to pay winnings with debit cards. He claims Paul Kelley, the commission's director, told him, "Sounds like a smart idea. Good luck with it."
Kelley said he might have said words to that effect, but denies being told about using debit cards.
"He said it was the same thing that runs in Funspot. Funspot doesn't use Visa cards," Kelley said.
To meet the 15 percent rule required under RSA 647, the law that governs gambling in New Hampshire, the casino cleared out its room that years ago used to overlook its greyhound race track, and filled it with used arcade machines. And it renamed it the "Room 647 Family Entertainment Center."
To get to it, you walk past the casino's poker tables, the craps table and the entrance to the bar. Since everything else is off limits to minors, so is the Family Entertainment Center.
"People can be in a family without kids," explained Ryan Gloddy, Newman's replacement as the casino's general manager.
Newman and Gloddy claim that there are over 700 games in Room 647, if you include a glass cabinet that contains hundreds of handheld games, and that the commission verified this during an inspection in the summer of last year. That's why the commission's April 5 cease and desist letter took them by surprise.
Neither Saia nor the casino's attorney, Dan Luker, would provide copies of the correspondence to NHBR, saying that it is now a legal matter, but according to a Concord Monitor report, the commission's letter said that using prepaid Visa gift cards was illegal.
Saia did point NHBR to a new law aimed at sweepstakes parlors that went into effect in June 2012 and that specifically forbids giving out a debit card or a merchandise credit card as a prize.
The casino did shut down its slot machines for three weeks, but it disagreed with the letter for two reasons:
• The slot machines are exempted from the entire section of the law, including the new language having to do with debit and credit cards.
• The law allows "points and coupons which may be exchanged for merchandise only, excluding cash and alcoholic beverages." Luker said that the cards were restricted so that they could not be used for cash or liquor and were therefore within the law.
Changing prizes
When Room 647 reopened, it did so without awarding the Visa cards. Instead, winners are able to trade in their winnings for merchandise. But it isn't for candy or pencils or similar arcade prizes that are given away. Slots players can use their winnings for any merchandise they can find on the Internet. The casino then orders the merchandise for the player.
But in early May, the commission sent another letter ordering the casino to shut the machines down again. Luker said that the letter did not come with an explanation. Saia, while not commenting on the letter, pointed out a policy statement that has been posted on the commission's website for several months.
The policy statement said that the licensee "shall permit only those machines, devices, equipment or paraphernalia (intended for gambling) that are approved by this Commission or another state agency to be on a licensed premises or in a structure under the control of any licensee."
If the commission doesn't approve the equipment, it can issue fines and even suspend or revoke the casino's license.
Luker said he saw the policy, but noted that the commission did not go through the normal rulemaking process in developing the policy.
"We are not sure where it derives from and what the authority of it is," he said.
As of deadline, the slots in Belmont were still operating.
Also in operation are the slot machines at Dover Bowl Family Fun Center, owned by Dick Anagnost, a Manchester developer.
A few years ago, Anagnost replaced a poker room at the facility with the arcade. He estimated that there are about 15 or so slot machines at the facility — half the number of bowling lanes — that spit out coupons that can be redeemed for merchandise. That merchandise includes gift cards for such outlets as Best Buy or Dunkin' Donuts, as well as a nice bicycle that can be seen hanging from the ceiling and Xboxes and iPads. One customer said he is saving up for 100,000 points (worth about $1,000) but the majority don't have that kind of patience, cashing in winnings for Tootsie Rolls, pencils, horns and the like.
Asked whether anyone has ever questioned Dover Bowl's use of gift cards, Anagnost said, "Nobody has ever asked us. As long as it doesn't go for cash, it doesn't violate the law."
Funspot has about 25 slot and poker machines, said owner Bob Lawton.
But, he said, "we follow the law here as it is written." He says at Funspot, games don't take up just a room, but three floors.
"We really are a family entertainment center, and we put this in because we have to cater to all the members of the family. We have to have something for older people who are not going to watch the kids play video games, because let's face it, that's boring to them. So they sit down, and they can say, 'Hey. I'm in Foxwoods now.'"