Monadnock Paper goes against the grain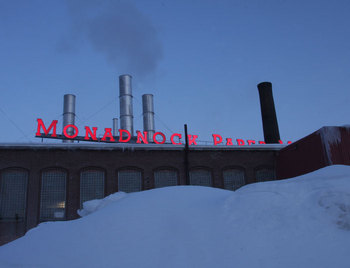 Even with the expected reopening in April of the former Fraser Papers mill in Gorham, years of closings of pulp and paper mills have cost thousands of jobs in New Hampshire, primarily in the North Country, where the once-booming paper industry was long essential to the region's economic success.But through those numerous shutdowns, one paper mill has not only survived, it has thrived. Located almost 150 miles south of Gorham, Monadnock Paper Mills in Bennington – touted as the oldest continually operating small paper mill in America – has had continued success, even as other mills have given up.What is it about the small mill – resting on the upper lip of the Contoocook River Reservoir since 1819 – that gives it the ability to compete in the face of forces that have proved devastating to so many others?Over the last decade, the state's remaining mills have shut down as if by domino effect. Four mills closed in 2001 alone: Atlantic Paper Mills in Winchester; Contoocook Valley Paper Company in Henniker; and the American Tissue mills in both Berlin and Gorham.Fraser Papers purchased the Berlin and Gorham mills in 2002. But four years later, in May 2006, it shut down the Berlin mill once again, citing global economic forces and ousting 250 from their jobs.In 2007, the Wausau Paper Mill in Groveton – often lauded for its success in niche markets – closed, eliminating 300 jobs. Then in September 2010, Fraser Papers shut down its Gorham paper mill, leaving 240 workers in the lurch.After two failed sales, Counsel R.B. Capital – which specializes in buying dying paper plants – purchased the Gorham mill in December 2010 for $2.7 million, a sale that had 240 displaced workers hopeful of returning to work."For a hundred years, paper manufacturing had been the mainstay of the economy of Coos County and New Hampshire's Great North Woods," notes a 2007 state Department of Employment Security report on Coos County. "But now the region's residents are contemplating the possibility of a Coos County future without paper."The reasons cited for the mill closures have been numerous. When closing the Berlin mill, Fraser Papers named rising costs of wood, energy and chemicals among the reasons.Global competition has also been a major player."The Chinese paper makers and markets are really wreaking havoc on paper and pulp markets," said Jasen Stock, executive director of the New Hampshire Timberland Owners Association, a membership trade association of landowners and forest-related businesses.Hurting the American market are what he describes as "super mills", large mills popping up in foreign countries that produce as much pulp and paper in a day as their older U.S. counterparts can make in a week or month – and often under looser environmental regulations, which drives down costs, said Stock.Family ownershipIn a state that 50 years ago employed 7,800 in paper manufacturing, now only three paper mills remain: Monadnock, APC Paper Company in Claremont, and Mosinee Paper Company in Portsmouth.The latter two are more "suppliers and distributors," said Roy Duddy, interim director of the New Hampshire Department of Economic Development.In the paper market, success really "comes down to the individual companies," said Stock. "Look at Monadnock Papers. They appear to be doing OK."Capital Offset, a third-generation printing company in Concord that specializes in premium art books for high-end clients across the country, has used Monadnock Papers for various projects for more than 50 years, said President Jay Stewart.He attributed Monadnock's success in part to its premium, uncoated printing papers, which his company has used for art reproductions and print "extremely well.""If the budget allows for that paper, there will be excellent results," he said. "It's not inexpensive – a lot of people would elect not to use it, but those with discriminating tastes would find a value in it."When a high-end auction house hoped to attract consigners of multimillion-dollar paintings, it insisted on Monadnock Papers for its brochure, said Stewart.While high-end printing papers make up about 30 percent of the mill's business, technical specialty papers make up the remaining 70 percent, including everything from wall-covering substrates to sterilized medical packaging to backlit posters.David Lunati, Monadnock's director of marketing, said the company has "a very diverse product portfolio", offering about 400 products to 300 customers in 15 markets."They can go from fine paper to sandpaper to wallpaper fairly seamlessly," said Kevin Paluzzi, who as a sales representative for Lindenmeyr Monroe in Manchester has sold Monadnock papers for 16 years.Paluzzi pointed to the company's hands-on family ownership as part of its success; on a recent tour he took of the mill, he said he was given a bottle of maple syrup that had been harvested right on the chief executive's property.The paper mill has been in the hands of the Verney family since 1948, when Gilbert Verney purchased it and began manufacturing specialty papers. His sons now operate the mill: Richard Verney is chairman and chief executive and Geoffrey Verney is vice president of communications and strategic customer relations."They're not a venture capitalist group like some of the mills are now," said Paluzzi of Monadnock's ownership. "They don't want to profit and sell it off – they're craftsmen. They understand what they do and they take pride in it."A significant part of the Monadnock narrative relates to its long history of environmental stewardship, for which it has won numerous awards, including the state Department of Resources and Economic Development's 2010 "Greenerpalooza" Award; the 2008 Cornerstone Award from New Hampshire Businesses for Social Responsibility; and the 2006 Governor's Award for Pollution Prevention."We were always ahead of the curve," said Lunati, pointing to the mill's installation of a wastewater purification facility in 1973 before federal regulations required it. "We've been out there for decades pushing our industry to do more long before it was fashionable or sexy to be green."Monadnock also operates four low-impact dams on the Contoocook River, which after a particularly rainy season can generate up to half the mill's electricity onsite (the remainder is purchased through renewable energy credits).Additionally, all of the paper fibers that are extracted in the water purification process are donated to farmers in the state, who literally drive up in trailers to collect the solid waste and repurpose it for compost, animal bedding and to manufacture topsoil."They work hard to make sure that their supply chain is as sustainable as possible," said Jack Savage, vice president of communications for the New Hampshire Forest Society. "In today's market, offering customers a choice of buying a product that's manufactured with renewable energy distinguishes them in the market, especially when they're going after these niches."Lunati acknowledged the challenges that commoditization, electronic substitutions and foreign competition have had on all players in the paper industry, but credited Monadnock's longevity to its flexibility."For a mill to survive, they have to be focused in
areas that provide long-term viability in the future," he said. "We've remained flexible to the times. We did not anchor ourselves to traditions and theories of the past."Kathleen Callahan can be reached at kcallahan@nhbr.com.