Mixed-use project at Macy's site expected to begin in 2016
Encore Retail plans retail-business development at Bedford site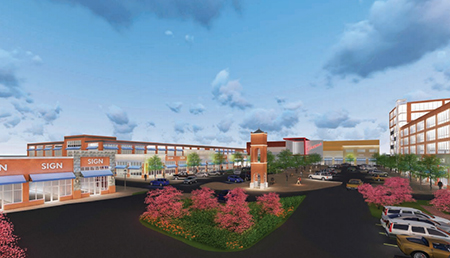 The Dallas-based company that has purchased the 16-acre site of the landmark Macy's department store in Bedford is planning to build an over 200,000-square-foot mixed-use development on the property.
On Monday, Encore Retail LLC, a subsidiary of Encore Enterprises Inc., confirmed it had acquired the South River Road property for $12 million from the retail giant.
Construction of the planned development is expected to start in the fourth quarter of 2016.
Encore said the development will consist of fashion, recreation, fitness and dining outlets as well as office space. A new Whole Foods supermarket, scheduled to open in the spring of 2016, is currently under construction on the contiguous former Wayfarer Hotel site.
Encore's multibillion-dollar portfolio includes hospitality, retail, multi-family, restaurant, retail and office properties, much of them in the South and Southwest.
But Nicholas Barber, president of Encore Retail, said the firm acquired the Macy's property because "it is strategically positioned" along South River Road off Route 101 and the Everett Turnpike. He also cited the site's "close proximity and direct access" to the Whole Foods store, which "will really create a regional destination for area residents."
He said the planned development is already attracting interest from regional and national retailers.
Prellwitz Chilinski Associates has been selected as the project's architect. Theodore Chryssicas of Newmark Grubb Knight Frank brokered the deal, and will handle retail leasing. Bob Rohrer of Colliers International New Hampshire will handle office leasing.
While the company is new to the region, Bharat Sangan, chair of Encore Enterprises, said he expects the firm to continue pursuing properties in the area.
"This project is part of our continued strategy of deploying funds from our newly raised acquisition fund. We have a large interest in continuing to find other attractive commercial real estate opportunities in New England," he said.
The Macy's property was built in the 1960s as the site of a Jordan Marsh store before becoming a Macy's in the 1990s. Another Macy's serves as an anchor of the Mall of New Hampshire, which is less than five miles away.
Rick Sawyer, acting town manager and planning director for the town of Bedford, welcomed the news.
"We firmly believe that the redevelopment of this property will improve the economic development, investment and revitalization rate, and public welfare for the South River Road area, as well as for the community at large," he said.