Mike Hickey named interim dean of UNH Manchester
Longtime N.H. telecom executive tapped to lead Queen City campus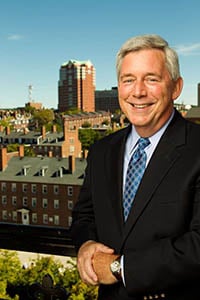 J. Michael Hickey, a longtime executive of Verizon in New Hampshire, has been named interim dean of the Manchester campus of the University of New Hampshire later this month.
UNH Provost Lisa MacFarlane announced that Hickey, who has long had close ties to the state's business community and brings hands-on experience to building the state's workforce needs, has been appointed interim dean.
For more than two decades, Hickey served in a range of leadership positions for Verizon and its telecom predecessors before that, including New England Telephone and Nynex. He served for seven years as president of Verizon New Hampshire and most recently directed Verizon's policy development and advocacy in Washington.
Hickey, 62, lives in Newmarket. He is a 1973 graduate of UNH, where he studied sociology.
Before entering the telecommunications industry, Hickey was director of the state Division of Economic Development and executive director of the Mt. Washington Valley Chamber of Commerce.
Hickey succeeds Ali Rafieymehr, who stepped down from the post in November to take a job as director of instructional design at Manchester-based Dyn.