Michael Wilson of New Hampshire Charitable Foundation
2013 Financial Executive of the Year winner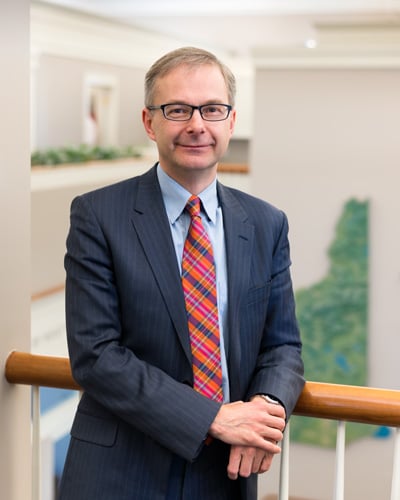 Michael Wilson's childhood was spent in places most know only from an atlas. Born in Pakistan to British parents, Wilson spent his formative years on the move, led by his geologist father to Canada, Colombia, Greece, Jordan and Chicago, where he finished high school.
After graduating with his own geology degree from Bates College in Maine – where he met his wife – the pair moved to Taiwan, where he studied Mandarin, then to London, where Wilson received his master's in finance from the London School of Economics and launched his career at a firm owned by a Rothschild.
After holding several senior finance and operations positions at nonprofits and for-profits in the U.K. and the U.S., in 2005 Wilson joined the New Hampshire Charitable Foundation, the state's largest nongovernmental grantmaker, which connects charitable donors with community organizations.
He came to the foundation under difficult circumstances, his predecessor as CFO having passed away unexpectedly. Despite the challenge, Wilson managed the transition "with sensitivity and efficiency," as one of his supporting nominators wrote, gracefully adapting to his new position while keeping the foundation's investment program on track.
Wilson is not only CFO of the foundation, but serves as its chief information and chief technology officer as well.
Since Wilson joined the foundation in 2005, its assets have grown 27 percent. Wilson now oversees a total portfolio of more than $500 million.
Amazingly, through the darkest days of the recession, the foundation has kept its operating expenses and staffing at 2007 levels. Under Wilson's guidance, the foundation has continually had operating surpluses, which have built operating and capital reserves to significant levels.
As CTO, he has made many significant technology investments to make the foundation's work more efficient, including a Web-based portal for donors, online grant submissions for nonprofits, and migration of functions to the cloud.
Wilson is a longtime volunteer for the Capitol Center for the Arts (where he served as director of finance before joining the foundation) and is a sought-after speaker at national conventions on impact investing and endowment management. For the Barnstead resident and father of three, "it is not just about the numbers," wrote one of his supporters, Jesse Devitte of Borealis Ventures. "It's about the real human impact of the resources available to those in need."
Q. What has been your proudest accomplishment during your tenure at the Charitable Foundation?
A. In the big picture, the 2008 downturn was difficult to navigate, but I think we can all feel proud of the fact that we were still able to meet the needs of the community. And — I don't know if it's an accomplishment — but I get to work with some pretty talented colleagues. The people on my team are pretty strong, and it's a collective accomplishment in my eyes.
Q. What have been some of the biggest professional challenges you've faced in your career?
A. The world of finance investments and IT are all changing so rapidly. For example, IT is changing very fast right now, with things moving to the cloud, the delivery of services being so different, and with customers' expectations of instant service and so on, it changes dynamics and the demands. But the advantage in all that change is it's a continual learning opportunity, which is the advantage of working at the foundation. It may sound trite, but it is true. It's a job where one gets to continue to learn while building a better world.
Q. What are your hobbies/personal interests?
A. We have three children, so we spend a lot of time doing family activities. For me individually — and some of these I do with the kids – I enjoy bicycling, I play squash. My daughter, my middle child, is skiing, so that's encouraged me to get back on the skis. There's not a lot of skiing in England.
Q. Looking to the future, what are some of the challenges and opportunities that you see on the horizon for the Charitable Foundation?
A. The environment generally is changing so rapidly and the expectations of philanthropic organizations are increasing. For us, we're building an organization that has a perpetual time horizon in what seems like a short-term world.
What's been interesting over my time here is to see where the nonprofit, the for-profit and government sectors can work together, where there are opportunities, so I expect that will continue. And some of this work around impact investing becomes sometimes a bit of a blurring of the lines. We're seeking a for-profit return but also looking for societal benefit, and some of these companies are doing the same thing.