Members named to Laconia State School redevelopment panel
Bald, McLear among those nominated by governor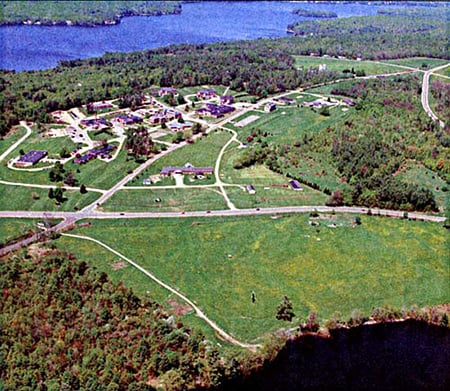 With the names of six of its seven members announced, the eagerly awaited commission tasked with studying redevelopment of the former Laconia State School property is taking shape.
Created in the most recent legislative session, the Lakeshore Redevelopment Planning Commission will examine potential public-private partnerships for the 200-acre site. Its goal is to focus on "self-sustaining economic development and job creation for the benefit of the city of Laconia, Belknap County and the state of New Hampshire," according to the legislation, which was spearheaded by Senate President Chuck Morse, R-Salem.
Morse said he modeled the LRDC after the Pease Development Authority, which has overseen the highly successful redevelopment of the former Air Force base in Portsmouth and Newington.
Likely with that in mind, Gov. Chris Sununu has nominated George Bald, who served as economic development director of the PDA and then became executive director of the agency, to sit on the commission. Currently chair of the PDA board, Bald also is a former commissioner of the state Department of Resources and Economic Development, now called the Department of Business and Economic Affairs.
Also nominated by Sununu is Rusty McLear, owner of the Inns at Mills Falls in Meredith, whose development have who helped turn around the economic fortunes of that town, as well as co-developer of the Hooksett Welcome Centers on Interstate 93.
George Hurt, a former Republican representative from Gilford, also been picked by Sununu to sit on the commission as well. A seventh commission member, to be nominated by the governor, has yet to be named.
All of the governor's nominations must be approved by the Executive Council, which will consider the names at its Sept. 13 meeting.
Additional members include Gino Baroni, who has been appointed by Morse. Baroni is managing principal and owner of Salem-based Trident Project Advisors Group, which consults with developers, municipalities and others on real estate development projects.
Named by the Laconia City Council was Chris Shumway, president of Rist-Frost-Shumway Engineering of Laconia, and former NH Rep. Peter Spanos of Laconia has been nominated by House Speaker Shawn Jasper, R-Hudson.
The commission is required to file an initial report by Sept. 1, 2018. Morse said that he expects the commission to come up with recommendations for infrastructure at the site to be considered in the state's 2020-21 capital budget.