Medical marijuana sales tick up
But NH lags behind its pro-recreational neighbors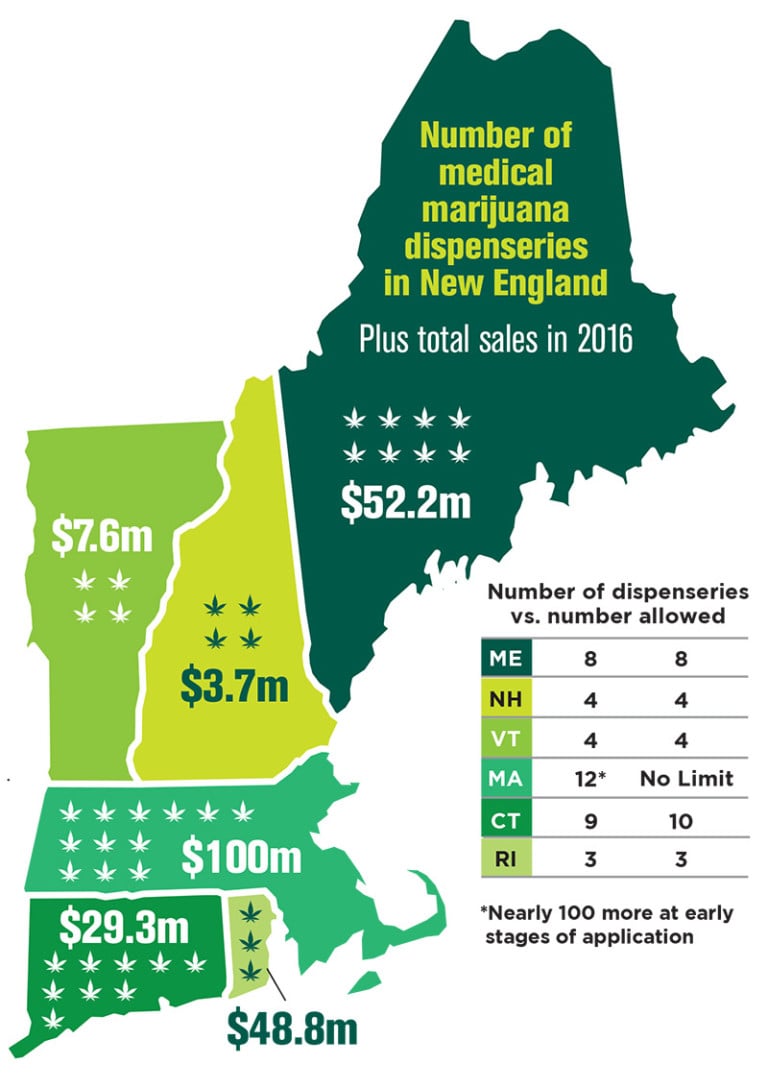 If you heard three dealers in New Hampshire sold $5.1 million worth of pot last fiscal year, you might wonder how they got away with it.
Yet the dealers — the three owners of four medical marijuana dispensaries — are not only operating within the law, they are just getting started.
Last fall, the state vastly expanded the number of qualifying conditions that can be treated with cannabis, contributing to a six-month, 36 percent jump to 4,753 users on Dec. 31. One projection estimates sales will quadruple to $22 million by 2021.
But New Hampshire lags behind its neighbors.
The three surrounding states sold an estimated $160 million of medical marijuana in 2016 and have legalized marijuana for recreational purposes, which should produce about $1.4 billion in sales.
The Granite State decriminalized marijuana and the House passed a legalization bill in January, but that isn't expected to lead to recreational legalization, at least not until months after a commission issues its report in November.
Meanwhile, in Massachusetts, companies are rushing to set up shop to position themselves for recreational sales by April, when the state plans to start accepting applications, so they can start operating in July. Massachusetts expects to have 40 dispensaries by then, double what they have now.
"The revenue is going to be dramatic," said Bob Fireman, CEO of MariMed, a publicly traded cannabis firm. "New Hampshire is going to see all these people going down to buy it and they are going to say, 'we might as well participate and get the tax revenue.' It used to be that people would drive up to Salem [NH] to escape Massachusetts taxes. Now folks will be coming here to pay our taxes."
Advocates on both sides are discussing the issue more in monetary, not just moral, terms.
"We already have a lucrative market," said Matthew Simon, the New England lobbyist for Marijuana Policy Project. "But there is no control over it. The goal is to take that revenue and bring it under the laws of the states."
"When we are talking about legalization, it's not like we have a problem having it available," said Kate Frey, vice president of advocacy for New Futures. "It's commercialization in New Hampshire communities, to keep the heavy user and lure in new ones, just like tobacco."
So far there is little evidence that tobacco is behind the push for legal pot, but that doesn't mean big money isn't at stake.
"New Hamshire is going to see all these people going down [to Massachusetts] to buy [recreational marijuana] and they are going to say, 'we might as well get the tax rev
enue.'"
ArcView Group estimates national sales of $9.7 billion to about four million people in 29 medical marijuana states and the nine allowing recreational use. That's about a tenth of the size of the illegal market, and more and more companies like MariMed are going public.
Medical marijuana dispensaries are legally required to be a nonprofit in most states including New Hampshire and Massachusetts, but that doesn't mean there isn't profit to be made.
"We are set up as a nonprofit, but we do have a service company that makes everything happen, and that makes a profit," said Brett Sicklick, the CEO of Prime Alternative Treatment Center in Merrimack, with a production facility in Peterborough.
Prime sold some $1.6 million worth of cannabis products to 1,100 patients in fiscal year ending June 30, 2017, according to a New Hampshire annual report, but the company spent almost half a million more than that, so it is hard to see how that translates into profit.
Prime's 2015 heavily redacted New Hampshire application doesn't shed much light, but a Massachusetts application submitted around the same time shows how the money flows: Prime Wellness Center (the dispensary there) would pay Prime Consulting LLC a fee of $1,472 per pound of marijuana sold. Furthermore, Prime Consulting would loan Prime Wellness some $4 to $7 million at 15 percent annual interest.
The principal of Prime Consulting Group and the CEO of Prime Treatment Centers is one in the same, John Glowik Jr., of Massachusetts, who previously owned a dialysis company, medical supply and billing companies and a nutritional supplement company.
Prime started in Connecticut and has medical dispensaries in Worcester, Leominster and Shrewsbury, Mass., with a production facility in Sterling., Mass.
Legalization "is definitely on our radar," said Sicklick, who is originally from Colorado.
Temescal Wellness, which sold some $2.1 million worth of marijuana in Dover and Lebanon (and has a production facility in Manchester), is based in Maryland, but it, too, is gearing up in Massachusetts, with dispensaries in Framingham, Hudson and Pittsfield, and a production facility in Worcester.
"If we have the opportunity to provide it recreationally, definitively," said Ted Rebholz, who hails from the Bay area where he worked as a CFO for companies like Beyond Meat and WhipTail Technologies (which he helped sell to Cisco).
"What makes us really unique is our branded cannabis products," said Rebholz.
While Temescal can't sell marijuana across state lines, its affiliate — Integrative Health Products — can partner with a local dispensary, offering recipes, materials and training to make cannabis-laced products including AVID Abundance gummies "a treat with relief" or Eden body butter, to deliver the drug topically.
MariMed has a similar product line: Betty's Eddies fruit chews, Little Lemon Heaven and Kalm Fusion popcorn. It ships them out of its distribution center in New Bedford, Mass., to its own dispensaries in multiple states as well as local partners. In Maine, it is partnering with Canuvo Inc., which has a dispensary in Biddeford and a production facility in the western part of the state. The company said it's trying to negotiate a similar arrangement with some undisclosed dispensaries in New Hampshire as well.
Sanctuary ATC — a dispensary in Plymouth, with a hydro-powered production facility in Rochester —was started by local entrepreneur, Jason Sidman, of Salem, a UNH Whittemore School of Business graduate. residing in Salem.
Sidman who started in an equity firm and was the managing partner at energy company Planet Green in Meredith, said he got into cannabis because it helped a family member with cancer.
"I see this as a very biotech company using sophisticated extraction, fractionation and formulation," he said.
Sidman is not restricting himself to New Hampshire. He is also planning three dispensaries in Massachusetts — Danvers, Gardner and Peabody — with a triple-stack production facility in Littleton, Mass., "boots on the ground in Florida", a pending application in Ohio, "and we are getting ready for New Jersey and Connecticut."
No owner of a New Hampshire dispensary is talking about expanding into Northern New England where commercialization is not imminent. Maine voted to legalize marijuana the same time as Massachusetts, but the governor vetoed the bill commercializing it, so that program is in limbo. Vermont became the first state to legalize pot legislatively in January, but it, too, is just studying commercialization.
The dispensaries in New Hampshire are tied to Massachusetts in another way: they all use Century Bank, based in Medford, and one of the few that would allow an dispensary to park its money there.
Century, which could not be reached by deadline, reportedly stuck with the dispensary, even as other financial institutions pulled back in early January after Attorney General Jeff Sessions reversed the previous administration's course to refrain from enforcing federal marijuana laws. Even CanPay, a debt payment processer that specializes in cannabis purchases, stopped operating over the next few days, forcing the dispensaries here to operate on a cash basis.
"No New Hampshire bank will touch them," said Rep. Patrick Abrami, R-Stratham, in pointing out one of the many difficulties this new industry faces. Abrami chairs the legislation commission charged with setting up a structure on how to commercialize marijuana, should that ever pass here. The commission is trying to learn from other states, Skyping with officials in "the wild west" who have been playing "catch up," coming up with regulations following legalization referendums. So far his efforts have won praise from both sides of the issues.
Abrami voted against the New Hampshire House bill to legalize marijuana, including allowing the possession of six plants, which currently is before the House Ways and Means Committee.
"That's a lot of marijuana," Abrami said, leading to a surplus that will invite a black market. Some companies have also found loopholes to sell the drug in the netherworld between legalization and commercialization. One company in Massachusetts delivers expensive juice with a gift of marijuana, another sells overpriced marijuana themed T-shirts with cannabis to go along with it.
In Maine, where the governor vetoed a commercial bill, but a recreational referendum allows residents to possess six flowering plants, medical use has gone down, as people find it easier to get, grow and share their own.
That's one reason to focus on commercialization. The other: New Hampshire stands to gain more than $40 million in tax revenue, a figure hard to ignore.
"For most of the commission, it is not just about the money," Abrami said.