Measuring economic impact of state's 'illegal population'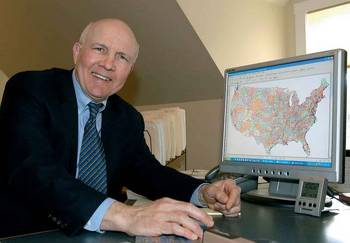 The story of Eduardo Perez and his family is one of survival in a new land. The family of six fled unrest in their homeland of El Salvador four years ago, entering the United States with tourist visas. The visas long ago expired and, although their request for permanent residency has been approved, green card numbers will not be available for four more years. Until then, they will live as a member of the Granite State's "illegal population."
The exact number of others living illegally in New Hampshire is unknown, but, according to a recent analysis by the Center for Immigration Studies of the 2005 U.S. Census Bureau's Current Population Survey, New Hampshire is home to 58,000 foreign-born residents, legal and illegal. That amounts to less than 5 percent of New Hampshire's total population of 1.3 million people.
National numbers indicate nearly half of the 7.9 million foreign-born people settling in the United States during the last five years are in the country illegally. However, the ratio in New Hampshire of illegal foreign residents to legal ones is likely to be much lower, according to Peter Francese, director of demographic forecasts for the New England Economic Partnership and founder and former publisher of "American Demographics" Magazine.
"My estimate would be that at most 10 percent to 20 percent of the state's foreign born would be illegal," Francese said, "Is it something that New Hampshire residents need to worry about? Absolutely not. We're just not talking about big numbers here."
Still, concerns over the impact of a growing population of illegal residents prompted state lawmakers this legislative session to introduce six bills addressing the subject. All but one have been defeated. The remaining bill, House Bill 1318 — which, if passed, would prohibit the provision of public services to illegal immigrants — is up for review.
State Reps. David Buhlman and Jordan Ulery, two key sponsors behind all but one of the proposed bills, concede that illegal immigration is less of an issue in New Hampshire than in other states, but both contend that it is an issue that will grow if left unattended.
"I think it is a medium issue in New Hampshire but one that is bound to grow." Buhlman said. "We'll see a civil war if we continue to allow illegal immigrants to come in."
According to Francese, the lack of agricultural employment and highly urbanized locales make such a scenario unlikely in the Granite State.
But Ulery argued that those who are here are placing added stress on the state's public services with little contribution.
"There's an ever-increasing burden being placed on our public services by people who are not participating fully in our society," Ulery said.
Health-care impact
In a March 8 statement to New Hampshire lawmakers, Amy Sugimori, staff attorney for the National Employment Law Project, credited the National Academy of Sciences with findings that "the average immigrant pays $1,800 more in taxes than he or she receives in government benefits."
But it is hard to say how much of an impact the illegal population has on health care.
In the past five years, the state of New Hampshire has paid $244,000 in Medicaid reimbursements to hospitals that have provided emergency health care for New Hampshire's undocumented residents, according to Greg Moore, spokesman for the state Department of Health and Human Services. The number falls far short of the $237 million in uncompensated care provided by the state's hospitals. Of this, $93.6 million was "charity care," while the remaining $144 million is considered "bad debt."
Gail Winslow-Pine, spokesperson for Catholic Medical Center in Manchester, said care provided in the hospital's emergency room accounted for 71 percent of the hospital's uncompensated care.
The situation is similar at the Elliot Hospital in Manchester, where $9.5 million in "charity care" was provided in fiscal 2004 (an additional $16 million was delivered in "bad debt" cases).
St. Joseph Hospital and Southern New Hampshire Medical Center, both in Nashua, delivered more than $29 million in uncompensated care in total.
Still, there is no way of knowing what amount can be attributed to care provided to undocumented residents.
"We do not ask patients to verify their residency status," Winslow-Pine said. "We provide care to every person who passes through our doors. That's our mission."
Perez, who asked that his real name not be used for this article, knows for certain the names of his family are not among the recipients of this uncompensated care.
"We make sure we stay healthy," said Perez, who cannot afford medical insurance on the $13 an hour he earns working as an electronics fabricator. "My children cannot play sports because they may get hurt. We are very careful."
Perez said he believes the other families living illegally in New Hampshire feel the same way.
"None of these people have come here to take advantage of the free services like some people believe."
The language barrier
Concerns over growing demands on the state's education system also have been voiced in the ongoing discussion about the state's illegal immigration.
In Manchester, where 18,000 students are enrolled in K-12 programs, there are 80 different languages spoken in the homes of the 2,300 immigrant children (legal and illegal) now included in the district. Needless to say, the district's English language curriculum is critical to the successful integration of these students, 1,600 of whom are enrolled in the Manchester School District's English Language Learning program.
According to Dr. Henry Aliberti, assistant superintendent in Manchester, the city receives $300,000 in Title III federal grants to help fund the $3 million program. This accounts for 2 percent of the district's $143 million budget.
The return on the investment is clear, according to Aliberti. "These children really bring in a diversity of thought, culture and religious background which we are able to share within the context of the courses being offered," Aliberti said. "They bring another dimension to the educational process."
The story is similar in Derry, where Dr. John Moody, superintendent of the Derry Cooperative School District, oversees a student body of 3,923 students, three of whom are foreign born, though not necessarily illegal.
"What these children bring to us is immeasurable, there are things that you just can't calculate. Their presence enhances the level of tolerance and understanding that we are all unique and different," Moody said. "You can't put a price tag on that."
Concerns over costs driven by difficulties in educating foreign-born children are put to rest by the words of school officials and children like Christina Perez, who spent her first summer in America studying an English dictionary and reading the "Lord of the Rings." She learned the language well enough to excel in honors classes at her Manchester high school.
"I have friends from Pakistan and Vietnam and Nigeria. They are all so smart and work so hard to learn," said Christina.
The legal system
The month of April began with 2,608 inmates serving time in New Hampshire's four state prisons and three halfway houses. Of these, 132 were foreign-born and 59 were non-U.S. citizens, according to Jeff Lyons, public information officer for the New Hampshire Department of Corrections.
The situation is similar in the county jails, according to a number of jail superintendents throughout the state. Of 327 inmates in Rockingham County, for example, five were being held for the federal Immigration and Customs Enforcement agency. Barely a dozen non-U.S. citizens (not necessarily illegal) were living among the 537 inmates in Sullivan, Merrimack, Coos, Carroll and Cheshire counties combined.
Strafford County housed 11 foreign-born residents over the entire fiscal year, with only two qualifying for federal grant money given to corrections facilities for service provided to "illegal aliens."
"The number of illegals here is so few that their impact is minimal," said Sid Bird, assistant superintendent of the Strafford County Department of Corrections.
The Hillsborough County Department of Corrections – which serves the portion of the state with the highest foreign-born population — is currently home to 518 inmates. Of them, 35 are non-U.S. citizens, according to Lt. Jim Vacca.
The individuals in county jails – all convicted of crimes warranting a year or less of incarceration – come from 16 different countries, including Romania, Sudan, Nigeria, St. Lucia and Canada, as well as Mexico and the Dominican Republic.
James O'Mara, superintendent of the Hillsborough County Department of Corrections, contended that "the number (of arrests of foreign-born residents) is increasing, but it's not skyrocketing."
Law enforcement officials in the southern part of New Hampshire corroborate views shared by corrections officials. They contend the state's illegal population has done little to affect the crime rates in their districts.
"We have not seen an increase in the frequency of illegal aliens as a problem," said Salem Police Lt. Michael McGuire.
Don Conley, deputy chief of the Nashua Police Department, finds the same to be true in his district.
"There isn't any significant increase. The majority of people we have negative contact with continue to be our own citizens."
Home to the fastest-growing Brazilian population in the state, Nashua continues to benefit from the in-migration of foreign-born residents, legal status notwithstanding, according to Conley.
"They are hard-working people. They're truly contributing to our community," Conley said. "They're operating businesses and creating jobs, they're paying taxes. I just don't see it as a problem."
Economic contributions
While evidence indicates that New Hampshire's illegal population is relatively small, a number of families like the Perezes are living in New Hampshire communities. They do learn in the schools and use public services, including health care. Like Perez, most also work, pay rent, buy food, clothing, cars and household items.
Laconia economist Russ Thibeault estimated that immigrant households in New Hampshire probably earn about half of the state's median income ($60,000), as stated by the U.S. Department of Labor – between $21,500 and $37,500. Of that, he contends, they spend between $4,000 and $5,000 on food and about $12,000 on housing. The rest is spent on clothing, transportation, medical needs and perhaps entertainment. Most of the money they spend goes to the businesses within their communities, he said.
The nation's Social Security "Earning Suspense File," which contains Social Security contributions credited to incorrect or fictitious Social Security numbers, has grown to more than $500 billion, much of which is thought to come from illegal U.S. residents who create bogus Social Security numbers in order to work. These individuals pay in but will never collect Social Security.
For Perez, that's something he'll worry about later. In the meantime, he is grateful for the pay he does earn and the home he is able to provide for his family.
"I know here we are living in what many call 'poverty level,'" Perez said. "But we have a nice home. I always pay my bills. I take care of my family. I work hard and am very happy to be able to do this for them here in America."