McLean Communications: N.H.'s premier media company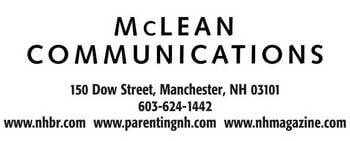 McLean Communications, located at 150 Dow St. in Manchester's thriving Millyard, is home to three of the Granite State's fastest-growing print publications – New Hampshire Business Review, New Hampshire Magazine and Parenting New Hampshire.
The McLean staff of more than 35 people also produces several popular annual events that recognize quality in the state in a variety of ways, including the NH Internet Awards, Best of NH party, NH Theatre Awards, The Remarkable Women breakfast, the Business Excellence Awards and the Outstanding Women in Business Awards. In addition, the company takes on select custom publishing projects for state agencies and non-profit organizations.
New Hampshire Business Review
The award-winning New Hampshire Business Review, now in its 29th year of publication, is the only statewide business newspaper in the Granite State. Published every other week, the newspaper has long been seen by readers and advertisers as the most respected source of business information, news, features and advice in New Hampshire.
With a staff of experienced and respected writers as well as dozens of well-regarded columnists and contributors, each issue of New Hampshire Business Review covers in-depth the entire gamut of New Hampshire's dynamic and diversified economy.
New Hampshire Business Review also produces two annual editions — the Book of Lists and the Business Services Guide, both must-reads for years and are seen as among the most reliable business reference sources for companies, government agencies and non-profits alike.
New Hampshire Business Review's online presence, NHBR.com, is another key aspect of the newspaper's role as the state's business resource. Each business day, NHBR.com features staff-written articles on events and news of interest to New Hampshire businesspeople. And NHBR.com's free daily Business News Browser e-newsletter is sent to thousands of subscribers who are updated with breaking business news and information from around the region.
New Hampshire Magazine
New Hampshire Magazine is a monthly guide to the lifestyles, homes, adventures, cultural experiences and culinary tastes of the Granite State. And New Hampshire Magazine is a place where readers not only learn some things about their state, they learn some things about themselves as well.
"We tell the stories of the state by featuring the people of the state because, in the end, that's what New Hampshire is really all about," says editor Rick Broussard. "We seek out experts and insiders with something to say and the talent to say it well. And we feature artists who can represent the essence of the state, whether in words, photography, or illustrations."
With a monthly circulation of 32,000, each issue reaches a sophisticated readership of well over 150,000. Articles feature a contemporary view of New Hampshire, catering to people who live, work and play in the Granite State.
Serious topics such as crime and law enforcement or heath care and wellness are treated with a fresh eye to detail and to the untold stories. Every issue also includes an essential mix of magazine departments covering fine dining, events, celebrities, unique products, escapes, style and culture.
Parenting New Hampshire
Each month, thousands of New Hampshire parents and caregivers look to Parenting New Hampshire to provide them with the information and resources they need to be successful in their role of guiding the young people in their care towards adulthood.
The free magazine is available at over 700 distribution points throughout central and southern New Hampshire and the Seacoast, including hospitals, doctor's and dentist's offices, specialty retailers and local libraries.
Parenting New Hampshire features parenting information and tips, regular columns on education, children's health and development and resources for Granite State parents and caregivers. A popular feature is the magazine's comprehensive calendar of family-oriented events for the upcoming month.
Says Beth Todgham, the magazine's publisher: "Everyone on the staff is dedicated to providing both readers and advertisers with a quality product each month. Making Parenting New Hampshire a success is truly a labor of love for everyone involved in the publication."
Sales team members Barbara Gallaher, Deb Birch and Eileen Poulin. Lindsay Galvin serves as editorial assistant and Stacy Sousa is the magazine's graphic artist. The newest staff member is Tracy Kittredge, who joined Parenting New Hampshire in April 2007 as editor.
The NHBR Business Profiles section contains content provided by New Hampshire Business Review advertisers.