Massachusetts manufacturer to open Pease facility
Andover Healthcare plans move of headquarters, new production facility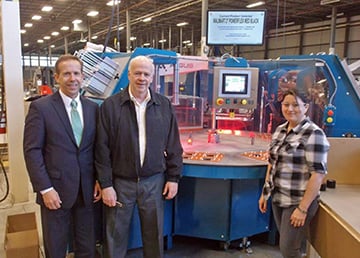 Andover Healthcare Inc., a manufacturer of cohesive bandages and tapes for the health care, animal health and sports medicine industries, has purchased space at the Pease International Tradeport and will relocate its corporate headquarters from Salisbury, Mass. in 2015.
The company has hired six new employees and anticipates hiring 20 more, as well as relocating its corporate staff next year.
The 52,000-square-foot Pease facility will produce elastic bandages for 3,500 Wal-Mart stores across the U.S.
Andover Healthcare President Tom Murphy founded the company in 1976, providing athletic tape to the Boston Bruins. A few years later, the New England Patriots' trainers began using the tape, and by the mid-1990s, Andover Health had grown as an industry leader in bandages for health care and animal care.
Two years ago the company expanded into the retail market with customers such as Walgreens and CVS.
"We recently received a large contract with Wal-Mart," said Murphy, "and we needed to be in production quickly – the facility in Portsmouth is the perfect fit."