Mass. credit union to open Nashua branch
State-chartered Jeanne D'Arc first to open outside Bay State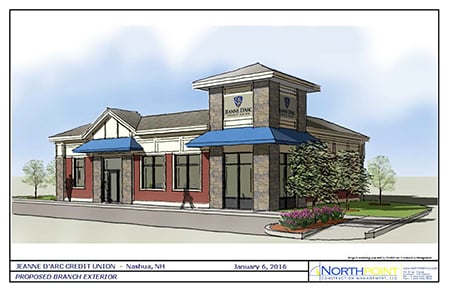 Lowell, Mass.-based Jeanne D'Arc Credit Union has announced plans to open a new branch in Nashua, making it the first to take advantage of a change in Bay State law that now allows state-chartered credit unions to offer their services across state lines.
The new branch will be in Tara Commons, a five-building retail development inside the Gateway Hills development on Spit Brook Road. Ground is scheduled to be broken in April, with an opening scheduled for fall. North Point Construction of Hudson is the contractor.
A change in Massachusetts law that took effect late last year allows state-chartered credit unions to open one branch per year in another state, as long as it is within a 100-mile radius of their main offices.
Credit unions that are federally chartered, such as Digital Federal Credit Union, already had the right to locate in more than one state.
Jeanne D'Arc said it signed paperwork last year for The Flatley Group-owned property, but had to wait until the state's Interstate Branching Bill became law on Oct. 1.
Jeanne D'Arc more recently learned that its expansion plans were officially accepted by the Office of the Commissioner of Banks in both Massachusetts and New Hampshire.
The Nashua facility will be its 10th branch location and will "enhance our ability to serve our existing members and to offer a competitive, alternative banking solution to area residents," said Mark S. Cochran, president and CEO of Jeanne D'Arc. "Opening an office in Nashua will make it easier for our members who live or work in Nashua and Hudson, NH, as well as Tyngsboro, Littleton and Pepperell, to conduct their financial business."
The new Nashua branch will include two drive-up teller windows, a 24-hour access drive-up and walk-up ATM. It will also offer teller stations, member service offices and a coin machine, he said.