Mark Fenske of Great NH Restaurants
2013 Financial Executive of the Year winner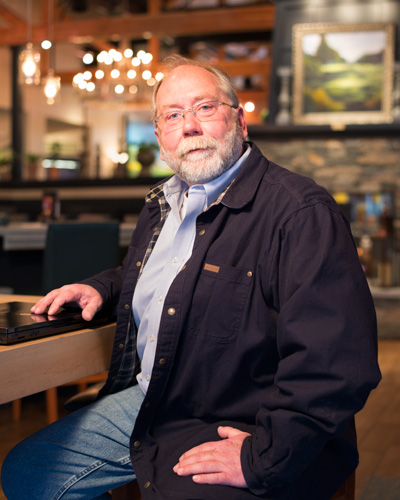 If you've ordered the M.A.F. Burger at T-Bones, then you've tasted Mark Fenske's namesake creation, which he whipped up one day while helping develop the menu for the casual American eatery.
"I went in the kitchen and concocted something that I would like. It's got caramelized onions and our signature to-die-for barbecue sauce, shredded lettuce, tomatoes, a little smear of mayonnaise," said Fenske, co-owner, co-founder and CFO of Great NH Restaurants, a locally owned, independent restaurant chain that boasts three restaurant concepts – T-Bones Great American Eatery, Cactus Jack's and the Copper Door.
Growing up, Fenske said, he "was never one much for schooling." While taking a break from Boston University, he took a job as a line cook at TGI Friday's in the Back Bay. It wasn't long before he was running the whole restaurant — a position at which he so excelled that the company asked him to join its expansion team as it moved into new markets. But the new position required relocation, and he wanted to stay in New England – and test the waters of the independent restaurant business.
The New Jersey native eventually met a pair of cousins who were eyeing a defunct steakhouse in Salem for a new restaurant. They partnered up, and "that was the beginning of Great NH Restaurants and the first T-Bones," said Fenske.
That was in 1984, and since then, the company has grown to eight locations around southern and central New Hampshire, including the new, upscale Copper Door in Bedford.
Fenske is CFO, but like everybody in the company wears many hats. He not only keeps its finances on track but directs all its capital improvements and repairs, guides the architectural and engineering design of new locations and leads the company's green initiatives, which include composting waste and selling fry oil for bio-diesel fuel.
An avid gardener at his Brookline home, Fenske also has a big hand in menu development, in testing new chef recipes and advocating for locally produced products.
Q. What has been your proudest accomplishment during your tenure at Great NH Restaurants?
A. Just coming through the economic downturn of the past five years. When it started to show its ugly head, I decided we were going to do whatever it took to keep the cruise control on. With that, all the way through the downturn, our sales either had slight increases or were static. We didn't have to make any kind of drastic measures and cut wages or benefits or hours or lay people off, and even though we had to basically give everything away for a couple of years, it was prudent because the morale and the staff stayed really strong.
Q. What have been some of the biggest professional challenges you've faced in your career?
A. The biggest challenge has been in living up to one of our best core philosophies, which is that we do business using what we call the three-legged stool. The three legs on our stool are the customers, the staff and the company, and all the legs have to be equal and balance, otherwise it tilts over. So, regardless of what decision it is, if it passes the criteria where it doesn't weaken or shorten any leg on the stool, then it's a good decision. It's a great concept, but to continually always try and apply that is sometimes tough.
Q. What are your hobbies/personal interests?
A. I love the outdoors, whether it's hiking up the mountains, or going down the stream. I'm a tinkerer, and so I've restored a couple of old houses, and presently I'm restoring several pickup trucks. I go through hobby phases, and I do love gardening. I garden with 50 or 60 varieties of various vegetables, and have a small orchard.
Q. Looking to the future, what are some of the challenges and opportunities that you see on the horizon for Great NH Restaurants?
A. It's just getting harder and harder to be an employer, with the vagueness, and the uncertainty of how the government is going to implement ObamaCare, and all the various different rules and regulations that apply now.
We've got great brands and a lot of loyalty to those. We're currently working on expanding our infrastructure capabilities. We do all our own steak-cutting and dessert-baking at one of the restaurants, and they just have simply run out of room to do that and be able to supply the various restaurants, so I'm hoping to come up with a solution to that and maybe open a small market, where our customers could also stop in and pick up those meats and desserts for their summer barbeques.