March EYE Award Winners: Jeremy Hitchcock and Tom Daly, DynDNS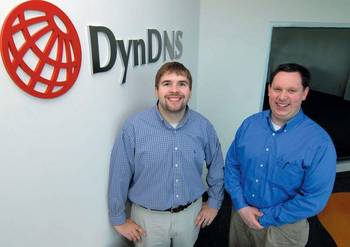 During their freshman year at Worcester Polytechnic Institute, Jeremy Hitchcock and Tom Daly began volunteering for a local domain name service provider that had been delivering free service to a growing number of users.
It wasn't long before the growing popularity of the service began to ignite Hitchcock and Daly's entrepreneurial spirit. The future business partners believed the service could evolve into a lucrative business with the right support.
That support came from the service users themselves, following a request for donations by Daly and Hitchcock. The two collected $25,000, enough to move the operation into a local data center. Within months, Hitchcock, now a college sophomore, formally registered the business in Massachusetts.
That was six years ago. Today, under the guidance of the two 25-year-olds, what began as a volunteer service has evolved into Dynamic Network Services Inc. (DynDNS), whose subscribers from around the world pay a one-time fee of $24.95 for DNS hosting and secure a number of other Internet security and management services, including domain registration, e-mail forwarding and storage, network monitoring and SSL certificates.
In addition to a growing roster of paid subscribers, more than 2 million people use DynDNS's free service, which Daly describes as an Internet telephone book of sorts, linking domain names with their corresponding IP numbers in the same way telephone books link names and phone numbers.
In 2004, Hitchcock, the company's CEO, and Daly, company president, moved the business to its first Manchester home – 3,500 square feet on Sundial Avenue. By September 2006, with 18 employees, DynDNS had outgrown the space and moved to its current location – 10,000 square feet on the fifth floor of 1230 Elm St., overlooking the city's business district.
Hitchcock and Daly credit the success of DynDNS to its deliberately controlled growth, something they agree will continue to be at the forefront of the company's ongoing evolution.
---
What inspired you to start your business?
TD: It was just fun.
JH: We saw an opportunity and over time we knew there were more things to be done. There was real opportunity to grow this operation.
What about this endeavor are you most proud of?
TD: There were a number of opportunities to get rich quick, but instead we took the path of slow, controlled growth and worked at maintaining a stable environment.
JH:M We've created a great working environment. We've been deliberate in the things we haven't done. We focus on the things we are good at.
Where do you see your business 10 years from now?
TD: We'll be better. We'll offer more features and even more reliability.
JH: We want to focus more on the enterprise DNS world. We'd like to better cater to more Fortune 500 users.
How do you kick back?
TD: Right now I'm in the middle of planning a wedding. I just bought a new house, so that's been keeping me busy. And I read a lot.
JH: I'm on a number of boards – Manchester Young Professional Network, the Amoskeag Business Incubator, the West High Endowment. I'm also a Rotarian, and I play the trombone.
Who are your role models or sources of inspiration?
TD: It was a man named Gent Cav. He owned G4 Communications, where I worked during high school and my first two years of college. He could do things the way he wanted. He made all the decisions.
JH: My parents. My dad was an engineer and my mother was a teacher. I try to follow the patterns I know they would.
What is it about New Hampshire that's brought you here?
TD: My family is here. The tax benefit. I love New Hampshire — you're an hour away from everything. There was a real comfort level coming back here.
JH: I love the area and knew I wanted to come back here. My family is here. And New Hampshire is a great place to run a company.
What advice would you give other entrepreneurs like yourself?
TD: It's so important to set goals, both short-term and long-term. Break them up into small steps. It feels good when you reach each milestone, and that will drive your passion and get you to the next milestone.
JH: Don't do something you're not passionate about because, while it's a wonderful lifestyle, you won't be able to stick to it, unless it's something you really believe in and really love.