Manufactured-home park in North Conway purchased by residents
NH Community Loan Fund helps families organize and purchase Mt. Washington Valley Mobile Home Village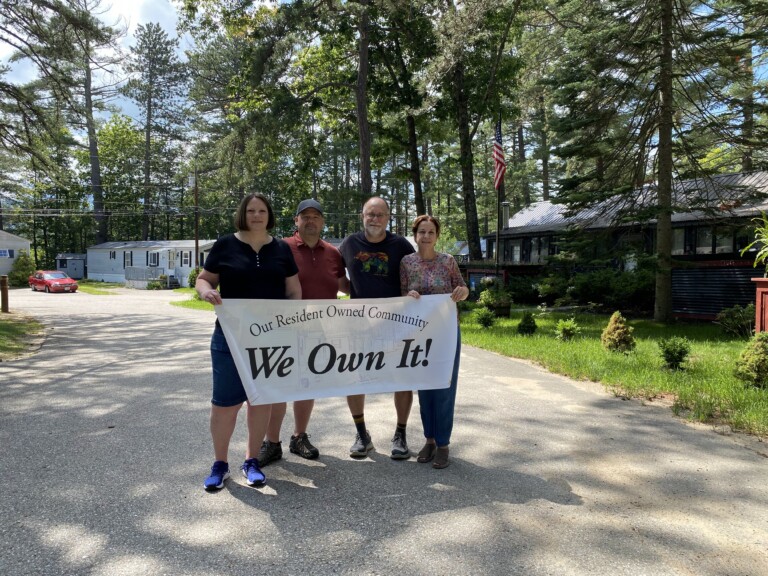 Homeowners in the Mt. Washington Valley Mobile Home Village recently purchased their 32-unit park, making it New Hampshire's 147th resident-owned manufactured-home community (ROC), according to a press release from the NH Community Loan Fund.
With training and technical assistance from the New Hampshire Community Loan Fund's ROC-NH program, residents organized and formed Mt. Washington Valley Cooperative this past January after being notified that park owners Sally Brassill and Odd-Aage Bersvendsen had received an offer to sell.
The cooperative matched the offer and bought their community for $1,800,000 with financing from the Community Loan Fund. A separate $250,000 revolving line of credit will be used to place seven new homes on vacant lots within the community.
"This small 55-plus mobile home park community is nestled in tall pine trees and currently has seven vacant residential lots available," said Tracy Nelson, secretary of the Mt. Washington Valley Cooperative Board of Directors.
Mt. Washington Valley Cooperative is located in North Conway, making it a prime spot for redevelopment. The residents, many of whom have lived in this community for decades, have seen the booming hotel and short-term rental market dominate their town and knew that purchasing their park was the only way to save their homes.
"The New Hampshire Community Loan Fund is proud of the Mount Washington Valley Mobile Home Village for working together and making the important decision to protect their homes and community," said Sarah Marchant, Vice President of ROC-NH.
Mt. Washington Valley Cooperative is Carroll County's 8th ROC. Those communities contain 680 permanently affordable homes.
Affordable homeownership is a major problem for employers and families in NH. A recent report highlighting the state's housing crisis found New Hampshire currently needs an additional 60,000 homes before 2030, and the median rental rate for a two-bedroom apartment is $1,584 per month.
By helping homeowners convert their parks to ROCs, the Community Loan Fund is preserving what has become the state's most-affordable source of housing. And by helping ROCs place new homes on their vacant lots, adding to the state's housing stock.
The more-than-9,000 homeowners in New Hampshire's ROCs have access to fair home financing, as well as management guidance and a host of online and in-person trainings.
A full list of ROCs in New Hampshire is available at communityloanfund.org/co-op/list.