Manchester Proud initiative seeks to transform the city's public schools
Businesses take action to attract employees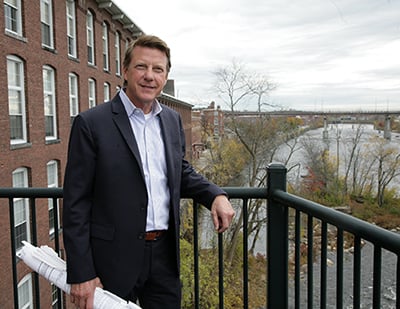 In late 2017, Manchester real estate developer and landlord Arthur Sullivan expected a no-fuss lease renewal for a major tenant in the Millyard. What he received instead was a rebuke with serious implications for his business and the future economic health of the city.
"Instead of a renewal, the tenant told me he was thinking of downsizing their space and moving the bulk of their operations to Massachusetts or Connecticut," Sullivan said. When Sullivan asked why, he was told the main issue was the reputation of the city's public schools.
"They told me they had major issues with hiring people from out of the region. Prospective hires would come to town and say, 'Thanks but no thanks' because the quality of public schools was a problem," he said. "Something with this much impact, of this magnitude, was a waking moment for me. I asked my tenants and others in the business community in Manchester, and I found there was a lot of rumbling about the schools. I talked to [former] Mayor Gatsas and talked to School Superintendent [Dr. Bolgen] Vargas. I wanted to find out what the real issue was. I wondered if maybe it was the facilities [were] not up to par. I realized we needed to put our heads together and come up with solutions. We can't take no for an answer."
"We are at a tipping point and something has to be done to help students in
our city."
What began as a series of informal meetings and fact-finding missions among civic and business leaders became the genesis of Manchester Proud, the grassroots, nonpartisan public school reform organization. It was officially launched in May and has taken root in the city by bringing together teachers, school administrators, business leaders, parents, city officials, students, residents, education experts, and nonprofit and civic organizations.
Additionally, the organization is quickly reaching its $600,000 fundraising goal; more than 1,000 volunteers have signed on to provide input and establish five working groups; more than 100 information and fundraising meetings have taken place; and volunteers with no previous experience have embarked in unprecedented canvassing efforts across the city.
"It's absolutely amazing what's happening," said Sullivan, one of Manchester Proud's founders. "It seems that everyone agrees we are at a tipping point and something has to be done to help students in our city. We are meeting everyone throughout Manchester and there's something going on every day."
'Our best hope'
The main focus of Manchester Proud is ambitious: the transformation of the city's public schools with a community-created strategic plan to better prepare students for the demands of the 21st century and to enhance the overall economic and social health of the city. The long-term goals include: better schools with sustainable success; safer neighborhoods; better-paying jobs as companies and workers plant roots in the area; higher property values; and invigorating community connections to its schools.
This is no easy feat in a city where, according to a survey by Reaching Higher NH, 72 percent of the property-tax payers do not have children in the public schools. The sheer ethnic and socioeconomic diversity of the student population — due in part to the city being a refugee resettlement hub — and close to 60 percent of the students on free or reduced lunch programs are among the many challenging facts of life in Manchester.
"It's not just about more money, but we need to advocate for these kids and be honest about the challenges we face," said William Krantz, a Manchester native and principal of McLaughlin Middle School. "Crime and drugs are challenges for the city and we see the effects in the schools every day. There's a population of kids who, through no fault of their own, are not living in nurturing environments. What kind of moral responsibility do we have?"
Krantz sees Manchester Proud as a wider, modern version of what he personally experienced as a child. "I grew up in the inner city in what we would call an at-risk neighborhood, not unlike what my students face. I had teachers and [athletic] coaches take an interest in me."
Krantz believes that Manchester Proud's focus on having the community create a long-term plan and take ownership for the future is a way to break through the political and ideological gridlock that derails reform efforts.
"You can't create tax revenue without a strong tax base," said Richard
Dr. Patricia Lynott, president of University College at SNHU, has also experienced difficulty recruiting faculty to the greater Manchester area.
(Courtesy photo)
Dichard, principal of Manchester West High School. He acknowledges that the city already struggles to keep up with basic police and fire services because of budget constraints.
"I think that Manchester Proud is our best hope to convince the public that investing in quality public education in any community is critical for a prepared workforce and expand the tax base with more businesses coming here. We need to get that across to the 72 percent of taxpayers who don't have children in the system."
'We cannot fail'
As daily headlines continually focus on the need for a more skilled and better-prepared workforce, advocates for public education stress that Manchester's status as the state's business and technology innovation hub can be pivotal as a launching pad for significant reform. They also believe it's a race against time.
Dr. Patricia Lynott, president of University College at Southern New Hampshire University and another early member of Manchester Proud, said it had also been a challenge for SNHU to recruit faculty into the area because of concerns about public schools.
"The reality is that there are so many good things happening in Manchester's schools, but they are overshadowed by the negative," Lynott said. "It's unfair, but perception is the reality and part of this is a public relations problem and we need to lift up and show our community the potential for better schools and a better city."
Like many in Manchester Proud, Lynott is blunt about the stakes: "We cannot fail," she said.
Manchester is the state's largest and oldest school system. It has 14 elementary schools, four middle schools, four high schools, a Career and Technical Education Center and an adult education program. The 15,000 students are served by 1,700 faculty and staff. According to U.S. Census figures, in 2016 Manchester high schools graduated 86.7 percent of its students, which is slightly below the U.S. median of 88.6, and 6.1 percent did not finish the ninth grade.
As with many small urban school districts in the country, it has undergone dramatic change in the past decade. According to ReachingHigherNH, the Concord-based nonpartisan public education advocacy organization that is handling overall project management of Manchester Proud, these changes include:
• The percentage of students eligible for free and reduced-price lunch has gone from 36 percent to 58 percent.
• The percentage of students who are English language learners has gone from 8 percent to 14 percent.
• The percentage of students of color has gone from 24 percent to 43 percent.
• The gap between what Manchester spends per pupil and the state average for what municipalities spend per pupil is $3,500 per pupil and it is growing — over the past 4 years this gap has grown by over 4 percent each year.
'For the people, by the people'
"Manchester's schools are at the leading edge of a series of changes that are occurring more generally across the city," said Dan Vallone, policy director at ReachingHigherNH. "The schools are much more diverse than the city and the city is much more diverse than the state of New Hampshire. This creates incredible opportunities for learning, but also makes it a more complex endeavor to ensure all students have equitable opportunities."
Education reform efforts are always in vogue, but Vallone says Manchester could be a landmark case study not unlike other recent transformational initiatives in Pennsylvania and New York.
"The unique complexity of Manchester's schools and their close location within the state's tech and business hub make it possible for the district to implement initiatives that integrate real-world challenges," Vallone said. "Manchester School District is one of two districts in the country (the other is in Hawaii) that received a significant grant to work towards providing every student with high-quality, project-based learning. Within the next few years, Manchester wants all students, starting with the youngest grades, to experience enriching project-based learning."
Unlike other major reform efforts initiated via consultants, technical experts and major organizational backing, what makes Manchester Proud unusual is that a diverse community of parties is coming together to facilitate a strategic plan. Moreover, Manchester Proud says the "innovative, comprehensive, strategic plan" will be "the first-ever city-wide public education plan for the people, by the people … ." Imprinting every aspect of the community's vision is one of the requirements for the educational consulting firm hired to put the strategic plan together.
"I've been impressed with how much Manchester Proud has accomplished and how they've brought the community together," said first-term Mayor Joyce Craig. "I've worked closely with them, and one of our main goals is to create more public-private partnerships."
Alicia Parker (right) and her daughter
Kimiya
Parker-Hill, a junior at Manchester West High School.
She said the organization is "committed to creating a transparent five-year strategic plan with achievable goals and benchmarks that can be measured. They are not creating this plan in a vacuum." Connecting schools and the wider community is key to making it a sustainable reform platform, she added.
Michael Skelton, president and CEO of the Greater Manchester Chamber of Commerce, said his organization became an immediate and enthusiastic partner with a donation of $5,000. Additionally, the chamber has hosted meetings and contributed staff and volunteer time.
"A successful, high-quality public education system is essential to a thriving community and business climate. The chamber knows from firsthand experience that businesses looking to expand, relocate or add jobs consider the local education system as part of that decision-making process," Skelton said. "What makes Manchester Proud particularly unique and special is the grassroots nature of it. Citizens, businesses, parents, educators have all come together to support this project. This type of authentic grassroots support makes Manchester Proud impossible to ignore and the best vehicle for our community to create lasting change and progress by supporting and enhancing our schools."
'Pent-up urgency'
Alicia Parker and Susan Sweed had never canvassed before, but in September they did.
According to Manchester Proud, they are part of a volunteer corps that has knocked on more than 2,000 doors in all 12 wards of the city. Parker is the mother of Manchester West High junior Kimiya and Sweed has taught for 35 years in Manchester schools, most recently at Central High. Parker was curious when she received an email about Manchester Proud from Kimiya's principal, Richard Dichard.
"Never heard of it, but we decided to sign up and see what Manchester Proud was all about," Parker said.
Sweed saw Patricia Lynott and Manchester Proud coordinator Barry Brensinger of Lavallee Brensinger Architects on local television during the summer and was interested in how they talked about the connections between economic development, a healthier city and keeping graduates in New Hampshire to work and live — with K-12 public education as the indispensable fulcrum.
"We're all in our little silos and to get outside and be exposed to people with different career paths and communicate and share ideas growing experience," said Sweed, who has canvassed, attended town hall meetings and Chamber of Commerce leadership events. "These are prominent businesspeople in the community whose bottom lines are being affected by not having a skilled workforce. If you don't have a skilled workforce, you can't grow."
"The recent canvassing experience was great. I thought it would be hard to do because neither my daughter nor I had participated in anything like this before," said Parker, whose son graduated from Manchester Memorial in 2010 and returned to coach football at his alma mater after graduating from Merrimack College. "After the training, it made it a lot easier. We also had the pleasure of speaking to some great people, such as a former school board member and his wife who is currently a paraprofessional in the school district. The few other people we had the chance to talk to were very interested and glad to see the need for more community involvement."
Manchester Proud coordinator Barry Brensinger of Lavallee Brensinger Architects.
Like the Parker family, Sue Matthews hopes Manchester Proud will succeed in shining a spotlight on Manchester public schools, which in many ways are taken for granted.
"I hope the organization will spread the message about how important it is to support public education for our young people since they will one day be our society's leaders," said Matthews, an educator for 26 years and principal of Highland-Goffe's Falls Elementary School for the past five years. "If we want to leave a better world for future generations, then we need to focus on our youth today. I also want to spread the message that Highland-Goffe's Falls School is a vibrant learning environment, where we work hard against many challenges to try and excel at educating our students."
How comprehensive is the effort? In mid-October, Manchester Proud hosted a community resource mapping workshop with more than 65 organizations including the Boys and Girls Club, the Manchester Police Department, YMCA, United Way, Manchester Health Department and the Greater Manchester Chamber. The event was for city service providers to begin assessing their collective resources and create a shared vision of what a robust network of school-to-community partnerships might look like.
Dozens of focus groups and listening sessions are scheduled to take place through February.
"I believe that people are looking for something positive and not be helpless at the local level," said Brensinger, who took part in the early informal meetings and fact-finding sojourns to all the schools in the city.
"I've been surprised by the level of response. So many people are stepping up with financial and human resources to make this a total community effort," Brensinger explained. "In the business community, there's a high level of enthusiasm and wonder about why we didn't do this sooner. There is a pent-up sense of urgency about our schools — not just in Manchester but public schools in general and how we should teach kids in this century."
Editor's note: This is the first of a two-part series.