Manchester project beset by financial squabbling
Developer comes under fire over former police station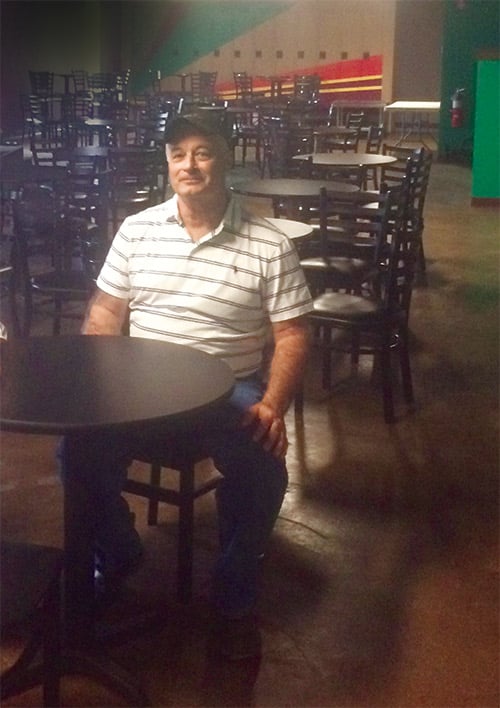 Contractor and investor disputes with Francis P. Rich Jr., developer of the former Manchester police station, have plagued its renovation into a commercial building, yet the first tenants have moved in – organizations that connect addicts with treatment and provide food for the homeless.
"We've been on pins and needles, but we are here," said Sharon Drake, executive director of Serenity House, as Rich worked to resolve issues with the city's fire marshal. Another nonprofit, the 1269 Café, was at first forced to serve hot meals under a tent in the parking lot, but it too is now inside.
Four lawsuits have been filed over the project, all charging that Rich had not followed through on promises of payment. They include a complaint by Manchester real estate broker Rick Mulvee, who has known Rich for over 30 years and invested $150,000 of his family's money with him.
"I'm never going to get paid," Mulvee said. "He has screwed his contractors. He has screwed his investors. He was a very good guy that turned bad."
But Rich said that the project is on track and everybody will get paid in full. He blames the delays on a change in the business model, the firing of a "dishonorable" contractor who tried to put a lien on the property and on Mulvee himself, for "stirring up trouble."
"Frankly, they have a nice little conspiracy to make me look bad, to defame me." But, he insisted, "I think we have a great investment."
'Quicker cash flow'
Manchester put up 351 Chestnut St. for sale in 2012 when the city began construction of a new police headquarters as part of a $43 million municipal services complex. The asking price was $2.1 million for the 43,000-square-foot building.
Rich said he was interested in the property first on behalf of the family that owned the former Grossman's building supply chain, which reached a deal to buy it for $1.3 million. But the Grossmans backed out due to environmental problems, he said.
So Rich (or rather, 351 Chestnut Street LLC) bought the property at the end of June 2015, after the city cleaned up 84 tons of hazardous waste. By then, the property – appraised at $1.9 million – changed hands for $749,000, but Rich still had to renovate it.
He took out a $1.2 million loan from Franklin Savings Bank, raised at least $600,000 more from investors (according to interviews with them) and put a "substantial" but undisclosed amount of his own money into the project.
Rich originally wanted to use the building for self-storage and short-term office space, "but we found that the opportunity of leasing to tenants would create a quicker cash flow."
A third tenant, Zeal Church, would occupy some of the first floor, and Rich is negotiating with a security firm that wants to use the old shooting range in the basement. The remaining space, including the 14 jail cells, would be used for storage. But the "change in the model" increased the cost of the project and pushed up the deadlines for completion, Rich said.
Then came the dispute with Intralux Construction of Manchester, which slapped a $321,000 lien on the project, alleging in a filing in Hillsborough County Superior Court that it was concerned the company would default on its bank loan. The contractor complained that it had not been paid in full for the work it had done in a timely matter.
But Rich said that Intralux was behind on the project, and that its owner – Frank Pochopin – "stole" a number of heat pumps, even installing two in his wife's home. If those were counted, the amount owed was not much more than $50,000, said Rich.
Pochopin, didn't return NH Business Review phone calls, but in legal filings claimed that the pumps weren't needed for the project and the amount they were worth was inflated, and no attempt was made to settle the dispute. (The court vacated the lien, saying Rich "has sufficient assets to satisfy a judgment" were Intralux to win the case on the merits.)
In any case, Rich dismissed Intralux in mid-January and worked with a number of Intralux subcontractors directly. But two of them also went to court over late payments.
Line of credit
Longchamps Electric, also of Manchester, filed a complaint on Feb. 26, saying that it was not paid for close to $150,000 in work. The company said some $20,000 was paid, but a $10,000 check allegedly bounced. Nevertheless, the company withdrew its suit on March 27. Rich and his attorney said Longchamps has since been paid.
The dispute with Longchamps held up the electrical work on the alarm system, one of the reasons Manchester Fire Marshal Peter Lennon issued a code violation, which delayed occupancy. Rich thought that the department was being "real sticklers … that building was built as a bomb shelter. It can't burn." But Lennon said there were very basic safety violations that could result in loss of life if not corrected.
Another contractor, Optiline Enterprises LLC of Hudson, was also claimed not to be paid in full. That payment will have to wait until Franklin Savings increases Rich's line of credit, said Rich's attorney, William Gannon.
Rich said that Optiline was also an investor in the project, and because it had filed in court, would have to wait for a settlement to be paid.
Rich has asked Franklin Savings for another $400,000, but at deadline, he said, the loan had not been approved. He said that such delays were normal and not due to the litigation surrounding the project.
Another lawsuit
Meanwhile, investors are getting nervous. Ryan Filion, who represents five investors, decried the lack of communication. He said that he hadn't even received a K-1 statement in time to file his taxes and that he has contacted an attorney. (Rich said he filed an extension on his K-1 and it would be issued shortly.)
Mulvee has filed suit. The broker had known Rich back when their kids were young, came into contact with him again on a failed deal to buy three Millyard buildings from One Dow Court in for $13 million. (NH Business Review is part of McLean Communications, whose offices are at 150 Dow St., one of the three buildings in question.)
That deal also ended in a lawsuit. Again, Rich was working with Grossman, who signed a purchase agreement in December of 2014, and again Rich (or his Tranquility Holdings LLC) took over that deal the following March.
One Dow Court said the deal fell apart when Rich failed to deposit $150,000 in an escrow account (even while allegedly assuring One Dow President Ralph Sidore that he was, going so far as to show him an image of that check, Sidore told NH Business Review).
Sidore, who also was a longtime friend of Rich, said he was so enraged that when Rich tried to apologize, "I threw him out of the office."
Gannon, in his reply, said that there were reasons Rich was backing out, mainly that a major tenant was no longer renting there.
Rich, however, also blames himself: "I blew it. I couldn't get financing that was needed. A couple of investors bowed out, and I had to walk away from the purchase."
The two settled on a payment plan for $50,000. Sidore said that Rich has been behind on the payments, and that one check bounced (though Rich has since made good on it). Rich said he is up to date on his payment and said that Sidore was "rewarded very handsomely for doing very little."
'Stirring up trouble'?
It was at the start of this failed transaction that Rich offered Mulvee an opportunity to invest in the police station project. Mulvee eventually made the investment, but he said Rich kept on putting him off on his subscription agreements. When he finally got them in late May, he didn't like what he saw, and wanted his money back. That never happened, said Mulvee, who also complained of very little communication, and no K-1 to file his taxes.
Rich said that Mulvee was mainly "stirring up trouble" among investors and contractors because of "sour grapes" for failing to get a commission on the One Dow Court deal, as well as other unconsummated deals involving Rich. He said that all the investors would get their return "once the cash starts to flow" from the projects.
And while he already invested Mulvee's money in the project, he would happily buy him out once he gets another investor to take his place. He said he offered Mulvee a settlement with a payment plan until then.
But Mulvee didn't want a payment plan, pointing to the problems that Sidore was having with One Dow Court. Besides, he said, "every settlement has a confidentiality and non-disparagement clause. That's never going to happen with me. This guy has to be exposed."
Rich did warn investors that they have a confidentiality clause in their investment agreement, and that talking to the media could result in "corporate sanctions," though he declined to say what that would be.
One of the fears of both investors and contractors is that Rich is out of money. His move to retain Gannon, a prominent Manchester bankruptcy attorney, has fueled those concerns. Rich has never declared bankruptcy personally, but he was CEO of Boston Equipment and Supply Company when it filed bankruptcy reorganization for a second time in 2010. (Gannon was initially the attorney.)
Creditors, the bankruptcy trustee and the state of New Hampshire repeatedly objected to Boston Equipment's plan to re-emerge from bankruptcy, saying it wasn't viable. In December 2013, Boston Equipment consented to the trustee's motion to dismiss the bankruptcy filing, lifting the stay against creditors for suing the company.
During all this, American First Federal Inc., which inherited a loan from Sovereign Bank, went after Rich and his LLC personally and won a $1.2 million default judgment in 2012. Rich and Gannon said a portion of that judgment was paid, but they did not say how much. It's unclear how much Boston Equipment paid other creditors, but the company is still active in Salem.
Rich said that, while Gannon specializes in bankruptcy, he has retained him for other matters over the years, and there is no reason to worry about that possibility now.
Asked if he was in financial trouble, Rich replied, "No."