Make way for hotels
Will recent and upcoming projects test the extent of Portsmouth's hotel market?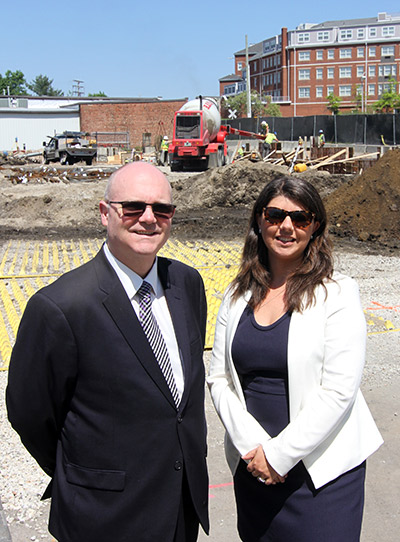 If you haven't been to downtown Portsmouth in a decade or more, you might notice the waterfront city has a different look these days — taller buildings, new high-end shops and more choices if you want to spend the night.
A development boom that includes a number of large hotel projects has changed the face of downtown and promises further expansion into what were once sleepy commercial and residential areas. While the city has enjoyed the tourism revenue and tax dollars the projects have brought to Portsmouth, residents' concerns over the amount of new development have grown louder, with many wondering how many more hotels Portsmouth needs and what the locals are getting out of the deal.
Portsmouth has 21 hotels currently in operation, including three inns/bed and breakfasts, and four more approved hotel projects either under construction or yet to begin construction. For decades, visitors to Portsmouth had only a few choices if they wanted to stay downtown near the city's working waterfront, but since 2006, a new hotel has opened in Portsmouth's downtown every four years, adding nearly 500 new hotel rooms during that time, according to Lodging Econometrics, a Portsmouth-based company that analyzes hotel markets around the world.
No new hotel was completed in 2018, but a hotel project is set to open in 2019 with 143 new rooms. In all, that's roughly 650 new hotel rooms in a little more than a decade, all within the city's downtown.
"The waterfront community is always attractive. There are fantastic restaurants, quaint unique shops, a very rich history in Portsmouth, a lot of cultural events throughout the year and you have a city that is very walkable," said Patrick "J.P." Ford, senior vice president and director of business development at Lodging Econometrics. "When you put all of those attractive qualities in a community, you are going to end up with a lot of people who want to come to Portsmouth for the day, a weekend or a long weekend and take in all the city has to offer."
While the city has enjoyed the tourism revenue and tax dollars the projects have brought to Portsmouth, residents' concerns over the amount of new development has grown louder.
It's not just Portsmouth's pretty waterfront and multitude of amenities that make the city an attractive hotel market. It's also benefited from general economic growth in the Seacoast region, especially at Pease International Tradeport, said David Choate, executive vice president of Colliers International in Portsmouth, who has 30 years of experience in the commercial real estate business.
"A lot of people doing business on Pease want to stay downtown," said Choate. "The chamber has also done a great job promoting the downtown and people are having their weddings and small meetings there."
The number of hotels and robust business indicate the Portsmouth market was previously being underserved, he said.
Data points
Portsmouth is what is known as a "leisure transient community," said Ford.
During the week, visitors are doing business at Pease and the Portsmouth Naval Shipyard. On the weekends, visitors are there to have fun. It's exactly the kind of market hotel developers are looking for. Occupancy rates and daily average prices for rooms are also strong, he said, which is another key indicator for market growth.
A search for a standard hotel room in Portsmouth for a stay over the Memorial Day weekend — conducted during the first week of May on the website Travelocity — found that three hotels in the city were already fully booked. Prices at a downtown hotel ranged from $249 to $339 a night, while rooms a mile or more from downtown ranged from $125 to $175 a night.
Developers look for such data points when determining whether a market is right for new hotel growth, said Ford. It's a multi-stage process, beginning with scouting locations, then drilling down into the numbers as well as understanding why visitors are coming.
"After going through that, if the initial assessment is positive, they might authorize an in-depth feasibility study," said Ford. "It will identify whether the market can support additional guest rooms and what type of room will fill the demand in the market. Typically, you're not going to find a lender that's going to give you a construction loan without a feasibility report. And with some lenders, you will need a franchise attached to the project."
Local approval
If all this analysis indicates development is right — and there's financing and a site for development — the developer can then move forward with local approvals before land use boards. That can be the trickiest part, especially with a vocal faction of Portsmouth residents questioning whether all this downtown growth is what's best for the city.
During a recent public discussion about future plans for the McIntyre Federal Building in the heart of downtown, which the city plans to redevelop under an agreement with Boston-based Redgate and The Kane Company of Portsmouth, City Councilor Josh Denton said residents want a project that can be enjoyed by all.
"The public has made it clear they would not like to see a hotel at that location," Denton said.
North End Portsmouth, a planned boutique hotel and conference center development — which includes condos, community space, a rooftop garden and a parking garage with more than 500 spaces — was held up for nearly two years after planning board approval because of a court challenge launched by a group of Seacoast area residents, largely in opposition to the scale of the project.
Paul Young, a spokesperson for the developer, told the Portsmouth Herald last year that the delay caused Whole Foods, which had planned to open a location in the development, to pull out of the project.
The growth in hotel development has also agitated ongoing sore spots in Portsmouth, such as the scarcity of parking, traffic congestion and a lack of workforce housing.
Portsmouth City Councilor Rebecca Perkins, an affordable and workforce housing advocate for more than a decade, serves as the council's representative on the planning board. In her work, she's heard two distinct responses to the development boom: that it's long overdue and residents are excited about an expansion of the downtown, or concern about the design and size of the new buildings, traffic and whether the city will make sure the development fits with future goals.
"All the commercial activity enables us to do what we want to do, like have wonderful schools, put up bike lanes and keep our tax rate low," said Perkins. However, there is an underlying feeling the city has been a victim of its own success, she said.
People are moving to Portsmouth for the same reasons they come to visit, which has exacerbated the city's non-luxury housing shortage. New development is largely high-end, leaving the thousands of people who work in the hospitality industry struggling to find housing they can afford within the city.
"Over half of the workforce comes from outside the city every day," said Perkins. "That presents problems with traffic and parking."
'The right way'
This year, Portsmouth officials pushed for state legislation to create a local options tax that would allow communities to impose a per-night fee for each hotel stay. The city estimated that a $2 fee on hotel rooms would generate $1.4 million a year.
Perkins said the council and planning board have heard residents' concerns and are looking to find a balance when it comes to new growth.
"We are all doing what we can to make sure it's done the right way," said Perkins.
It's clear developers have heard these concerns too, and it's reflected in the projects the city has approved in recent years.
North End Portsmouth offers public areas and a rooftop garden, and the AC Hotel by Marriot, now under construction on Vaughn Street, includes a rooftop restaurant open to the public and land easements that will be incorporated into the city's plans for a waterfront walkway along the North Mill Pond that will eventually connect Portsmouth residential neighborhoods to the downtown.
Jeff Johnston of Cathartes, which is developing the AC Hotel along with XSS Hotels of Hooksett, said the boutique hotel was designed with the neighborhood in mind, including both the area's history and the innovative and industrial design of the theater and art gallery, 3S Artspace, next door.
Any growth spurt inevitably leads to the question, how much longer will it last? If the Portsmouth market has peaked, the first sign, said Ford, would be a decline in average daily rates or occupancy rates. A slowdown in new growth could also happen naturally due to geography.
"There are not many sites in downtown left," said Johnston.
"I think it's got to simmer down a bit," said Earle Wason, president of Wason Associates Hospitality Brokerage Group in Portsmouth, who has been in the hotel real estate business since 1990. "Our economy goes up and down, and when you've got that many new hotels in a marketplace, if we see a little blip the price war could start."
Mark Bouzianis believes the market is still strong, especially in the business sector, but he is a little concerned about the new growth coming ahead. He owns the Port Inn, about a mile from downtown, an independent hotel that has served both business and leisure travelers since he and his brother Jim bought the property in 1981. Built in the 1950s, it is the oldest continually operating hotel in Portsmouth.
"The last two quarters have been off a little bit in occupancy. Rates have been about flat. In terms of looking ahead, it looks about flatten off a little bit," he said. "For some of the proposed properties, they may think about it carefully. Construction costs have gone up so fast from the time they started running numbers on things. They would want to feel pretty good the market is going to hold for them. For us, we've been here so long, we're in a good position to withstand anything."
He added, "If things get worse, you may see a project or two put on hold."
Despite the number-crunching, outside economic forces and local politics, visitors to Portsmouth can expect to see new buildings popping up downtown in the next few years. Whether there's much growth beyond that is anyone's guess, said Bouzianis.
"It's a good hotel market. You just can't predict what it's going to be in two years," he said.