Lumber tariff raises uncertainty in already volatile market
NH builders foresee rising home building costs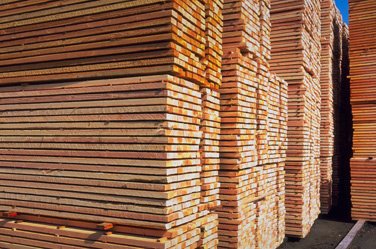 The owners of Benson Lumber & Hardware in Londonderry aren't sure how they feel about new tariff President Donald Trump's administration slapped on Canadian softwood lumber imports, tariffs as high as 24 percent. After all, Benson gets a lot of lumber from Canada.
"It isn't as clear cut as people think," said Grant Benson, one of the three brothers who own the company. "This is a fragmented industry. You have logs going back and forth across the border all the time."
"It's complicated," agreed Jasen Stock, executive director of the New Hampshire Timberland Owners Association, noting that many timberland owners sell to mills in Canada, whereas many U.S. mills get their timber from Canada. "We have members on all sides of this issue. That's why we don't take a position."
To someone outside the industry, the issue seems simple. U.S. timberlands are privately owned; Canadian lands are primarily owned by the government. For 20 years, the United States have charged that the government has been subsidizing their logging industry by charging low royalty rates for harvesting timber. There was a deal reached under George W. Bush that limited exports to the United States, but that expired in 2015.
Since then, said Stock, everything has been "languishing". Trump's election and the promised renegotiation of NAFTA has everyone on edge, still, Stock said, "I'm surprised [by the tariffs]. I didn't see this coming."
Nor does he, or anybody else really know what it means to the local wood industries.
First of all the tariffs are complicated in themselves. They hit different companies depending on the degree of subsidization, as determined by the U.S Commerce Department. West Fraser Mills would pay the highest: 24.12 percent, with Canfor Corp at 20.26 percent. Resolute FP Canada Ltd will pay 12.82, Tolko Marketing and Sales 19.5 and JD Irving Ltd. will pay 3.02 percent. The rest will pay 19.88 percent.
The tariffs will be retroactive to February, but this still has to be finalized by the Commerce Department and then the U.S. International Trade Commission. There are still details to be worked out, as to what imports exactly will be covered. And all could be changed, possibly as part of the NAFTA renegotiations. Indeed, most observers see it as an opening salvo. That's another reason Grant Benson isn't sure of the tariff's implications.
"This isn't the first time. Last time they were partially rescinded," he said.
Even a 20 percent tariff can get lost in currency fluctuations. "There is a 30 percent swing right now. That means people are buying Canadian equipment because it's cheaper. It has nothing to do with tariffs."
Then the wood industry has become international, with many lumber mills and loggers dependent on cross border trades. That's why, said Stock, more important than any particular price, "what is really needed is some kind of stability in the markets. The hope is that this will help them come up with a deal that will create that stability, because right now it's not very stable."
On the other hand, the first reaction of Canadian government is to retaliate against the U.S. dairy industry, which mainly will hit farmers in the Midwest. "My concern is that this might get us into some kind of trade war, as crazy as this sound, but I want to look at this cup as half full," said Stock.
The other concern would be on the housing industry as a whole. The National Association of Home Builders have long opposed tariffs. They released a report last May, which estimated that a 15 percent tariff on soft lumber would drive up home prices by 4.2 percent.
"It will add about $5000 to $10,000 to the price of my homes," said Paul Morin, a custom home builder in Weare. For the homes he already contracted for, "that will just have to come out of my bottom line, so yeah, I'd have to be concerned."
Indeed, Morin will now have to be thinking of hedging his bets in "lumber futures" to protect against price fluctuations should a trade war escalate.
It is this that worries the lumber industry even more than the direct effect of the tariffs. If the housing market slows, so does their business.
"Eighty-five percent of our business goes to professional home builders," said Brad Benson, Grant's brother and another co-owner of the business. "That would have the great impact on us. And we are a very volatile industry right now."