Lucy Gobin, Centrix Bank
2012 Financial Executive of the Year winner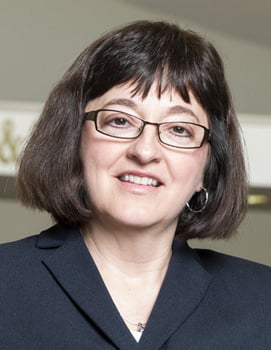 After graduating from college, Lucy Gobin never intended to go into banking, planning instead to use her accounting degree to become a CPA.
But her career plans changed after a professor convinced her to come work for a bank at which he was CFO.
That was the start of her banking career, which included senior positions at some of the state's largest banks before culminating in the co-founding of Centrix Bank in 1998.
Gobin, along with co-founder Joseph Reilly, literally drew up the idea for Centrix on a napkin over lunch, envisioning an institution that would specialize in commercial banking for small and medium-sized businesses.
In its relatively short life, the Bedford-based bank is the fastest-growing in the state, with $775 million in assets and on track to soon surpass $1 billion.
Gobin was the chief architect of many of the early achievements that put Centrix on that path, including securing millions in low-cost capital and debt issuance to facilitate growth in its infancy.
Today, in her role as CFO and COO of the bank, Gobin directly supervises the bank's senior management team, oversees maintenance of the bank's financial records, prepares financial reports and serves as secretary of the board.
The bank now employs about 140 people, has six full-service branches and a seventh on the way, and was recognized in 2011 and 2012 by SNL Financial as being among the best-performing community banks in the country.
"Ms. Gobin understands how to treat people with the utmost respect while demanding the best from them, as she expects no less from herself," wrote Reilly, her nominator and the bank's president.
Through the bank and in her personal life, Gobin is also a strong supporter of local nonprofits, sitting on the board of the Animal Rescue League of New Hampshire and as treasurer of the New England Automated Clearing House Association.
Q. How did you end up where you are today in your career?
A. Joe called me up, asked me to lunch and took me over to the Nynex building at their cafeteria. We were talking about how we missed (working at) Centerpoint Bank and what we accomplished there, and he mentioned that a number of people had reached out to him wanting a bank like Centerpoint in New Hampshire.
He said, "Are you interested in helping me with this, is this something we can do together?" We worked our day job during the day, Joe would come to my house in the evening to work on numbers and plans, and we built Centrix Bank.
Q. What has been your proudest accomplishment during your tenure at Centrix?
A. My proudest accomplishment is being the co-founder of Centrix Bank and knowing that I've made a real contribution to its success, and taking that concept that was outlined on a napkin over lunch and looking back now after over a decade and being able to say, "Wow, I was part of creating something that really has made a big difference."
We've created over 140 solid jobs in New Hampshire, and even during this whole recent recession we've been able to provide a solid return to our shareholders while strongly supporting the communities we serve, and lending when others weren't.
Q. What have been some of the biggest professional challenges you've faced in your career?
A. Looking back, we thought it was so challenging to start a bank, but as I sit in my seat today I think the challenge is navigating this new world of banking. Our world has been rocked over these last three years. I think we are going to see another wave of consolidation, and that's going to have an impact on the communities we live and work in.
Q. What are your hobbies/personal interests?
A. I have a personal passion for the Animal Rescue League of New Hampshire. When we're helping the animals, we're really investing in our communities, because animal welfare is part of a healthy community. I'm very proud to have served on the ARL-NH board for seven years, two as chairman.
I love outdoor sports. My winter sports are cross-country skiing and snowshoeing, and in the summer I love kayaking, hiking, biking. I'm really an outdoors person.
Q. Looking to the future, what are some of the challenges and opportunities that you see on the horizon for Centrix?
A. The economic challenges and regulatory burden are unbelievable. We're just beginning our strategic planning process — we're looking at where we want to be over a three-year window. We understand we'll be over $1 billion in assets in that time frame, so we're trying to make sure we can provide the necessary returns to our shareholders as well as meet the needs of all our constituents, employees and customers we serve.