Love is Blinds: the right choice to the customer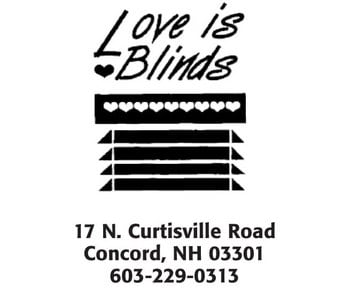 Issue a dare to Jodi Roos, and she's apt to turn it into a career. At least that's what happened once when a friend called "The Shady Lady" helped outfit the windows at the Roos home.
"She told me, 'You ought to do this,'" Roos recalled. "'You have a good eye for it, and you're very creative.' But then she said, 'Never mind. You don't have the nerve' and she turned and walked out of the room. I guess she knew how to pull my strings."
That's how Love is Blinds was born 21 years ago, and Roos has been running the business successfully out of her Concord home ever since. A certified window treatment consultant, Roos brings her "store on wheels" with thousands of fabric samples to the homes of prospective clients, beginning with a free consultation. Roos works with clients in finding the right choices for them from a complete line of draperies, bedding and accessories.
"I help them meet their window treatment needs within their budget," said Roos, whose offerings include vertical blinds, mini and wooden blinds, pleated shades, energy-efficient cellular shades, silhouettes and custom draperies. With all those choices, Roos is certain to find a selection and design to enhance the beauty of any home.
"I can be pretty creative," she said. "I have many repeat customers and many referrals. I'm not very good at tooting my own horn," she admitted, but then realized she'd just given herself another challenge.
"I'm awesome," she laughed.
The NHBR Business Profiles section contains content provided by New Hampshire Business Review advertisers.