Longtime city furniture store going out of business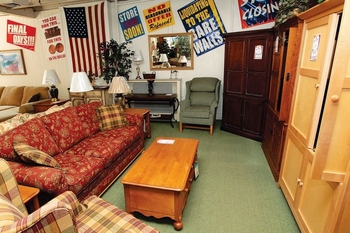 NASHUA – Decades ago, when he came to work with his father at longtime Factory Street fixture Eddie's Bedding and Furniture, Bob Lavoie took a figurative front-row seat to the daily goings-on in the heart of downtown Nashua.
He saw great things and unfortunate things, funny things and scary things. He saw new people come on board and he lamented the passing of old friends and associates. He watched new shops open and others close.
Now, Lavoie, who's in his mid-60s, finds himself no longer on the sidelines, but a player in the middle of the scrum called life and business. For today, Avery's Furniture, the 121-year-old downtown icon that Lavoie and his son Steve have owned since 1992, is embarking on its final chapter with a full-scale going-out-of-business sale.Those who are on Avery's mailing list have received fliers announcing the sale, which starts this morning at 10 and will run for roughly eight weeks, or until all the stock is sold, Lavoie said Wednesday.
"This isn't a bank decision, not a foreclosure, this is my decision," he said. "Truth is, I've tried semi-retirement and I didn't like it – I want full retirement."
Founded in 1887 by Charles Holman Avery, who later partnered with salesman Charles R. Pease, the original store – "C. H. Avery, Complete House Furnishers" – operated out of a small wood-frame building on the same spot of the current store. The present building was constructed in the 1920s, Lavoie said, after fire destroyed the first.
Passersby will notice giant signs covering the plate-glass windows and doors. All merchandise is on sale, much of it being advertised at half its original retail cost. Items range from complete living and bedroom sets to individual pieces, and accessories like lamps, wall-hangings, and ornamental furnishings.
Just three families have owned the business since its inception, Lavoie said. Charles Avery sold it to the Pinet family in the 1940s, and Bob and Steve Lavoie purchased it from Paul Pinet in '92.
Certainly no stranger to the furniture business, Bob Lavoie was long associated with his father, Eddie, just down Factory Street at the former Eddie's Bedding and Furniture. The elder Lavoie founded that store in 1952.
After his father's death in 1981, Bob Lavoie operated the store until he and Steve purchased Avery's and consolidated the two businesses.
Lavoie credited the store's long, successful run to the philosophy of the family-run store: offer better service than department stores, big-boxes and the chain furniture outlets.
"We always put customer satisfaction first, just like the Pinets and Averys did," he said.
The current economic climate helped Lavoie choose retirement now rather than later, he said.
"It really is hard doing business with the state of the economy the way it is," he said. "So I'd rather (close and retire) now than try to wait it out.
"I just decided that it's time to do things I want to do."
The store, at 59 Factory St., is open until 8 tonight; from 10 a.m.-8 p.m. Friday; 10 a.m.-6 p.m. Saturday; and 10 a.m.-5 p.m. Sunday. Next week's hours will be posted this weekend.