Littleton Studio School has big impact in area
On 10th anniversary, school expands into a new location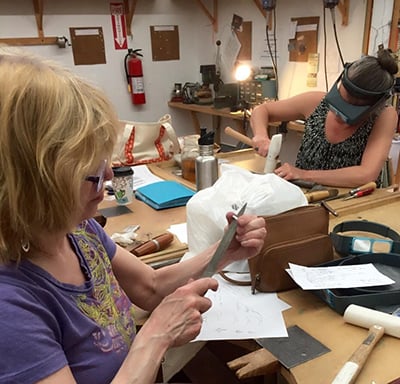 An expanded and newly located Littleton Studio School is expected to provide a boost to the growing arts community in the North Country.
The nonprofit Littleton Studio School celebrated its 10th anniversary in 2018, and for the past three years it has been clear to the school's board members and everyone involved that more space was needed due to the popularity and diversity of its classes for students of all ages and skill levels.
"It became a matter of space for the growing number of students and class offerings," said Beth Simon, a Littleton Studio School board member and owner of the League of NH Craftsmen Littleton Fine Craft Gallery. "The founders of the school saw the development of programs and how they've changed over the years."
In addition to basket weaving, pottery, multimedia and what Simon called a "jewelry renaissance," the class offerings and talent level of the instructors both in the region and across the country created a challenging dynamic: too much demand and too little infrastructure to meet it.
"The school has been close to capacity for a while," said Chuck Lovett, board president. "Some of the classes had to be held off campus. We've been looking to either buy or lease new space for about three years."
What transpired was typical of a region where strong community support leads to home-grown solutions.
Economic impact
Local developer Jessica Griffiths invited the school to be the anchor tenant at a renovated factory space at 23 Ammonoosuc St., where floor tiles and French horns were once made. With a wide range of local and regional business and personal donations, its annual auction and a GoFundMe effort that have raised more than $20,000, the Littleton Studio School scheduled moving into its new location in November.
The studio school will take up most of the bottom two floors of the building with handicap access and plenty of space to expand popular and emerging programs.
"We are expanding our core programs of jewelry, pottery and painting, and with a recent printing press donation we hope to include printmaking," said Lori Silva, education coordinator of the school. "This is a very exciting time for us."
According to Littleton Studio School figures, from 2015 to 2017, more than 500 students took classes each year from 25 local, regional and national instructors, some from as far away as South Dakota and New Mexico. The popularity of the school, which was able to give out $4,000 in annual scholarships to students, is part of the strong arts community in Littleton and across the state that has a sizable impact on the economy, according to two recent studies.
A young woman uses a pottery wheel at Littleton Studio School.
The 2017 study by Americans for the Arts, a nonprofit that advances the arts and arts education, puts the economic impact of the arts and culture industry on four New Hampshire regions (Concord, Monadnock, Portsmouth and Rochester) at $120 million.
That impact translates into more than 3,851 full-time equivalent jobs, $81.65 million in household income and $12.47 million in local and state government revenues. That study did not survey regions north or east of Concord, including the Upper Valley and North Country.
Strong support
In late 2016, the state released a report from the Commission to Study the Economic Impact of the Arts and Culture in New Hampshire, a legislative-funded effort. The statewide study found:
• There were 3,500 arts-related businesses in New Hampshire that employ 10,340 people.
• The arts sector generated $115 million in economic activity and $11.6 million in revenue for state and local governments.
• Every 100 jobs in the arts sector created 62 jobs outside the sector.
The symbiotic relationships between the arts and the local business sector is on full display in Littleton, said Simon.
"We've had quite a generous showing from the community and strong support from virtually every business around," Simon said about the depth of civic involvement that has helped keep the school going and provided scholarship money for local students. "We work with a lot of partners."
The new location will also host an office of Bethlehem-based science education program WMSI (White Mountain Science Inc.) and will be home to businesses such as a yoga studio and potentially other artist studios. "There is the potential for a lot of collaboration," Lovett said.
"This is a highly efficient building with far more square footage than we currently have and large windows. You can look out on the street and Ammonoosuc River. Any university would be proud of this classroom space," Silva said. "This will be a step up in artistic value for our students and instructors."
The in-kind donations for renovation of the new location has also been vital. Additionally, the studio school is working with students at Plymouth State University to help develop a long-term marketing plan.
On Dec. 8, the Littleton Studio School will officially celebrate its 10th anniversary with an open house and student art sale.