Lisa Allard, Families in Transition
2012 Financial Executive of the Year winner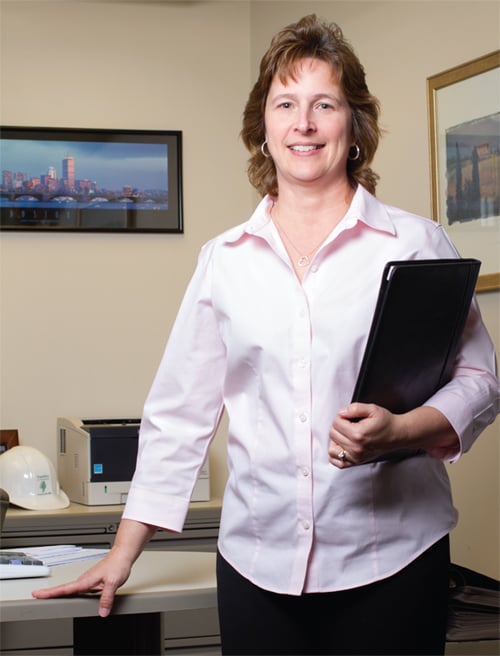 Lisa Allard began her career in finance when she was a junior in high school, leaving class in the afternoons to participate in a work-study program in accounting at a company in western Massachusetts. Working there until graduating from college with a business degree, Allard eventually left in search of a more challenging role — one that she eventually found at the Manchester-based Families in Transition, a nonprofit that provides housing and supportive services for the homeless. "Of all the jobs I've had where I said I wasn't challenged enough, that has never happened to me here — never," said the mother of two sons, who started at FIT as a part-time bookkeeper 12 years ago and is now its chief operating officer.
In her role as COO, Allard oversees all of the agency's operations, including office management, finances, human resources and IT. When the Derry resident started at FIT, the nonprofit's annual budget was just $620,000. Now it has a $4.6 million budget and is a general partner in six limited partnerships with a combined budget of $1.6 million.
When she began, the agency had 26 housing units in Manchester and less than 10 staff members. Now it has 188 units of affordable housing in Manchester and Concord, employs 71 staffers, and owns and runs two for-profit thrift stores and a commercial cleaning company, the proceeds from which support FIT's mission.
"Lisa has the experience, education and leadership skills to work at any top corporation in the state," wrote FIT's president, Maureen Beauregard. "(Yet) instead of utilizing her skills to improve her own financial well-being, Lisa has made the conscious choice to dedicate her work towards improving the wellbeing of those most in need in our community."
Q. How did you end up where you are today in your career?
A. My husband got transferred up here 15 years ago. I was a stay-at-home mom for a while then decided I needed to do something, and came across this ad for Families. They took me on part-time here as a bookkeeper, then was promoted to director of finance, and did that for a while. Then I got my master's degree and became COO. For me it's interesting that it evolved from a 25-hour-a-week bookkeeping position to where I am now.
Q. What has been your proudest accomplishment during your tenure at FIT?
A. When I first came, we were a transitional housing program, housing single women with children. Now we have transitional housing, permanent housing, affordable housing, we've taken on Manchester Emergency Housing, and we have the first therapeutic daycare in the state. I feel like we've come full circle.
Q. What have been some of the biggest professional challenges you've faced in your career?
A. A lot of people tend to think of nonprofits as not a business. We are a business. Our customers are the people we serve. If we don't run it like a business, we're not going to be here to serve those people. That's something I find frustrating in the community and the business mentality.
The last few years have been challenging. Obviously there have been some cuts at the federal level that trickled down to the state level that affect us. Last year in particular, we had to make some difficult decisions because of grant funding cuts. We never take those things lightly when it comes to potential layoffs for staff. We tried to minimize that as much as possible.
Q. What are your hobbies/personal interests?
A. I volunteer with the Lewy Body Dementia Association, a national organization based out of Georgia. I volunteered on their finance committee for a year and just joined the board. I got involved with them because my mom had that illness and passed away in 2008. Their website became a huge resource for me, and I just felt like I wanted to help them out. As far as total recreational, I love the theater – we go to the Palace Theatre a lot, and to Boston. I love to dine out, that's my rest and relaxation, and hanging out with my family and kids.
Q. Looking to the future, what are some of the challenges and opportunities that you see on the horizon for FIT?
A. Last year we had 4,000 referrals. We serve 10 percent of that population, so there's a lot more work to be done. Funding continues to be a challenge that we'll continue to watch. With Maureen (Beauregard)'s vision and the support of the board, we'll move forward and continue to do great things.