Licensing to begin of New Hampshire med techs
New law grew out of response to Exeter Hospital Hepatitis C outbreak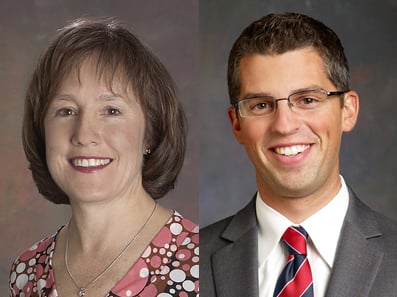 In the fall of 2011 the news broke that David Kwiatkowski, a traveling medical technician, had infected more than 30 Exeter Hospital patients with Hepatitis C, using covert drug-diversion tactics that eluded criminal background checks and drug tests.
News of this catastrophe rocked the region. Health care facilities everywhere asked how did this happen and could this happen to us.
To prevent this scenario from happening again, Exeter Hospital worked with one of its doctors, who is also a legislator — Rep. Thomas Sherman, D-Rye, to craft a legislative solution. That solution is House Bill 658, which creates the New Hampshire Board of Registered Medical Technicians.
HB 658 took effect on Oct. 1.
The new law establishes a five-member panel attached to the Department of Health and Human Services. It has five members: the DHHS commissioner or his designee; three licensed health care providers; and one public member.
The board's principal function is to oversee and administer the licensing of New Hampshire medical technicians. The board has the power to issue licenses, investigate and discipline licensees, and impose monetary and non-monetary sanctions.
But the board has not yet been created, thus causing consternation among those health care facilities and medical technicians who faced a compliance deadline of Oct. 1.
Who qualifies for compliance?
The new law requires all "medical technicians" to seek licensure from the board prior to practicing or advertising services in New Hampshire. The bill defines "medical technician" as a health care worker:
• Who is not licensed or registered by another New Hampshire regulatory board
• Who assists licensed health care professionals in the diagnosis, treatment and prevention of disease
• With access to controlled substances
• With access to or contact with patients in a health care facility or in a medical establishment
Common examples of medical technicians include dialysis, radiology or ultrasound technicians. This definition of "medical technician" is somewhat broad and raises questions, such as, do registrars who obtain patient consent forms qualify?
The new law requires all technicians to file a licensure application and a $110 license fee. The application must be accompanied by a notarized criminal history release form and a complete set of fingerprints.
Upon receipt, the Board will submit the release and fingerprints to the State Police to run a background check. Assuming the background check clears, the board will issue the license, which must be renewed every two years, within 90 days.
The new law also requires licensees to promptly notify the board of any changes of name, residence or employment. Failure to register can be prosecuted as a misdemeanor and may subject the technician to severe administrative fines. The new law also imposes obligations on New Hampshire health care facilities and medical establishments, defined broadly to include entities such as hospitals, long-term care facilities, physicians, dentists, naturopaths, optometrists, podiatrists and clinics.
The bill first requires health care facilities and medical establishments employing medical technicians to ensure that such technicians are registered with the board. This task of identifying who qualifies as a medical technician is complicated by the ambiguous definition cited above.
Facilities licensed under the new law must verify registration before employment.
The new law also mandates that all health care providers report any "adverse action" against the technician to the board within 30 days, even in situations where the misconduct is resolved by voluntary resignation.
Again, the bill is somewhat unclear in that it does not define what constitutes "adverse action." For instance, does reprimanding an employee for violating the employer's tardiness policy trigger a report? This and other questions will need to be answered by either administrative rules or future statutory amendments. Facilities should err on the side of over-reporting until this issue is clarified.
HB 658 is a good first step toward ensuring that those technicians who interface with patients are legitimate health care professionals. If you are a health care provider subject to the law, you should promptly educate your workforce about the licensing and reporting requirements. You should also consult with legal counsel to implement appropriate policies and procedures for ensuring compliance with this law.
Failure to comply may result in administrative fines and adverse licensure action for the provider as well as the technician.
Attorney Katherine M. Hanna, a shareholder of Sheehan Phinney Bass + Green, chairs the firm's Health Care Practice Group. Jason D. Gregoire, an associate at the firm, practices in the fields of business litigation and health care.