Liberty Mutual IT cuts leave many out in cold
Employees find training offer wasn't for everyone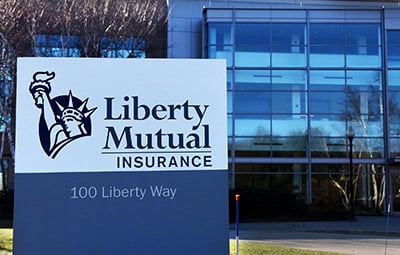 Philip wasn't too upset when he first heard last March that his position as a business systems analyst at Liberty Mutual might be eliminated, even though he has one kid in college and another about to go.
"We were told that if we were willing to be retrained there would be positions for us, that they would work with us and give us opportunities," said Philip, who asked that his real name not be used because of concern about future employment opportunities.
That's what the company, the fifth-largest employer in New Hampshire, confirmed in August when it announced that 620 information technology positions were being eliminated at its Seacoast facilities — that it was creating roughly the same number of positions as it was eliminating. Liberty Mutual even had a specific program —called GoForCode — to train employees for positions that were opening up.
But there was stiff competition for what turned out to be a limited number of GoForCode slots, and on Jan. 8 Philip received his notice.
"As a result of a transformation into an Agile organization with self-directed teams with the US Consumers Market, a business decision has been made to reduce staffing levels," it read. "Your position will be eliminated effective 3/9/2018."
Some 120 co-workers received similar letters that day, the company said.
GoForCode aims to retrain Liberty Mutual workers as the company eliminates system analysts in favor of developers who can fix system errors as customers report them.
"I feel extremely deflated," said Philip when he was reached on Jan. 8. "I feel lied to and used. They just went radio silent. They never told us that most of us were going to lose our jobs. We would have known what we were up against and could have made a more reasonable decision up-front. Instead, we bought into what the company was telling us. It pisses me off. They stole my time."
Liberty doesn't see it that way.
"There was never going to be a one-to-one correlation between discontinued positions and new openings," said John Cusolito, a spokesman at the company's Boston headquarters.
He added that there were lots of training opportunities besides GoForCode and many other positions besides the 100 IT positions still left — more than 3,500, actually.
"There were some employees that we could not retrain," he said. "And for those there are severance packages and outplacement services."
Cusolito maintained that the language about "reducing staff levels" in the layoff notice didn't apply to the company as a whole, but for particular positions that were being cut, and that the company would still try to find those people positions in the company in the coming months.
This is all the result of "extremely difficult decisions" that the insurance company has to make "as technology evolves," he said.
"Change is inevitable today and is happening across all industries, and insurance is no exception," he said. "We are continually adapting our capabilities by leveraging emerging technologies to create innovative solutions to meet the ever-changing needs of our customers."
Employees at Liberty Mutual agree on the nature of that change. Currently the company operates on a rather slow stratified system — some workers call it "waterfall" — under which various people translate the needs of those who use the system (like consumer insurance representatives) to developers or coders, who prepare software.
Under the new system, called "Customer Centric Agile Development" (CCAD), developers learn to talk to the users without a middleman, enabling them to update changes in a matter of weeks, as opposed to months or even years.
That means Liberty will need more developers and eliminate systems analysts. GoForCode will help analysts learn to write code.
There are other changes too: IT project managers might become a "scrum master" or "product owner" and someone in "quality assurance" would be replaced by a "test engineer," both of which are more technical roles.
Liberty says it has stepped up its technology training for this change, increasing internal investment by 50 percent from 2016 to 2018. Aside from in-classroom trainings like GoForCode, the company also offers online self-paced learning modules, internal and external speakers and conferences and learning summits.
In 2017, the company said it hired 332 new IT employees, with 118 of those positions based in New Hampshire, and retrained 274 through GoForCode. But those are national numbers. The company has about 4,750 IT positions nationally, with a little over half of them (2,500) in New Hampshire — almost all at offices in Dover, Portsmouth and Exeter.
Liberty also has about as many non-IT positions in the Granite State, mostly on the Seacoast but some scattered across dozens of offices, and 50,000 in 800 offices throughout the world. And the company, 75th on the Fortune 500 list, with $38.3 billion in annual revenue in 2016, is expanding in a number of places, with 3,550 positions currently open.
In November, for instance, Liberty announced a planned $14 million expansion in central Indiana that will result in 400 new jobs. The Indiana Economic Development Corp. planned to offer Liberty about $5.5 million in tax and training incentives as an incentive to expand, according to Inside Indiana Business.
Laura, another Liberty IT worker who received a notice on Jan. 8, said she was baffled about why she wasn't given a shot, having been a coder "in another life." Indeed, a review of her resume indicated she worked for at least seven years as a developer for a large institution, and has been in IT nearly all of her working life.
Laura, like Philip, is in her 40s and asked her name be withheld so that the publicity wouldn't interfere with her search for another job. She joined Liberty after a shaky divorce for some measure of stability, since the Liberty job was looked at as a secure position.
Like Philip, she too was under the impression that she would be retrained for another position. She said she was initially told that there were seven or eight GoForCode classes, with about 15 or 20 participants in each. She applied to four of them that were convenient (some were as far away as Seattle) and said the company kept sending her encouraging emails, such as, "Thanks, you are still in contention," she told NH Business Review.
But in December, she was told that only two classes were available, with 30 slots. In her particular unit — said both Philip and Laura — only two were admitted into the classes, out of hundreds of applicants.
"I don't think they've been the most honest, telling people about all these positions and when they are going away," she said. "It just feels like they were out-and-out lying. If they were looking for people in those roles, why do you turn down people who already had experience doing them?"
Maybe age had something to do with it, she said.
"Most, but not all, people accepted are on the very young side, but I don't have the numbers to prove that," she said.
She is worried age discrimination might hurt her when looking for another job, either within or without Liberty.
The divorce put a large dent in her savings, she said. With severance and unemployment she might be able to last six months. It would have been nice, she said, to have a bit more time.
Philip also doesn't have that much saved up, thanks to working for several previous companies that went under. That's why he was glad to land with Liberty about five years ago.
"I'm in a field that they are mostly looking for kids out of college, and I was definitely looking at a place to retire," he said.
He was also looking to put his own kids through college, so he put off replacing rotting siding and deteriorating windows on his house.
During the recent cold snap, "there was a nice breeze blowing through the house. I can't wait to get the heating bill," he quipped.
To top it off, his wife — who works in the public sector — has to go into surgery.
"Unless I find something quickly, I'll have to pull the funds out of the 401(k). I'll never be able to catch up and retire," he said. "If they just came out said, 'Look, we are probably going to have to get rid of you, I could have had more time. Instead, they insidiously changed the story. It reminds me of the frog in the water, that gradually warms up so it doesn't know enough to jump out until it's boiling and too late."
He added: "They tell us how they expect employees to behave. They talk about honesty and integrity and doing the right thing. Well, this was a pretty nasty way to treat us."