Legislative Preview: The week ahead for New Hampshire lawmakers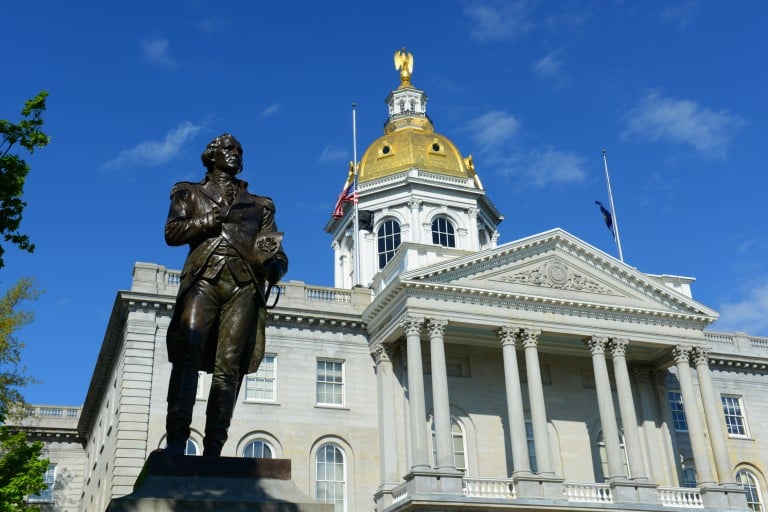 This is crossover week, when bills from each legislative chamber have a last chance to be sent to the other. Many important bills crossed over two weeks ago, the deadline for mostly non-budget bills in a non-budget year. But some bills with a fiscal impact, like funds for childcare centers and the creation of a state-run cannabis industry are up votes on Thursday.
Tuesday, March 29
On Tuesday, the Senate Energy and Natural Resource will consider tacking on an amendment to House Bill 624, which would allow hydroelectric facilities to more easily participate in net metering.
After that, the committee will be considering whether utilities – especially telephone carriers – can get out of being the provider of last resort, as allowed by HB 1328.
It will also be looking at whether to mandate. that those who install solar panels come up with a plan to recycle the panels when they need to be replaced or taken down some 30 years later, as required by HB 1459.
Wednesday, March 30
On Wednesday, the Senate Ways and Means Committee will hold a hearing on HB 1221, which would further cut the rate of the business profits tax to 7.5 percent. The original bill also cut the business enterprise tax, and it's a good bet that will come up again.
Before they get to that, the committee plans to hold a hearing on HB 1097, which would challenge the right of other states (think Massachusetts) to tax employees of companies based in that state without setting foot in that state (by working from home). The U.S. Supreme Court already ruled on that, so it's unclear whether the law – even if passed – would do anything.
The Senate Health and Human Services Committee will hold a hearing on HB 103, a bill left over from last year, that would establish a dental benefit under the state Medicaid program.
Thursday, March 31
The full Senate is scheduled to vote on Senate Bill 379, which would create a solid waste disposal fund but emphatically does not include a garbage tax aimed at out-of-state haulers. It will also vote on SB 438, a bill that would require state procurement policies to promote the use of American materials.
The Senate also is expected to vote on SB 446, which would allocate about $9 million in an attempt to address the workforce shortage at childcare facilities. The money would be used for signing and retention stipends. The Senate also will vote on SB 288, which would prohibit schools, including childcare agencies, from requiring Covid vaccines.
On the House side, representatives are expected to vote on HB 1604, which would require state hospitals and medical facilities to allow workers to refuse vaccines as a matter of conscience. Opponents warn it could threaten millions of dollars of Medicaid and Medicare funding, since the federal government requires this of health care workers, and only allows religious and medical exemptions.
They also will vote on HB 1598, which would not just legalize cannabis, but allow the state to sell it via the NH Liquor Commission.