Legislative Preview: On New Hampshire lawmakers' agenda this week
Full House and Senate to meet on Covid, energy, tax measures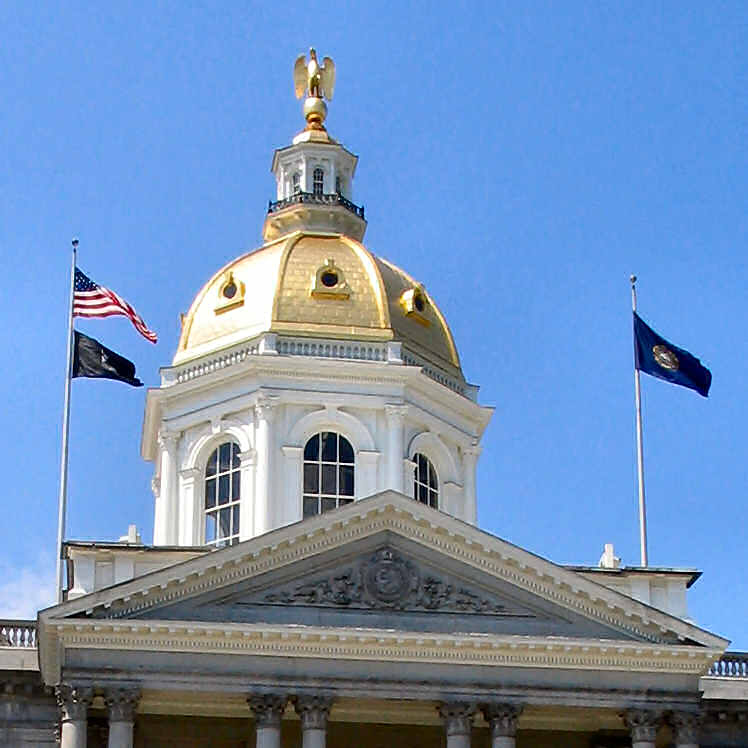 No committee hearings are scheduled this week in the NH Legislature, but there will be lots of decisions, on measures related to Covid, energy, the workplace and business taxes. The full House meets on Wednesday and Thursday, while the Senate will meet on Thursday, which is the deadline to vote on all bills before both chambers begin negotiations on their different versions of legislation before sending it to Gov Chris Sununu to sign into law. Here are some highlights.
Covid-19
There used to be nearly 60 bills related to the pandemic, mostly reactions against federal vaccine mandates. This week, lawmakers will be voting on five, and all are expected to be killed, sent to study or be watered down.
House Bill 1210 would have impacted business the most, since it would require employers to hire or keep workers who refuse to get vaccinated for reasons of "conscience," not just against Covid, but against any other disease, even if it might threaten other employees or customers. This was particularly opposed by healthcare providers, which would risk losing millions of dollars in federal funding for refusing to follow a federal mandate to vaccinate their employees. The full Senate is expected to send that bill to interim study.
That is also where it plans to send HB 1089, a bill that would allow employees to get out of noncomplete clauses if they were let go because of a company's vaccination requirement. (The broad language of the bill could also undermine all noncompete clauses.)
But there is a good chance the Senate will pass HB 1455, a bill introduced by House Speaker Sherm Packard. It would prohibit state enforcement of federal vaccination mandates, but it exempts health facilities. Similarly, HB 1099 would prohibit the Department of Health and Human Services from requiring vaccine passports for services. There is no indication that the department plans to do that.
On the House side, its Commerce Committee has recommended on a party-line vote to kill SB 319, which would allow insurance companies to offer incentives to those who get vaccinated, as they already can for encouraging exercise, weight loss and smoking cessation.
Workplace
It looks like the Senate is going to send to study HB 1165, the bill that would have repealed the Granite State Paid Family Leave,
Sununu's voluntary plan that was slipped it into last year's budget that would allow companies and individuals to piggyback on a taxpayer-funded benefit to state employees, encouraged by tax breaks and subsidies. Under the plan, employees who need to leave work to care for a loved one or themselves would be paid 60 percent of their salary for six weeks. House Republicans voted overwhelmingly to repeal the plan, but House Democrats backed the governor's plan. There appears to be enough support from both parties in the Senate to save paid leave
Meanwhile, the Senate votes on SB 209, a bill that would allow employers to pay workers electronically even if they want a paper check. The House Labor Committee recommended sending it to interim study, since some of the debit cards charge excessive fees. But there might be a close vote on this one, despite the 14-7 committee vote against it.
Similarly, the vote on SB 345 might be tight. That bill would not only simplify the law regulating the hours minors can work, but increase them during school weeks and eliminate restrictions on night work altogether. Supporters of the bill say that should be a matter between employers, parents and the students, while opponents worry about exhausted students being able to keep up with their school work after working all night.
Taxes
The Senate will probably pass HB 1221, which would lower the rate of the business profits tax another tenth of a percent, to 7.5 percent, completing a gradual reduction of the tax that started in 2016, when it was 8.5 percent. It won't do the same to the business enterprise tax – which mainly paid by small businesses – barring a last-minute floor amendment.
What the House plans to do is tack on a committee amendment that would increase payments to municipalities contributing to teacher and first responder retirement funds, in the hopes of lowering property taxes.
Meanwhile, the House is likely to pass SB 435. It's a technical bill that would modify the net operating loss deduction under the BPT and fixes an issue called double apportionment through which businesses are being disadvantaged for being multi-state entities. There is some dissent that the change would only benefit big business.
Energy
The House is likely to pass SB 321 which sets up a pilot program for larger business that can't, or don't want to, participate in net metering. Such facilities with the capacity to generate up to 5 megawatts of renewable energy would get credits when they transmit that energy to the grid when it is most needed. It will also probably pass SB 262, which originally would have allowed net metering for larger business, not just municipalities, but that part was stripped out. The bill still contains some provisions that are helpful for renewable energy projects.
The House also will probably send to study SB 259, which would have allowed housing authorities to net meter on large projects.
The House is also due to vote on SB 271, which would all but require that the state Public Utilities Commission reverse and allow ratepayers to continue to subsidize the Burgess bioenergy plant in Berlin, which supporters say provides jobs at the plant but supports loggers that sell the plant wood chips from low-grade wood.
Also, expect the House to pass two bills to help in the development of offshore wind (SB 262 and SB 268). There might be more of a floor fight on SB 424, which is a bill that would help in the conversion of gas waste from landfills and farms into renewable natural gas to heat homes and generate electricity. Supporters say it is a way to harness a local renewable resource. Opponents worry that the projects would result in more leakage of methane, which pound per pound contributes more to climate change than carbon dioxide. Critics also contend it is not economical and could waste ratepayers' money.
Another bill that faces a close vote is SB 447, which would set up electrical vehicle infrastructure using federal funding sources. Opponents said that the state should instead wait until it develops a plan to on how to spend settlement funds from the Volkswagen scandal for the same purpose.