Legal Briefs: News From Around NH
Restaurants to pay $250k in overtime case, financial advisor ordered to pay $11m to clients … and more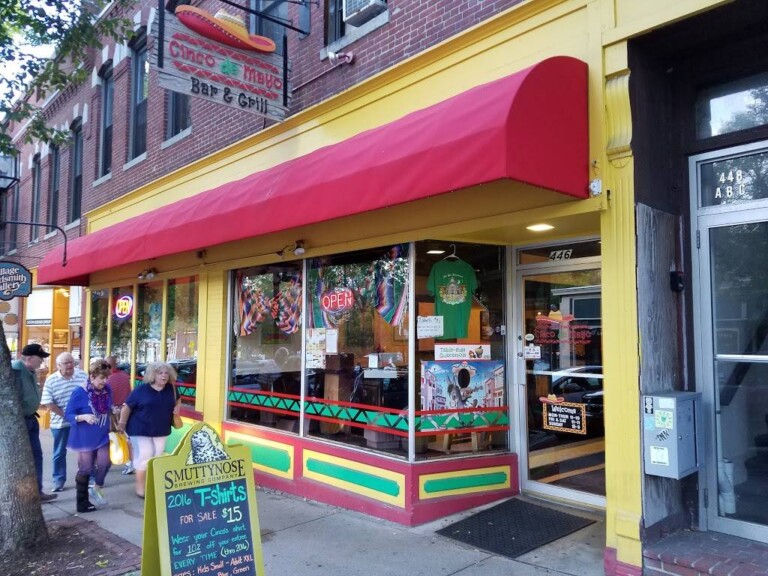 Restaurants ordered to pay back wages
Miguel and Crescencio Reynosa, owners of two Mexican restaurants – Cinco's Cantina in Epping and Cinco de Mayo Bar and Grill in Dover – are being ordered to pay $215,675 after the U.S. Department of Labor determined they did not adequately pay overtime to 47 employees and also had four employees younger than 16 who worked longer and later hours than permitted by law.
The Labor Department found the owners did not calculate tipped employees' overtime properly, basing overtime on their cash wage rates rather than their regular rates of pay. They also said the owners failed to maintain complete and accurate records of hours worked and payments issued to employees.
In addition to paying the back wages and liquidated damages, the owners will pay $29,795 in civil penalties. The department said the "willful nature" of the overtime violations resulted in $26,631 of the fine. The remaining $3,164 resulted from child labor violations.
Sheehan Phinney raises money to fight ALS
Chris Candon (left in photo) and Robert Lucic, attorneys at the Sheehan Phinney law firm, took part in the third annual CEO Soak, held July 27 at Northeast Delta Dental to raise money to fight ALS. The Sheehan Phinney team was the top-fundraiser at the event, which a total of over $40,000. Sheehan Phinney has made a commitment to battle ALS in support of Bob Carty and the Carty family in memory of Claire Carty, a former Sheehan Phinney paralegal, and others impacted by the disease.
Financial adviser ordered to pay $11m to clients
Thomas Chadwick, a New London-based financial advisor, has been ordered to pay back more than $11 million he lost for clients — most of them elderly retirees on fixed incomes — after he put their money into a high-risk investment fund that collapsed and wiped out their retirement savings.
The Valley News reported that the alleged financial mismanagement upended the lives of scores of elderly retirees, some of whom have had to return to work in their 70s at entry-level wages to make ends meet.
Chadwick, a former partner in defunct investment advisory firm Chadwick & D'Amato, earlier had been found to be impersonating clients by using their usernames and passwords to access their brokerage accounts and continuing to operate as a financial adviser after his license had been terminated, state regulators said.
The NH Bureau of Securities Regulation is seeking to permanently bar Chadwick, 53, from being licensed to work in the state's securities industry. It also has gone to court to stop him from liquidating property and business assets that could be used to recover money lost to his clients, state court records show.
The newspaper reported that Chadwick's clients typically had 50 to 92 percent of their money put into a "double-leverage" financial product known as "Credit Suisse X-Links Monthly Pay 2xLeveraged Mortgage REIT Exchange Traded Notes," or REML, for short.
State financial regulators said that between the fall of 2017 until December 2021, Chadwick invested "most of his clients' funds" into REML and held shares in their accounts for an average of 386 days, even though potential investors were warned that REML shares should not be held for more than 30 days and were not meant for people who rely upon fixed incomes.
NH Insurance Department achieves NAIC accreditation
The NH Insurance Department recently received accreditation from the National Association of Insurance Commissioners' Financial Regulation Standards and Accreditation Committee. The action took place at NAIC's summer national meeting.
The NAIC accreditation program signifies that state insurance departments meet rigorous standards of solvency regulation and provide effective oversight of multi-state insurers.
NH Center for Justice & Equity adds directors
The NH Center for Justice & Equity has added Catherine Kabala and Jason Bonilla to its board of directors.
Kabala is a student assistance program counselor at Manchester Central High School. Bonilla is co-founder of the organization NH Millennials of Color a member of the Manchester Board of School Committee.
Preti Flaherty attorneys included in Best Lawyers in America
Nine Preti Flaherty attorneys from New Hampshire have been selected for inclusion in the 2024 edition of Best Lawyers in America. Additionally, attorney Daniel P. Luker has been recognized as Lawyer of the Year for Corporate Law in the Concord region.
The attorneys recognized were:
Peter G. Callaghan, Concord, commercial litigation
Simon C. Leeming, Canterbury, corporate law, real estate law
Daniel P. Luker, Concord, commercial litigation, corporate law
Gregory A. Moffett, Bow, commercial litigation, professional malpractice law-defendants
Mark H. Puffer, Concord, municipal law
Kenneth E. Rubinstein, Hopkinton, construction law
William C. Saturley, Concord, legal malpractice law- defendants
John M. Sullivan, Concord, bankruptcy and creditor debtor rights/insolvency and reorganization law, corporate law
Kara N. Sweeney, Bow, corporate law mergers and acquisitions law
NH woman files suit against Eataly Boston
A woman from Gilford who fractured her left ankle during a trip with her husband to the Italian food emporium Eataly in Boston last year is blaming her injury on a piece of prosciutto.
Alice Cohen said she was heading to an area where food samples are distributed to customers on Oct. 7 when she slipped on the prosciutto and fell, according to a lawsuit filed Aug. 11 in Suffolk Superior Court in Boston.
Her medical expenses, including a hospital visit and physical therapy, have resulted in more than $7,500 in bills, according to court papers.
Cohen and her husband Ronald, of Gilford, New Hampshire, are seeking a jury trial and at least $50,000 in damages.
Eataly is a gourmet Italian restaurant and food market with eight locations in the U.S. and eight overseas.