Learning from experience, Dartmouth prof's biomed firm follows more entrepreneurial path for anti-cancer discovery
'Being able to bring your discoveries into the clinic is a remarkable luxury, and it's the culmination of what you want out of your science'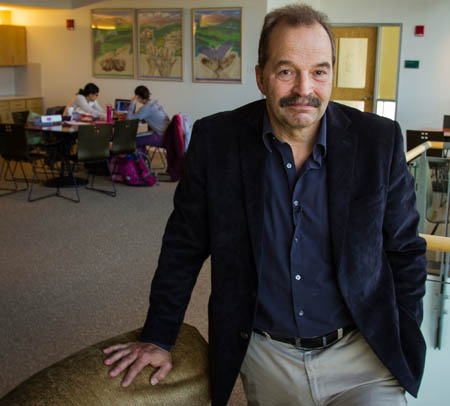 As an academic, Randolph Noelle's first journey down the path from discovery to viable treatment of disease was a rocky one, to say the least. So, stymied by Pharma politics and lack of funding, he did the only thing a good scientist looking to treat sick people could do: He became a businessman.
Noelle and business partner David DeLucia have started ImmuNext, a Lebanon-based company at the Norris Cotton Cancer Center at Dartmouth-Hitchcock Medical Center. The purpose of the company is to take Noelle's discoveries in immunology, partner with those that can afford to develop those discoveries, and get them to a pharmaceutical company for distribution.
Officially launched in 2011, ImmuNext has already landed what could potentially be a $150 million deal with Johnson & Johnson that takes the company's cancer-fighting technology from lab to fruition.
"You want to bring your science into the clinic," said Noelle, who is a professor at the Geisel School of Medicine at Dartmouth College and at King's College in London. "It's extremely rewarding, and it's a lot of fun to do science. But at the end of the day, you would like to exert some influence on the course of human disease. Being able to bring your discoveries into the clinic is a remarkable luxury, and it's the culmination of what you want out of your science."
To accomplish that goal, said Noelle, "you can't do it simply as an academic scientist — you have to have access to the private sector where there are resources to be able to make drugs."
Noelle is speaking from experience.
In the early 1990s, Noelle discovered what he believed would lead to a treatment for multiple sclerosis, a chronic autoimmune disease that damages the nerve sheaths of the spinal cord and brain. At the same time, another scientist, Seth Lederman, made the same discovery. Both scientists applied for patents within three months of each other, and each partnered with a company to try to get the work financed — Lederman with Biogen, Noelle with Idec Pharmaceuticals.
"It was a terrible experience," is all Noelle would say of what became a disappointing encounter with the pharmaceutical marketplace.
The whole sordid mess that followed was documented in full in Science magazine (a 2005 article called "Magnificent Obsession," which Noelle pointed to as his comment on the matter), but it boiled down to this: Lederman got the patent.
Years of litigation ensued. Noelle, still with the backing of Idec, changed course and started looking at his treatment for use in organ transplants and autoimmune diseases like Lupus. Idec started getting dodgy about Noelle's work and cut funding when some of the trials didn't look like they were panning out.
In the end, none of that even mattered — Biogen and Idec ultimately merged, cutting Noelle out, though still owning his work.
The different path
Skip ahead to 2005. This time, when Noelle discovered one of the molecules that can help the body actually develop an immune response to cancer, he didn't go directly to a pharmaceutical company to help him with his research. Instead, he and DeLucia started their first company, ImmuRx, an early version of ImmuNext.
"Our business model is that Noelle is a professor at Dartmouth and King's College," DeLucia, CEO of ImmuNext said. "He discovers things. Specifically, he discovers things about how the immune system works. And then the company licenses the patents for his discoveries from Dartmouth and from King's College."
DeLucia said, "imagine a continuum where on the one end the professor discovers something new about how the immune system works and then the company gets the patent, raises a few million dollars, improves them a bit more, polishes up the work and then we sell that to a big pharmaceutical company like Johnson & Johnson."
To put an even finer point on it, he said, a researcher can discover something and a small company can move it a little bit further in animal testing, but it costs hundreds of millions of dollars to test a new drug in human trials. That can make it next to impossible for an academic to get it there alone.
What ImmuNext has done is raise startup money from a few angel investors, to cover the process of obtaining a patent. Those angels then get a cut of the profits once the license is sold. The rest of the startup funding can come from such sources as federal Small Business Innovation Research and Small Business Technology Transfer grants, DeLucia said. These grants are typically another few million dollars each.
In charge of the research
What exactly is Noelle's discovery? He has found three molecules that essentially work to shut down the body's immune system in order for it to develop an immune response to cancer.
Scientists long ago learned that the human body expresses molecules that naturally temper the magnitude of its immune response.
"When you get a cold, there are things shutting off your immune system so that you don't go haywire, so that you don't produce such an overwhelming inflammatory response that you actually do damage to yourself," Noelle said.
The body accomplishes this with negative checkpoint regulators, which are critical in triggering the immune response. One of Noelle's discoveries is VISTA, a checkpoint regulator that puts the brakes on the immune system's response, which in the case of cancer prevents the body from putting up a full defense.
By targeting VISTA, Noelle believes the immune system will be unleashed to attack tumors, perhaps resulting in permanent immunity.
"For decades, we have been trying to vaccinate against cancer, and we've completely failed," Noelle said. "We never realized that we were pushing against a wall that there were all these brakes that we never recognized and all we have to do is take our foot off the brake for a while and you make a productive immune response."
The future for ImmuNext is to continue discovering these regulators and translating those discoveries into drugs.
This is where one of the other benefits of the researcher being in business for himself comes in. Once he licenses the assets, he is still the one in charge of the research.
"Imagine that on the one end you have the professor who really knows the science better than anyone in the world and he's discovered how it works," DeLucia said. "On the other end, the Big Pharma companies have these factories and an army of salespeople and a whole bunch of quality control people with white coats and sharp pens and make sure everything is done twice and the right way. So what they need to do, once they buy the patent from us, they still need the brains of the professor to keep learning more about how the new medicine works."
Once the pharmaceutical company buys the patent, they do so for several million dollars upfront — some of which goes toward hiring a team of scientists to work on the project.
More "bonus" payments are issued as certain milestones in the process are reached, said DeLucia. Because of their contract with Johnson & Johnson, DeLucia said they can't divulge what those milestones are, but so far ImmuNext is on track and received a bonus as recently as Sept. 6.
Thus the deal — which includes royalties once the drug is on the market — can be worth as much as $150 million to Noelle, DeLucia and ImmuNext.