LastingMatters founder Barbara Sedoric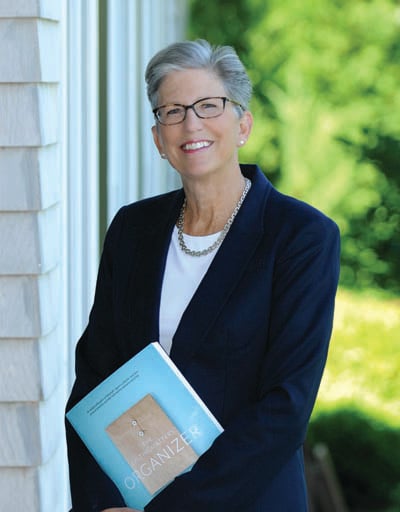 When her mother died suddenly in 2006, Barbara Sedoric of Rye and her family were not only shocked by the loss, but also by the realization that they knew very little about her post-death wishes. She admits to realizing the hard truth in George Bernard Shaw's quip, "the single biggest problem with communication is the illusion that it has taken place."
Motivated by the experience, Sedoric eventually started a company called LastingMatters, which seeks to take a practical approach to one of the most difficult subjects of all – the inevitability of death and how to plan for it.
So after years of research and hundreds of interviews, Sedoric published the LastingMatters Organizer in paperbound and digital formats.
"There is an astounding amount of information we carry within us about our day-to-day lives that may be useful to our loved ones after we die," said Sedoric. "We know the alternative to doing nothing. If we have not communicated the practical details, such as passwords, bank accounts or disposition of personal items, it can be lost forever when we die."
Q. How did you create the organizer?
A. First of all, the idea was really born from the aftermath of the sudden death of my mother in 2006. As a family, we were all struck by how little we knew about what my mother wanted for her last wishes – and how utterly unprepared we were as a family to deal the practical details that went far beyond her last will and testament.
I used my experiences of being a longtime estates and trust paralegal at a Boston law firm and my own life-planning skills. I came to really understand all the decisions, details and documents that were needed when my mother died. We didn't have the information accessible and didn't even know where to look.
I wanted to create a one-stop place where all personal information would be found when you die. Since we don't know when we are going to die, I wanted this to be practical and pragmatic.
Q. Hasn't this been done before?
A. No. I researched high and low and did not find something this comprehensive. There are segments out there. The legal community and health care fields all have their own set of documents. But the thoughts and wishes inside each and every one of us are often never fully communicated. Death is final, and there are no more conversations to have or answers to be found.
Q. How have you funded your company and the LastingMatters Organizer?
A. It's all been self-funded. I wanted to create a product that was polished, and I left no stone unturned. I thought a lot about having the right title and rejected "workbook" in favor of "organizer." As a creator of the content I needed help and wanted a design firm that made sense. I hired Brown & Company Design (of Portsmouth), and they did amazing work to create the design of LastingMatters Organizer.
The organizer is available in paperbound or digital form, but my long-term plan for the company may include a subscription service or a cloud-based organizer. I am also working to attract investors.
Q. Who is your target market?
A. The main target is any adult, but smaller-scale, women aged 40 to 75. Women tend to be the ones who are gatherers and caretakers of family information. They also live longer and are more likely to experience the death of a spouse.
There are also tens of millions of baby boomers who have aging parents. Many of these seniors have not articulated this information, and using the organizer would ease the burden on adult children.
I also see a market of strategic partners, such as estate and trust attorneys, certified planners and financial advisors, insurance companies and retirement communities, military family, hospice and grief support organizations, and larger nonprofits, such as AARP and the Alzheimer's Association, to name a few.
Q. Why is it hard to share this information?
A. Think how easily and how much effort we often put into planning for vacations, weddings or retirement. But we aren't good on planning as a culture and society for the nitty-gritty and practical details of death.
I've learned that we may personally consider such issues as wills and estate planning or cremation or burial. Yet, we don't often communicate the daily details of our life and what is to happen when we die. Planning for the end is not something people do. Some people think if they make a plan about dying or death it will happen. My goal is to look at this as practical and not something fearful and to have this become a gift to your family
Q. What kind of feedback have you received from people who have used the organizer?
A. It's comprehensive and it elicits many different responses. One person never thought what to do about their diaries or family heirlooms. They hadn't shared passwords or what to do about their many possessions. One hadn't considered advance care directives.
I've been struck by how important people think this task is and how it creates conversations that might otherwise not happen. Not every chapter pertains to everyone but I've been told there's a lot that matters.
Personally, I have filled out the first chapter, because I think it's the most important: It has to do with the immediate aftermath of a death. I am plowing through the rest and am happy that this will be a gift to my family, because they won't have to guess my final wishes.