Lake Winnipesaukee sales activity: a review
134 waterfront sales in 2013 averaged $947k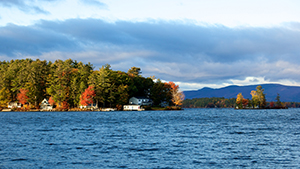 During the first quarter of 2014, the average sales price of waterfront homes on Lake Winnipesaukee was $974,658, a price based on a total of 20 sales.
For the same three-month period in 2013, the average price was $973,364, involving 11 sales, according to data from the Northern New England Real Estate Network.
During all of 2013, there were 113 waterfront mainland home sales – a figure that excludes island sales, condos and land. This compares to 123 sales for the year 2012, a drop of 10 unit sales.
However, there was a considerable number of island sales, which would bring the total of waterfront sales up considerably.
If you count island property sales for 2013, there were a total of 134 sales at an average sales price of $947,936. This would compare to 130 sales in 2012 at an average sales price just a hair over $1 million.
There is no question the majority of the closings for 2013 were under the $1 million mark — a good trend for buyers out there.
In fact, for the first time in recent years we've seen some excellent values out there on Lake Winnipesaukee.
As in previous years, the town of Moultonborough led in unit sales, with a total of 33 sales including island properties. This is the case in every year when you consider that Moultonborough has a total of 66 miles of shoreline, far exceeding the amount of shorefront of the other towns. Alton is next in line with 33 miles of shorefront.
It is interesting to note that all of Lake Winnipesaukee includes an expanse of approximately 240 miles of shoreline. Compare that to the entire coastline of New Hampshire, which is roughly 12 miles of shoreline. And considering that Lake Winnipesaukee is only one of many lakes comprising the Lakes Region, the total number of shorefront miles must be a staggering number. It gets even more interesting when you think of how many waterfront homes are built on each mile of shorefront. That's a lot of residents and second home owners.
Meanwhile, 2014 should turn out to be another good year. The numbers so far are indicating sales are up in the state in unit sales and average prices have been climbing slowly, especially in the lower price ranges, where there is a shortage of properties.
The Dow Jones Industrial Average has surged to new highs and the availability of attractive financing at low rates is still out there. With a strengthening economy and a continued loose monetary policy by central banks around the globe, we are looking forward to a decent year, considering consumer confidence has improved tremendously since 2008.
Frank Roche, president of Roche Realty Group, can be reached at 603-279-7046 or through rocherealty.com.