Laconia Housing kicks off construction of affordable senior housing
Gary Chicoine Construction, Warrenstreet Architects team up on project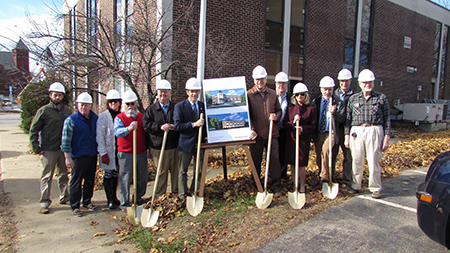 Construction has begun on Laconia Housing's new Sunrise House project, a 16-unit apartment building for people with disabilities who are 62 and older.
The new apartments will transform a vacant downtown office building at 423 S. Main St., next to Laconia Housing's Sunrise Towers. Gary Chicoine Construction is the contractor and Warrenstreet Architects has designed the project, which is expected to be completed by August 2019.
Acquisition of the former office building and property and its conversion to supportive housing apartments received $1.8 million in financing from the NH Housing Finance Authority with funds from the federal Housing Trust Fund and state Affordable Housing Fund, as well as a $500,000 grant from the Federal Home Loan Bank of Boston). Bank of New Hampshire also provided an $875,000 amortizing loan and the Laconia Housing Local Programs contributed $250,000.
Twelve of the units will be rented to very low-income seniors who meet federal income requirements and who can remain living independently if assisted with daily living activities such as grooming, meals, medication management, and transportation. Those residents will pay rent equal to 30 percent of their income. The remaining four units, which will be available to moderate-income seniors, will be rented at market rates of $822 a month for one-bedroom apartments and $1,065 for two-bedroom units.
Laconia Housing is able to make this project work in large part because Sunrise House abuts its Sunrise Towers, a 98-unit building for elderly and disabled residents who are also receiving supportive services. Sunrise Tower's commercial kitchen and onsite services coordinators will also service Sunrise House.
Included in the rent for the new apartments are heat, hot water, electricity and air conditioning. Laconia Housing will provide lunch and dinner daily. The units will have a small kitchen and double-sized, roll-in showers to accommodate wheelchairs and an elevator will make all floors accessible.