Labor market tightens as NH jobless rate falls
Unemployment stands at 3.2 percent for November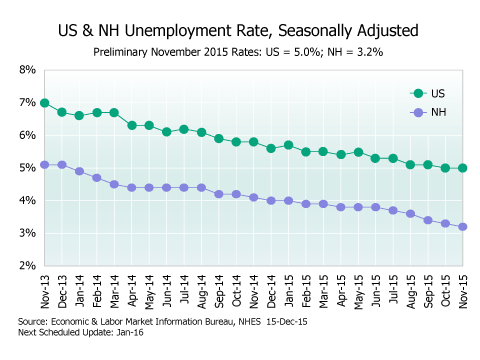 New Hampshire's unemployment employment rate fell to 3.2 percent, a decline of a tenth of percent from October, may not be statistically significant, but it does show the state's tight labor market continues to be a major economic factor, especially when compared to the nation's as a whole, where the unemployment rate is 5 percent.
It isn't that the number of New Hampshire jobs has increased by that much (a little over 3,000 for the entire year) or that the number of unemployed residents decreased by that much (a little more than 500). It's that the number of people in the labor force decreased by 2,830 from November 2014, when the jobless rate was 4 percent.
That makes it difficult for employers seeking workers, particularly when they have been "spoiled" with the overabundance of labor during the last recession, said Anita Josten, an analyst with the state's Economic and Labor Market Information Bureau.
During that time "they could ask for anything they wanted ideally and they got accustomed to that," she said. "Now the market doesn't support that."
But that doesn't necessarily mean that anyone who wants a job can find one, she cautioned.
"It can also be tough for people looking for work, because there is a shift where that unemployment is going."
The general shift since the recession has been away from the goods-producing sector of the economy to the service sector. But that could be changing. The number of people employed by the goods-producing sector actually increased by more than in the service sector compared to last year. And manufacturers' average wages have also gone up by more than $1 an hour to slightly above $20 an hour, though it's not clear whether this mean wages are higher or workers are earning more overtime.
When it comes to seasonally adjusted nonfarm employment, the state gained a total of 4,100 jobs. The biggest gain, 3,600 jobs, was in trade, transportation and utilities. Government employment shrank the most, by 2,400 – almost all at the local level.