Kathy Kittle of CATCH Neighborhood Housing
2014 Financial Executive of the Year winner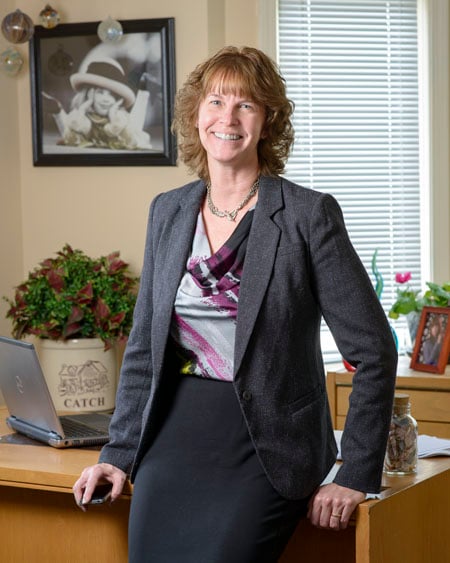 Hiring Kathy Kittle was a strategic acquisition for CATCH Neighborhood Housing, a nonprofit based in Concord that provides affordable housing and home buyer education.
CATCH was on the cusp of some significant expansion, making Kittle a perfect fit for the organization, because, as she says, she enjoys working in growth environments.
Kittle joined CATCH in December 2012, after a career working in finance at several nonprofit organizations, including Easter Seals New Hampshire and Ride-Away Handicap Equipment.
Since coming on board at CATCH, Kittle has helped to lead two major new initiatives.
One of these is Alliance Asset Management, a separate nonprofit that provides property management services not just for the CATCH portfolio, but for others as well.
Alliance was created in September 2013, and has already broken even, thanks in large part thanks to Kittle's leadership, since property management is traditionally very heavy on the finance side of the house.
On top of that, Kittle supported a merger between CATCH's Home Buyer Education Center with NeighborWorks of Southern New Hampshire. The newly created organization is called HOMETeam, and it helps to counsel individuals and families on the ins and outs of home ownership.
Kittle also was instrumental in securing a line of credit large enough to support this significant growth.
When Kittle joined CATCH, it had six employees; within eight months, it had 26.
Rosemary Heard, CATCH's president, said that she "simply could not have undertaken this kind of expansion without Kathy by my side."
Kittle said it was an incredible experience to be able to launch Alliance within her first year at CATCH, but what she enjoys most is seeing the people whose lives are made better by the services that CATCH provides.
These are the people who, thanks to CATCH, have a safe and inviting place to call home.
"At the end of the day, we've been able to touch the lives of so many people," said Kittle.
When she's not helping to grow CATCH, Kittle enjoys spending time with her daughter, Alexis, and husband, Chris. She also sits on the board of directors of Trinity High School in Manchester and on the audit committee for Easter Seals of Massachusetts.
Q. What has been your proudest accomplishment during your career?
A. I'm glad that I got a very good education from working with PwC (PriceWaterhouseCoopers); the managers there were great. They taught me to see the big picture, to understand accounting, and know the value of good research. Being at CATCH, we have such a great mission, and we have such an incredible leader in Rosemary Heard. Being here, and then being able to launch Alliance in my first year, has been so cool. It just seems like I'm hitting my stride, where all the pieces are coming together and I'm able to use everything I had in my foundation to help us move where we want to be.
Q. What have been some of the biggest professional challenges you've faced in your career?
A. Honestly the biggest challenge for me was finding an organization with a management team and working environment that I could thrive in, because it needs to be high energy, flexible, creative – too many teams are very serious. We have to have the ability to laugh. If you have the ability to laugh at yourself (not at anybody else, of course) you can do amazing things.
Q. What are your hobbies and personal interests?
A. I have a 21-year-old daughter, Alexis, and she's my traveling buddy – she travels all over with me. I love watching Sunday football with my husband, Chris. We also have a house in Vermont where I like to do gardening. Probably my all-time favorite activity is shopping with my friends. And one of the things that's really important is every day, having a belly laugh with my staff. You have to cross over that personal line when you spend so much time at work together.
Q. What are some of the challenges and opportunities that you see on the horizon for CATCH Neighborhood Housing?
A. With CATCH, the funding mechanisms are becoming more challenging and the regulations are becoming more challenging. Having said that, I think we have a strong sustainable and strategic plan. We have the partnership in HOMETeam, the development of Alliance Asset Management, and then doing affordable market-based housing to help support our mission. We've put a lot of thought into what we need to do to continue providing services in the long range. The interesting challenge is monitoring the growth of Alliance; if you grow too fast, you can wipe out other organizations, so it's controlled growth, which is a challenge for us – but that's a fantastic challenge to have.