Kamen's DEKA develops autonomous delivery robot for FedEx
SameDay Bot will 'change the face of local delivery,' says company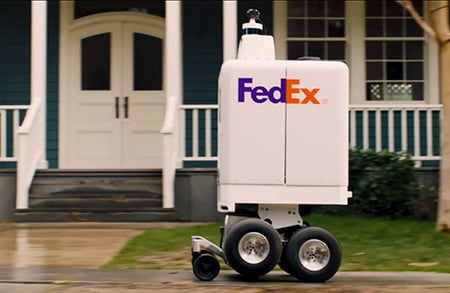 FedEx has teamed up with Dean Kamen's DEKA Research and Development Corp. to develop what it calls the SameDay Bot, which it says is designed to help retailers make same-day and last-mile deliveries to their customers.
The autonomous SameDay Bot, which uses Manchester-based DEKA's iBot platform, is battery-powered with a top speed of 10 mph.
With the bot, retailers will be able to accept orders and deliver them by bot the same day.
FedEx said it is collaborating with such companies as AutoZone, Lowe's, Pizza Hut, Target, Walgreens and Walmart in assessing what those retailers' autonomous delivery needs are. On average, according to FedEx, more than 60 percent of a retailer's customers live within three miles of a store location. That, it says, demonstrates the opportunity for on-demand, hyper-local delivery.
Brie Carere, executive vice president at FedEx, said the bot is a "milestone" that is "designed to change the face of local delivery."
According to Kamen, the inventor of the iBot Personal Mobility Device and Segway, the SameDay bot "has unique capabilities that make it unlike other autonomous vehicles."
The FedEx bot is designed to travel on sidewalks and along roadsides, delivering smaller shipments to customers' homes and businesses. The bot's features include pedestrian-safe technology from the iBot, plus advanced technology such as LiDAR and multiple cameras, allowing the bot to be aware of its surroundings.
FedEx said it plans to test the bot this summer in select markets, including Memphis, Tenn., pending final city approvals.