Joseph O'Brion takes over as chief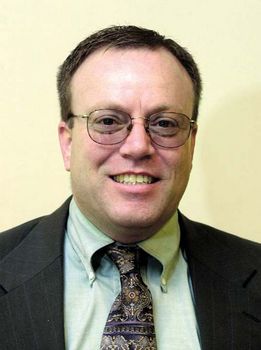 LITCHFIELD – As a police officer in Fort Pierce, Fla., Joseph O'Brion was used to working in a busy department that handled several murders every year.
The crime that kept him busy at work also contributed to his decision to move his family.
About nine years ago, he and his wife, Leisa, began looking for a new and safer place to live. After looking at a book of the best places to live, they noticed about three places were listed in New Hampshire.
He applied to several police departments, including Manchester and Nashua, before accepting a job in Litchfield in 1995.
Last week, selectmen promoted O'Brion from master patrol officer to head of the department. He officially became chief Friday, replacing outgoing Chief Tom Iverson.
Having worked with Iverson, O'Brion said, he feels he can continue Iverson's focus on community policing.
"I know the chief's vision," he said.
Some selectmen said they were impressed by O'Brion's emphasis on policies advocated by Iverson, such as community policing.
"He believes in a lot of things Iverson does," Selectman Pat Jewett said.
When he was in Florida, O'Brion worked with businesses and community watches.
"I know how important they are and how well they work," he said.
O'Brion would like to start a bicycle patrol and work with the town's growing 55 years and up population.
"Right now we have the 55-plus communities. We really need to concentrate on that," he said.
O'Brion would like to see officers teaching classes at elderly housing developments on a variety of topics, such as fraud and identity theft.
Jewett said O'Brion is a good listener, who seems willing to take the time necessary to do a job well.
"He's a person that will mix in fine with the residents," she said. "He's down to earth, a good listener."
O'Brion is also well-liked and respected in the department, Selectman Jack Pinciaro said.
O'Brion officially took over his new role the same day that he turned 42, prompting his 14-year-old daughter to say she didn't have to buy him a birthday present.
O'Brion started his career in the St. Lucie County Sheriff's office, initially working in the jail. He was working as a stock clerk at Montgomery Ward when a co-worker told him of the opening.
At 5-feet, 6-inches tall, O'Brion was told at one point that he would never be allowed out on road patrol.
He later became a detective in the Fort Pierce Police Department, becoming a homicide team leader. While at the department, O'Brion was also an acting supervisor filling in for supervisors on vacation. At first it was a change working in Litchfield, O'Brion said. He was used to working 10-hour shifts and handling 10 to 15 calls a night, plus backup calls.
"It's nice to be able to get to the nuts and bolts," he said. "It was a lot of triage police work down there."
At Fort Pierce, there were 108 police officers working in an area that was 4 square miles. His family lived in an unincorporated area.
Since moving to Weare, O'Brion said his daughter can ride the bus to school or play in their yard.
"I knew I wanted something better for my daughter," he said.