Joey Calcavecchia: On the 'roam' for the next great bite
Social media influencer Joey Calcavecchia, known as the Roaming Foodie, is making the rounds throughout NH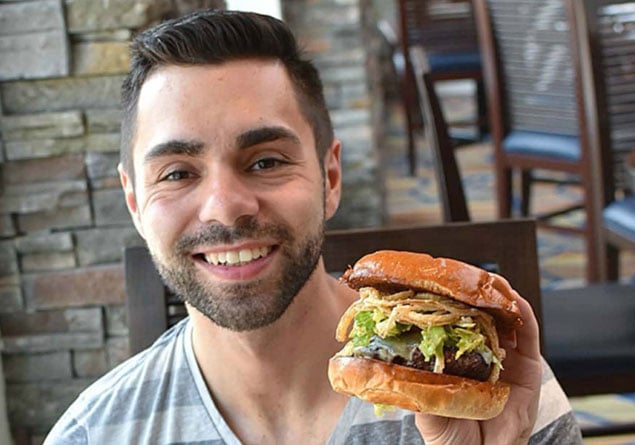 In 2016, Joey Calcavecchia was sitting in a restaurant with a friend from college, talking about what he wanted to do with his life. He loved food. He loved to travel. Why not pursue that, she suggested.
Since then, the Roaming Foodie has traveled to restaurants around New England, posting his exploits on Instagram and TikTok and working with restaurants to promote them through social media and his photography business.
Whether he's pursuing a North Country diner or a new pizzeria in Concord, the New Hampshire native includes the Granite State in many of his adventures.
This Q&A, culled from a podcast interview by Amanda Andrews and Mike Cote, was edited for clarity and space.
Q. It's kind of cool that you go to a lot of local hot spots that we enjoy. What were the passions that sparked your interest to become the Roaming Foodie?
A. It started probably about like fall of 2016. I was at a restaurant with a friend from college (who asked), "Joey, what do you want to do?" I love watching Guy Fieri and Phantom Gourmet. You know how they get to go all these cool restaurants. That's what I always loved watching as a kid. And she's like, "Well, have you ever thought of just posting on social media and Instagram and everything?"
Q. You really travel, which helps because you show some places that are nearby but (maybe people) have never heard of.
A. That's always the goal. I like to balance what I post, but it's always finding those little hole in the walls when I can and showcasing them to people that don't know about them.
Q. When you are traveling and looking for a new restaurant to feature in social media, is it targeted?
A. It kind of goes all over the place. Sometimes I get (a direct message) that says "Hey, have you checked out this place yet?" That's what happened recently with the new pizza place in Concord, New Hampshire, Sour Joe's Pizzeria … And it was a cool spot. They're doing a Romanstyle pizza, which no one's really doing in New Hampshire.
Q. Do you have any oddball food types, menu items that you had never tried before?
A. I was visiting (Dover restaurateur Evan Hennessey) about three weeks ago. And he brought out caviar ice cream. I had never had caviar in my life. What is this going to taste like? The saltiness of the caviar and the sweetness of the ice cream. It worked so well.
Q. Businesses are starting to look to influencers on social media. At New Hampshire Magazine, when we had our Best of NH , you helped spread the word and increased ticket sales. Could you talk about those kinds of relationships?
A. If you're going to work with influencers, you definitely need to really vet them because a lot of people will pay for their following or some people will get a following way too fast and not understand how to work with brands … You got to ask them certain questions to see how they respond. Are they just looking for the free food? Do they actually care about helping the business?
Q. When you're working with businesses, you're also shooting photography. Tell us a little bit about that passion and how it developed.
A. I've been doing the photography just as long as this. I'd like it to be more of the business, but it's definitely fun. I've been working with Ya Mas (Greek Taverna & Bar) in Salem for the last few weeks. We've been doing some photo shoots of their menu, highlighting all the new stuff, and it's really just getting the best shot, making sure they're making it look as pretty as possible.
Q. There are a lot of businesses that think that they're too small to have a social media presence or partner with an influencer. What are the first steps for businesses that want to try it?
A. Get onto Instagram and TikTok. Those are the two that you want to focus on the most and just start producing cool videos. That does seem stressful for some people, but it doesn't need to be a lot. Just like quick two- to three-second clips to begin with, just to get comfortable with that.
And you can throw a few photos in, but I would say anywhere from like three to four posts a week to start building that up. And then once you build all that up, then you'll start getting attention.
This interview was adapted from an episode of NHBR's Down to Business podcast, available at nhbr.com/down-to-business.