Jody Holt of Single Digits
2013 Financial Executive of the Year winner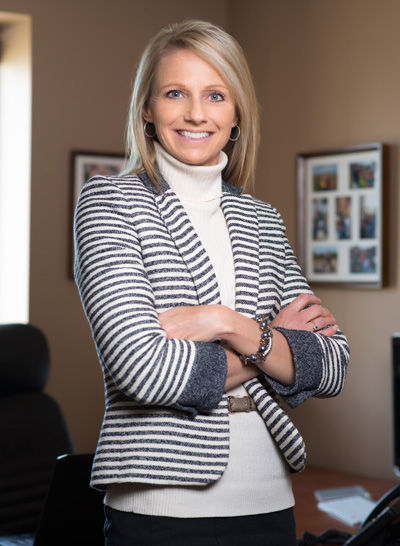 Auditor, high school teacher, Realtor and chief financial officer – diverse occupations, for sure, but all titles that Jody Holt has held in her varied career.
That depth of experience has served her well in her current role as CFO of Single Digits, a growing Manchester-based company that provides wireless hotspot and managed network solutions.
"I think of myself more as a CFO generalist, with a background in operations, marketing, sales and working with middle-market companies in the high-tech arena, which gave me the skill set to join a company like this," said Holt, a Bedford resident and mother of three teenage sons.
Holt began her career while working toward her accounting degree at Penn State. While in school, the New Jersey native landed a prestigious internship at Price Waterhouse. Upon graduating with honors, she accepted a job with the firm, where she went on to earn her CPA license and spend the first decade of her career working as an auditor and then audit manager for middle-market companies.
She left the company to start a family, but kept her hands in the financial world, working part time as a financial consultant to companies small and large, from a hairdresser's to a major venture capital firm.
When her husband, a captain in the U.S. Navy Reserve, was posted to Europe in 2005 on a NATO assignment, the family spent two years there, and Holt worked as an algebra and history teacher at a high school in Portugal.
Back on U.S. soil, Holt started her own successful real estate business, and on the side began consulting with Single Digits, helping it with an acquisition that more than doubled its workforce. Recognizing her skills, the company asked Holt to join as full-time CFO, which she did in summer 2011. The company – which provides guest Internet services to clients such as airports, hospitals, and retailers, including Simon Malls – has experienced impressive growth as the demand for BYOD grows. While helping to keep its growth on track, Holt has also contributed to an HR initiative called the SEED Program, an incentive program that rewards top-performing employees.
As Shannon Hathaway, her nominator, wrote, Holt "has a CPA's attention to detail and a businesswoman's approach to performance, but it is because of her passion for people that she is regarded as a highly appreciated executive-level employee … by employees in every department."
Q. What has been your proudest accomplishment during your career?
A. I went to work for Price Waterhouse, and worked for them in New York, then San Diego, then Boston, and so spent almost a good 10 years in kind of middle-market and growing companies on the audit side, so I really kind of got to know how a company operates. I think getting my CPA license as a benchmark early in my career was an important achievement, even though it was kind of an expectation.
Q. What have been some of the biggest professional challenges you've faced in your career?
A. Getting that right balance of professional growth and being available and there for my kids and family. You probably don't hear that so much from men, but I like to say that as women, you can't have it all, but I really enjoy all that I have.
I think I'd be in a much different place if I'd given 100 percent to my career, but I don't regret at all that I took a lot of part-time work along the way to raise my kids.
Q. What are your hobbies/personal interests?
A. I love to run and play sports in general — skiing, tennis, mostly anything outdoors. I have three boys, and they play a lot of sports, so being a spectator to them.
The other thing that's important to me is my church, Bethany Covenant. I've had many roles at the church – we've been members for almost 18 years. I was financial secretary, I led the women's Bible study, I've been on the stewardship and finance commissions, on the evangelism and enlistment commission, and most recently, my husband I volunteered our time working with the youth group.
Q. Looking to the future, what are some of the challenges and opportunities that you see on the horizon for Single Digits?
A. Continuing to attract and retain bright, motivated and energetic employees that fit with the culture of the company is important. I can see Single Digits moving in a field where there's great demand. The increase in the demand for BYOD (Bring Your Own Device) is growing, so it's a huge opportunity for a company like Single Digits to help companies realize they can monetize their network.