JobsInNH.com: New Hampshire's #1 Recruitment Resource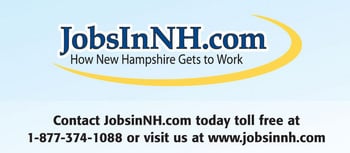 "Out of work since August, I have visited (JobsInNH.com) on a daily basis…your site gives me something to look forward to each day." — John Gryval, JobsInNH.com job-seeker
JobsInNH.com began in 2002, following a successful business model created in Maine. Today, it's the number one recruitment resource in the state. With nearly a half-million monthly site visits, 1,600 real New Hampshire jobs posted (up nearly 200 percent since January alone) and more than 28,000 resumes in its exclusive database, job-seekers keep coming back for more.
Great stats aren't all that JobsInNH.com has to offer. As recognized leaders of major recruitment events throughout New Hampshire, JobsInNH.com's grassroots approach strengthens our brand while helping you emphasize yours. JobsInNH.com believes that partnering with New Hampshire's best companies helps everyone.
Subscription-based, JobsInNH.com offers unlimited job postings, a company profile, company logo and space to post images of your workplace. Its Company Spotlight, Company Write and Job Write products round out your employment brand, and help you to attract the most qualified applicants.
Its resourceful employment tools include:
• Recruiting Review and article archives provide timely employment news and advice that meet your current needs
• Apply On-line feature with pre-screening questions to filter applicants based on specific criteria. Find the best candidates.
• Mine for candidates any time of day with JobsInNH.com's keyword searchable Resume Database, filled with local talent
• Manage your job postings and track their success with My Stats
• Enjoy dedicated customer service with personalized tutorials and tips on how to best use the site, stretching your recruiting budget while putting your best foot forward
For more qualified applicant traffic, a better employment brand, tools at your fingertips and service with a smile from a trusted recruiting resource, look no further than JobsInNH.com.
Visit www.JobsInNH.com to learn more.