Jobless discrimination targeted in N.H. House bill
Backers see measure as aiding long-term unemployed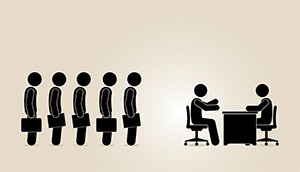 Should you be able to refuse to hire someone just because he or she doesn't have a job?
No, you shouldn't, according to a bill before the New Hampshire House that is seen as having a good chance of passage on Wednesday.
House Bill 350, which would prohibit unemployment discrimination, comes with the backing of the House Labor, Industrial and Rehabilitative Services Committee, though by an 11-8 vote, so expect a vigorous debate on the House floor. But Democrats control the House, and the plight of the long-term unemployed has been on the national agenda in recent weeks.
The bill as amended would fine employers $5,000 per violation (down from $10,000 in the original bill) if discrimination "because of unemployment status in soliciting, receiving, classifying, disposing, or otherwise acting upon applications for its services" is found.
The amended version gives a caveat: You can insist in your help wanted ad on whether the person is occupationally qualified and educated. You just can't do it in a way to imply that "that only applicants who are currently employed by such employer shall be considered."
"There are many examples of ads soliciting employees that say unemployed need not apply," wrote Rep. Chuck Weed, D-Keene, for the majority of the committee in the House calendar in support of the bill.
The plight of the long-term unemployed is now in the media ether, especially in light of Congress' inability to reach a compromise extending unemployment benefits. News reports have cited studies that show that a person's employment status – not their qualifications or education – are more of a predictor of whether or not they get hired.
The Business and Industry Association of New Hampshire opposes the bill "because it is just one more thing that employers will expect to be sued over," according to BIA Vice President David Juvet. A company may not hire someone because he or she simply isn't a good fit for any number of reasons, but under the bill, he said, "if you are unemployed and you didn't get the job, then you have a cause for action."
"What this bill tries to do is impossible to prove," said Rep. Jack B. Flanagan, R-Brookline, a member of the committee who opposes the measure.
But other discrimination is also difficult to prove as well, said Kurt Ehrenberg, a lobbyist for the New Hampshire AFL-CIO. "You can say if an employer discriminates on the basis of race, how do you prove that? Does that mean we shouldn't protect people from being discriminated against on the bases of race, gender or sexual orientation? We believe this is an unfair barrier against people who have been unemployed for a long period of time."