Job action
Amid growing optimism, staffing firms see more hiring among employers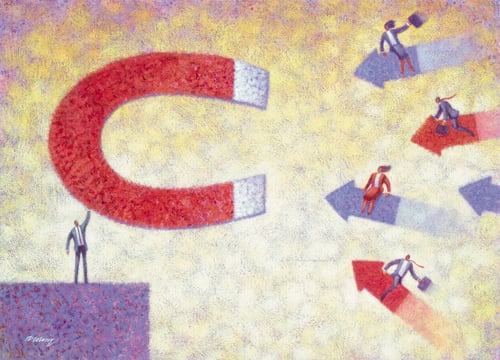 It can be seen as a sign of growing economic optimism: Some New Hampshire staffing agencies — bullish about job-filling prospects for the rest of 2013 — have expanded locations and operations.
"The stock answer is that there is a lot of pent-up demand from work not getting done over the past couple of years," said Jason Kroll, a managing partner at Bedford-based BANK W Holdings LLC, which includes staffing firms Alexander Technology Group (which fills staffing needs for technology firms), KBW Financial Staffing & Recruiting (financing and accounting staffers) and The Nagler Group (administrative and human resources employees). "The work that had been delayed has to get done."
Kroll said that sales at Alexander Technology Group increased 38 percent in 2012 from an already successful 2011. Kroll said the company's confidence in the market was put into action when it opened an office last year in Portsmouth at Pease International Tradeport. The Pease office joins the firm's other locations in Bedford and Woburn, Mass.
"We added five new IT recruiters and are in it for long haul," he said.
In a reflection of the growing demand for both contract and full-time IT employees, Kroll said that job-seekers are often seeking multiple opportunities, and employers "are paying a premium" for experienced workers.
At Sparks Employment Group in Concord, business has also picked over the past year.
"So far, 2013 is looking good," said Bernie Sparks, executive director of the firm. "We take a look at the business cycle, and business has picked up. Some companies may be hesitating due to the Affordable Care Act and how it might affect them, because information is sketchy. But in general more companies are calling."
More potential employees are calling as well. Sparks said more than 50 to 55 people a week are calling and applying for "all types of positions."
He has seen an increase in manufacturing, light industrial and administrative positions in the Concord area and Lakes Region. He also said he has seen companies turning former temporary jobs into permanent ones — a trend that is taking hold.
"Temporary to permanent is a good method for many of these companies to use. It gives them a minimum time frame to see how a candidate works out and if not, they have the option to look further," Sparks said.
'A lot of new work'
The increase in staffing industry activity in New Hampshire mirrors national trends. Overall, the staffing employment industry has seen a sizable 25.5 percent increase in activity since the beginning of 2012, according to data recently released by the American Staffing Association.
Temporary help services jumped nationally by 18,000 in November, and during the July through September time frame, the number of temporary and contract workers employed by U.S. staffing firms was 4.3 percent higher than during the same time period in 2011, according to the American Staffing Association report.
Overall, staffing companies employed an average of 2.95 million temporary and contract workers daily during the third quarter of 2012 — the 11th consecutive quarter of year-to-year staffing industry job growth since the economy rebounded.
"We track placements on a weekly, monthly and quarterly basis, and we consistently met or exceeded strategic plans for 2012 and we're ahead of projections for this year," said Patty McGrail, senior vice president of the Dover-based Leddy Group, which has six offices in New Hampshire, Vermont, Maine and Florida. "We're seeing a larger percentage of longer-term placements, which we anticipate continuing into 2013."
In the past two years, the Leddy Group has opened up new offices in Keene and Florida. McGrail said the Florida office focuses on education — a new sector for the company. The Keene location has seen a jump in company requests for light manufacturing help while the Lebanon and Hanover areas have had an increase in administrative requests.
"Each market is unique in terms of client expectations but we have seen across the board growth in all our sectors," she said.
Kroll said that Alexander Technology Group had already filled 28 new contractor positions in 2013. "There is lot of new work in business analysis and business intelligence, and also for database developers and application developers," he said.
A recent IT industry hiring forecast by CareerBuilder found that IT hiring will increase, especially in the contracting sector. According to the forecast, 42 percent of employers said they expect to add full-time employees (up from 38 percent in 2012), while 10 percent said they will decrease their full-time IT staffs (up from 7 percent last year).
Kroll said that his company focuses primarily (80 percent) on contracting positions and 20 percent on full-time positions.
The CareerBuilder forecast found that 52 percent of employers plan to hire temporary and contract workers in 2013, up from 49 percent last year. Among these employers, 47 percent plan to transition some temporary workers into full-time, permanent employees over the next 12 months.
"Demand is high, and job candidates are in a much better place today than they were three to four years ago," Kroll said.
Staffing agencies have also had to evolve to provide for their clients more stringent screening of potential employees.
For one thing, companies are looking more and more for the perfect fit. At the Leddy Group, McGrail said, only 21 percent of applicants are accepted.
Sparks agreed. "There is not a lot of room for training opportunities," he said. "We have candidates with superlative qualifications who would like a good job and salary but can't find it because they are not the right fit. We go through a detailed screening process to determine the abilities and skills these companies need for the positions."
While McGrail acknowledged that the Washington budget battles could have a detrimental impact on the economic recovery, she said the trend is that companies have begun to hire after so many cut their staffs when the recession took hold in 2008. McGrail added that her company is poised for further growth and even more placements for administrative and accounting positions.