Jeff Brummer, Clamshell Alliance founder, dies at 74
Activist played major role in anti-nuclear movement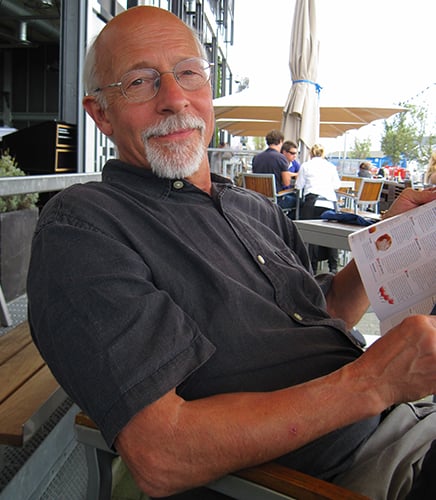 The death certificate for Jeff Brummer, who helped shape New Hampshire politics in the late 1970s and continued to work for social change through his life, notes as his occupation: "political activist."
"We're proud of that and know it's what he would want," said Kate Walker, his partner for 46 years.
Jefferson Sloane Brummer died April 7 of cancer in his Jamaica Plain, Boston home. Walker and their son, Ben Walker-Brummer, of Wyoming, were at his side. He was 74.
Brummer was a founder of the Clamshell Alliance, which sparked a national direct action anti-nuclear power movement. He also played a significant role in keeping New Hampshire Gov. Meldrim Thomson from winning a fourth term in 1978.
"Jeff had what we used to call revolutionary discipline," said state Rep. Renny Cushing, D-Hampton. "He did the work – solid analysis, tactics, coalition-building, taking action. He was a great organizer and leader, but also could step up and be part of the team."
Brummer was raised in Rindge along with his twin brother, Jed, who still lives there, and younger sister, Martha, of Tynemouth, England. When not helping in his family's business – the historic Woodbound Inn that his father bought in the 1930s and the family ran it for 55 years – Brummer spent his youth hiking, swimming, sailing and skiing. He made annual spring pilgrimages to Tuckerman Ravine most of his life.
He studied hotel management at Cornell University, philosophy at the University of New Hampshire, and also earned a master's degree from the Cambridge-Goddard Graduate School of Social Change.
His early political organizing career included spearheading campaigns for rent control and General Electric military divestment in Lynn, Mass. He was part of the Reservists Committee to Stop the War while serving in the Army Reserves.
But perhaps his greatest impact was in New Hampshire in the 1970s. He directed the Granite State Alliance (GSA), a loose coalition of political progressives that became a leading opponent of a proposed nuclear power plant in Seabrook. Among other things, it encouraged Seacoast town meeting votes that overwhelmingly rejected the power plant.
The GSA also picketed Indian Head and Amoskeag banks, both Seabrook nuclear plant financial backers.
"Jeff understood the importance of following the money; of making the connections between the nuclear issue and the corporate decision-makers," said Cushing.
Brummer was a founding member of the Clamshell Alliance in 1976, and one of the 18 New Hampshire residents who occupied the nuclear plant construction site Aug. 1, 1976. Another occupation the next year resulted in 1,415 arrests.
The financial connection still mattered to Brummer who thoroughly researched a utility proposal to have ratepayers foot the bill for the construction of the plant. He helped make so-called construction-work-in-progress (CWIP) fees a central campaign issue when Hugh Gallen challenged Gov. Thomson in 1978.
Gallen won, CWIP fees were never approved and Public Service of New Hampshire declared bankruptcy. The Seabrook plant, which finally went online in 1990, was only half the size originally approved. It was the last nuclear plant to receive a construction permit in the United States.
Post-Clamshell, Brummer worked for the Citizens Party and then, in 1980, moved to Washington, D.C. to work for the Environmental Action Foundation.
In more recent years, despite dealing with a cancer diagnosis, Brummer worked with Peace Action and the Boston Chapter of Veterans for Peace. He joined a 2012 sit-in at the New Orleans headquarters of Entergy; went to Standing Rock, N.D., in 2016, to protest the Dakota Access pipeline; and joined the Poor People's Campaign in Washington in 2018.
The family plans a memorial celebration in September.