Is it time for Claremont III?
State ed funding puts poor districts in familiar position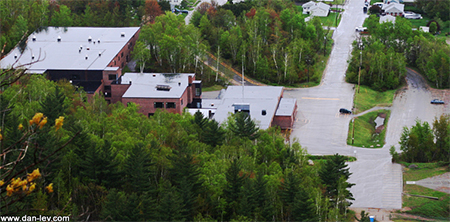 "I've been here 39 years," said Corinne Cascadden, superintendent of schools in Berlin, "and I remember when the mill closed. I feel like I'm back where I started. Our schools are at a critical point. We've been operating on pins and needles from year to year, and it will only be worse in a year from now."
Two decades after the NH Supreme Court ordered the state to define an adequate education and pay for it with taxes equal in valuation and uniform in rate throughout the state, the disparate levels of per-pupil expenditures and municipal property tax rates, on which the litigation hinged, have persisted and are on track to widen further.
But recent changes in the distribution of state aid have increased the fiscal pressures weighing on those school districts with the least capacity to bear them, without adding to the already onerous burdens of property taxpayers.
And Berlin, together with Claremont, Franklin, Pittsfield and other hard-pressed districts, are contemplating returning to court.
Both Cascadden and Middleton McGoodwin, her counterpart in Claremont (who was recently ousted from the job he held for seven years after a bitter budget fight with the school board), said "absolutely" there is growing interest in bringing another suit. In Pittsfield, the school board recently met with Executive Councilor Andru Volinsky, one of the lead attorneys in the original Claremont suit.
Poorer school districts have been hit hard by shrinking enrollment numbers and decreasing state dollars.
Writing recently in NH Bar News, John Tobin, former executive director of NH Legal Assistance, who represented property taxpayers in the litigation, claimed the situation has reached "constitutional dimensions, so much so that a new school funding suit is urgently needed" and invited interested parties to contact him.
Tobin suggested litigation would claim that the state has failed to comply with the two principles set by the Supreme Court in 1997.
First, the state has failed to fund the cost of an adequate education, since the allocation of $3,606 per pupil is a fraction of statewide average cost per pupil of $15,310. Second, by requiring municipalities with widely disparate property values to fund the balance of its obligation with local taxes levied at disproportionate rates, the state has failed to fund an adequate education with a tax or taxes "equal in valuation and uniform in rate" throughout the state.
According to Carl Ladd, executive director of the NH School Administrators Association, neither state nor federal funding has kept pace with the growing responsibilities both governments have placed on public schools. "State aid," he said, "does not even pay for the minimum standards the state requires."
Meanwhile, lawmakers in Concord and Washington have pursued various policies aimed at diverting scarce public funds from public schools to private and parochial institutions, he added, and as a result "some districts in New Hampshire are on the precipice of not being able to operate their schools."
SWEPT allocation
In the 2017 fiscal year, public school expenditures were $2.9 billion. Property taxes of $2.2 billion — local and state — represented 71.7 percent of the revenue funding public schools. Municipalities collected about $1.9 billion, while the statewide property tax (or SWEPT) yielded $363.1 million.
The formula for distributing state aid has undergone a number of changes since it was first applied in 2000. Currently, state aid consists of the sum of three components: adequacy grants, the statewide education property tax and stabilization grants.
For the 2018 and 2019 fiscal years, adequacy grants provide a base amount of $3,636 per student. Another $1,818 is allotted for each student qualifying for free and reduced price lunch, $1,956 for each special education student, $711 for each student learning English and $711 for each third-grader failing to reach proficiency in reading, unless that student is also eligible for one of the other forms of differential aid.
The average $4,476 grant per pupil, including the differential rates, is less than a third of the actual average expense per pupil of $15,310. Every two years, the base amount, along with any additional costs, is adjusted for inflation. The sum of the base and differential rates for each student, applied against enrollment, represents the cost of an adequate education, which is a function of the size and texture of the school population.
In FY 2018, adequacy grants total $417 million.
Although in a legal sense the SWEPT is a state tax levied on every municipality at a rate sufficient to raise $363 million, in a fiscal sense it is an additional levy on municipal tax bases of widely disparate valuations.
In FY 2018, the rate is $2.26. Municipalities collect the tax and transfer the funds to the school district. Receipts from the SWEPT are subtracted from the cost of an adequate education to calculate the adequacy grant distributed to local school districts.
Where receipts from the SWEPT exceed the cost of an adequate education — in 36 municipalities with very high property values — the preliminary grant is zero.
The Legislature added stabilization grants to the funding formula in FY 2012, when it eliminated fiscal capacity disparity aid, which allotted between $1,250 and $2,000 per student to municipalities with relatively low equalized property values and median family incomes. At the same time, targeted state aid for students receiving special education services, eligible for free and reduced priced lunch and taking English as a second language were reduced. Stabilization grants were introduced to hold districts harmless from these changes, which weighed especially heavily on property-poor districts.
The stabilization grants were intended to ensure that the total amount of state aid to municipalities did not diminish, despite changes in both the computation of the adequacy grants and the character of school populations. The grants, totaling $158.4 million in FY 2012, equaled the decrease in funding from the total state aid municipalities received in FY 2011. The legislation provided that the same amounts would be distributed in each subsequent fiscal year.
But legislation enacted in 2015 provided for reducing the amount of the original grants distributed in FY 2012 by 4 percent each year beginning in FY 2017 until they would be eliminated altogether in 25 years. In FY 2018, $144.6 million, or 92 percent of the original amount, will be distributed in stabilization grants.
Economically distressed
In 2017, the NH Center for Public Policy Studies projected that between FY 2017 and FY 2022 some 104 municipalities would receive less and 96 would receive more state aid while the 36 that receive neither an adequacy nor a stabilization grant would not be affected.
The effect of steadily reducing and ultimately scrapping stabilization grants will be to decrease state aid to those municipalities most in need of it, and these are the cities and towns where stabilization grants represent a major share of state aid — more than half in some 20 municipalities.
At the same time, these municipalities are among the most economically distressed in the state with low property values and high property tax rates as well as relatively low median household incomes and relatively high poverty rates.
The communities with at least 100 students that are most severely affected include Berlin, Claremont, Franklin, Newport and Pittsfield, along with a number of smaller towns — among them Allentown, Charlestown, Colebrook, Haverhill, Lancaster, Lisbon and Warren.
Stabilization grants amount to 51 percent of state aid in Berlin, 47 percent in Claremont, 48 percent in Franklin, 51 percent in Newport and 48 percent in Pittsfield. Each year, stabilization grants shrink by $219,824 in Berlin, $251,313 in Claremont, $161,400 in Franklin, $146,551 in Newport and $87,412 in Pittsfield. Moreover, as enrollments continue to decline the adequacy grants to these municipalities will also decrease.
Between 2007 and 2017, enrollment in Berlin declined from 1,502 to 1,170, in Claremont from 1,918 to 1,723, in Franklin from 1,361 to 1058, in Newport from 1,115 to 992 and in Pittsfield from 654 to 563. Students eligible for free and reduced price lunch represent 55 percent of the enrollment in Berlin, 51 percent in Claremont, 59 percent in Franklin, 52 percent in Newport and 53 percent in Pittsfield.
In Berlin, the equalized property value per pupil is 29 percent of the state average of $983,646. It is 41 percent in Claremont, 51 percent in Franklin, 48 percent in Newport and 44 percent in Pittsfield.
While Claremont's tax rate of $42.66 tops the list, it is followed by Berlin at $39.19, $33.46 in Pittsfield, $30 in Newport and $25.56 in Franklin, which budgets under a tax cap. These municipalities must tax property owners at much higher rates to fund their local government and public schools than those with greater property values.
Likewise, while the Census Bureau reported New Hampshire posted the highest median household income in the country at more than $76,000, the $35,523 median income in Berlin is less than half that, and the $45,859 in Claremont, $43,327 in Franklin, $47,959 in Pittsfield and $49,663 in Newport are not two-thirds of the state median. And while the poverty rate in the state was 7.3 percent in 2016, it was three times that in Berlin and Franklin and twice that in Claremont and Pittsfield.
"We cannot bankrupt the city," said Berlin superintendent Cascadden, adding, "we're losing more than $200,000 a year because of declining enrollment and reduced stabilization grants and we can't ask our taxpayers to make up the difference."
She said city and school officials were working together to try to spare taxpayers the impact of dwindling state aid. With four schools on three campuses, "we're trying to downsize wherever we can," said Cascadden. "We're looking at closing one school. We're relying on attrition by not filling empty positions. We hope for attrition."
She said that while enrollment has declined — the high school, which has a capacity for 740, has 388 students — the fixed costs of operating the system have continued to rise.
"We still have to heat and maintain the buildings, and right now we have a shortage of buses," she remarked.
Cascadden said that after two studies of the system, the school board has begun exploring consolidation or partnership with other districts.
Partnerships with White Mountains Community College, which provides business courses, and Gorham Middle and High School, have helped to sustain course offerings that otherwise would have been limited.
"We can't afford electives with just five students," Cascadden said, "and our students are losing choices and opportunities."
Conversations have also begun about consolidating administrative and business functions of all schools in the Androscoggin Valley into a single school administrative unit.
'Revenue is shrinking'
West of Berlin, in Northumberland, superintendent Michael Kelley oversees schools in Groveton, Stratford and Stark with total enrollment of about 430 students, including 130 at Groveton High School.
"This area is in dire economic straits," he said. "The tax base is incredibly small and the tax rate is among the highest in the state. The lack of adequacy aid puts a tremendous cost on our taxpayers."
He said that state minimum standards, federal educational requirements and special education services are driving rising costs, but "revenue is shrinking everywhere."
Kelley said that policies to divert students and funding from public schools to private and parochial schools would have a disproportionate impact on a small community like Northumberland, where the loss of state aid would far outweigh any savings from reduced enrollment. "The only place left to cut is programming," he said, "and we're already pretty close to the bare minimum at the high school."
Speaking at the deliberative session of the Claremont School District in February, McGoodwin said, "We have been keeping increases flat, but we have squeezed the orange dry." Although expenditures have decreased for the past four years despite increases in fixed costs and employee contracts, reductions in state aid, along with the elimination of the state contribution to the NH Retirement System, have added to the tax rate in Claremont.
The FY 2018-19 budget includes more than $2 million in cuts, among them $850,000 in technology and $542,000 in personnel spending. With some increases in revenue, the cuts more than offset the reduction in the stabilization grant of $263,528 to spare taxpayers the additional 38 cents on the tax rate it represented.
"Sixty years ago the color of skin impacted the education children received," McGoodwin said. "Today skin color has been replaced by ZIP code. The playing field is not level."
In Pittsfield, superintendent John Freeman, said that district budgets have been stable at just shy of $10 million, but the schools are operating under "severe financial pressures."
With a reduction in the stabilization grant of $86,000 and a 17 percent increase in heath insurance costs, the 2017-2018 budget added $2.18 to the tax rate and carried by just four votes.
Freeman said that school enrollment dropped 40 percent in 2008, when Barnstead tuitioned its students elsewhere — a move that reduced state aid and prompted transition to a smaller high school. School improvement and planning grants provided funding to restructure for six years before expiring. Still, he said the high school was the fifth-lowest performing school in the state.
Last year, Freeman told a legislative committee studying school funding that the district offered the third-lowest salaries for starting teachers in the state and suffered rates of annual teacher turnover of up to 20 and 30 percent.
"Sixty percent of our teachers have less than five years' experience," he said, "and we have five vacancies in special education. We have no one to teach a foreign language and we have no advanced placement courses other than through the Virtual Learning Academy Charter School." He said the school board has approached six other districts about the prospect of tuitioning high school students, only to find that five of the options would be more costly to the town while the sixth district expressed no interest.